Materiality, precision and a hint of nostalgia imbue the interiors of London restaurant Maido, which revives a 1960s post office as a sophisticated sushi spot in St John's Wood.
Child Studio masterminded the restaurant's interiors, taking cues from the building's construction era as its starting point. Rich wood panels cocoon the dining room and pay homage to Japanese modernism and its Californian counterpart, while the studio suspended a sky-blue coffered ceiling to add depth and drama.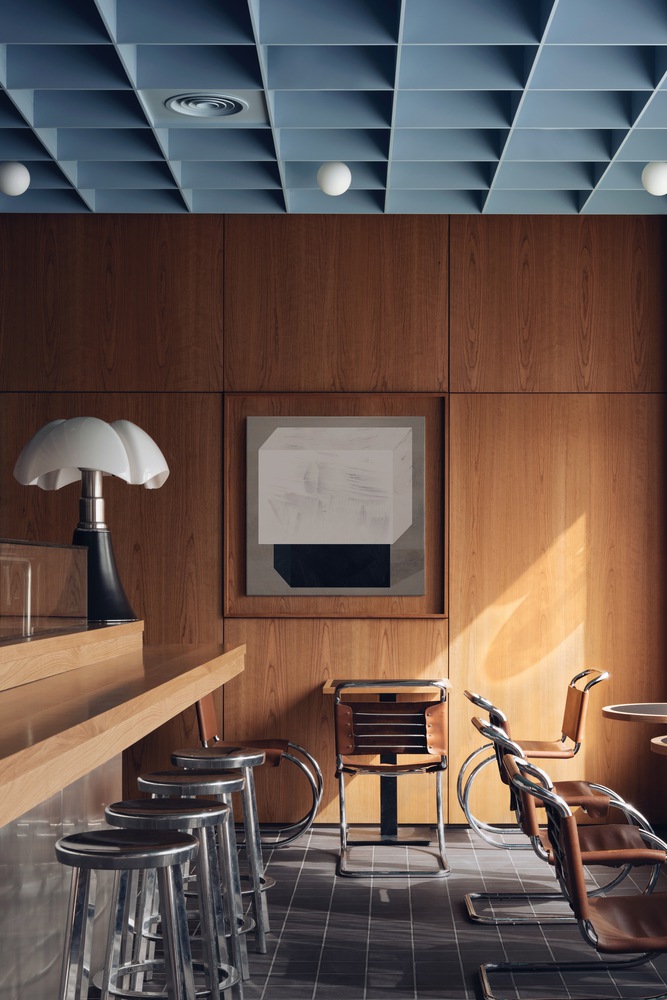 Geometric patterns run through the floor, and a swooping glass brick wall divides the space in two, acting as a playful privacy screen for the more intimate lounge behind.
'The inspiration for this feature came from the facade of Saint John's Wood Library, the next door building of the same era,' says practice founders Alexy Kos and Che Huang. 'It has a small and unassuming shopfront, but the library entrance is a beautiful combination of square glass blocks and dark wooden framework.'
Lighting and furniture further celebrate the era: think 1965 pipistrello table lamps, tubular steel dining chairs and Norman Cherner's classic 1958 moulded plywood seats.
Child Studio's design creates a comforting space where everything feels put neatly in its place. This, in turn, allows Maido's menu shine – informed by its founders' years of experience distributing sushi-grade fish to London's Michelin-starred restaurants.