Concrete is given a tropical twist with this Brutalist villa in the Turks and Caicos islands.
Villa Islander – just steps from Grace Bay Beach – has been freshly completed by architect-owner Alessandro Landi, who has mixed concrete with extensive glazing.
'The glass surrounding the living spaces, in particular the living room, establishes a direct connection with the local vegetation and conveys this feeling of just about living outdoors,' says Landi.
The holiday home has over 6,000 sq ft of living space split across two rectangular volumes. An enormous open-plan living room, dining room and kitchen – capped by 14 ft ceilings – fill the main block, as well as two bedrooms. Tall, sliding glass doors open the spaces up to the courtyard swimming pool and dining terrace.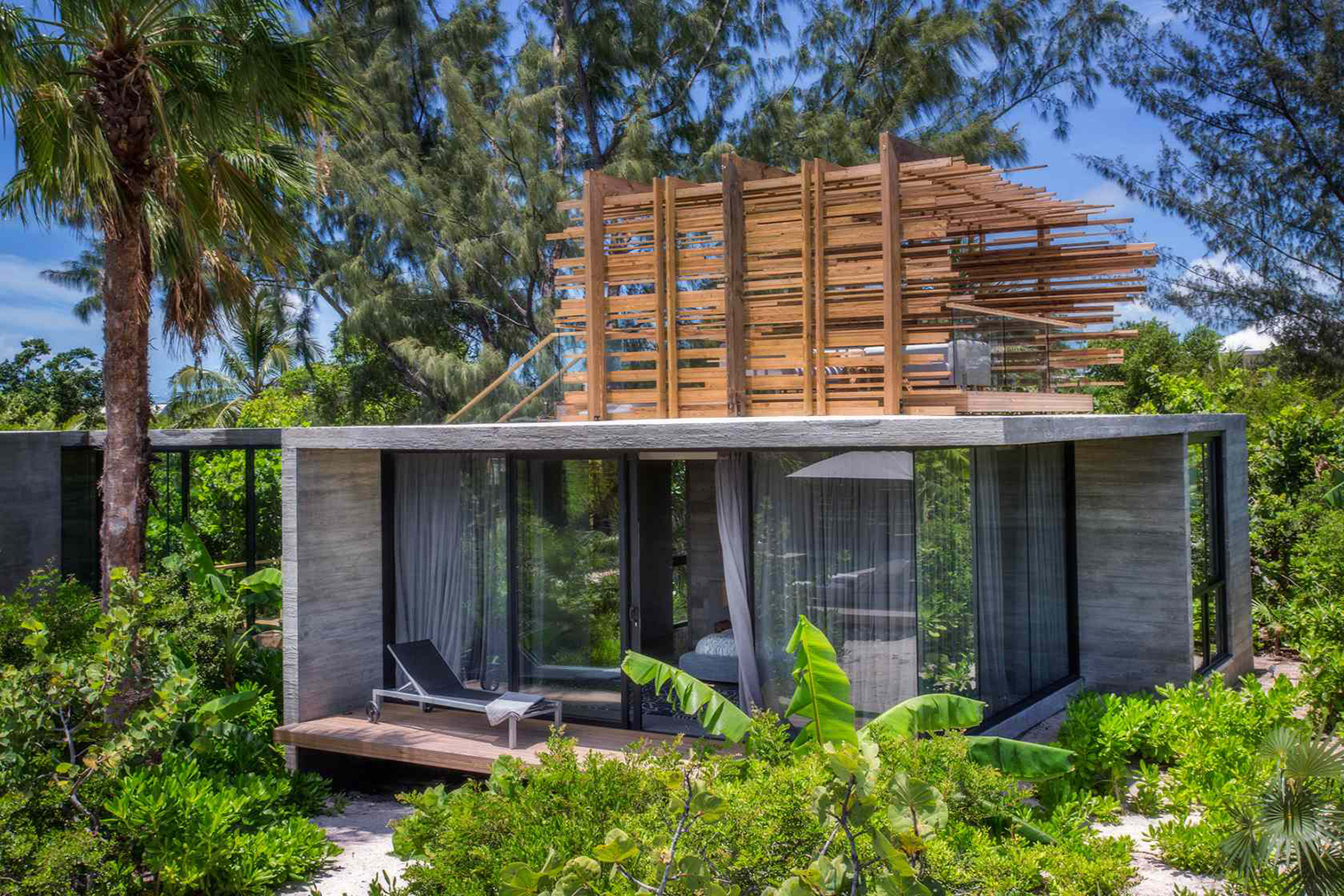 Gardens meanwhile are planted with lush palm trees that help anchor the graphite coloured building to the landscape, while an angular brise soleil shades an outside lounge – a motif repeated in the entrance, upper terrace and reflecting pool. On the other side of the pool is the garden wing, with two more bedrooms and wraparound decks.
Textured concrete is at the fore of the island home's interiors too, where it's used for floors, walls and ceilings.
Says Landi: 'I find concrete to be very warm, opposed to the prevailing idea of concrete being an austere or 'cold' material. The texture and the irregularities in colour tone make it appear as a very handmade finish, something that has been lost in most modern homes.'
You can rent the architect-designed holiday villa from $ 2,200 per night (upwards). Housekeeping is included, but you can also hire a chef, yoga instructor, masseuse or babysitter for your stay at an additional cost.
Villa Islander is a two-minute walk from Grace Beach, while bars and restaurants are a five minute walk along the shore.
Read next: Go inside Point House in the Turks and Caicos Islands