Osvaldo Borsani was, by all accounts, a reserved and considered man, absorbed by work. The late Italian architect, designer and entrepreneur, who founded the furniture brand Tecno in 1953 with his twin brother Fulgenzio is, in some people's eyes, the great forgotten figure of 20th-century Italian design. But that could be about to change.
As part of the Milan Design Week this year and ahead of a retrospective of Borsani's work curated by his grandson, architect Tommaso Fontani and Norman Foster at the Milan Triennale in May, the home Osvaldo designed for his family home in Vareno will be open to the public for the first time.
Villa Borsani, a rationalist-style dwelling completed in 1943 adjacent to the old Tecno factory, has remained largely unchanged since Borsani passed away in 1985 and has been unoccupied for the last decade save for the family archive. Tecno's trademark kinetic furniture, mass-produced and revolutionary at the time for its exposed mechanisms and suitability for both office and home, sits alongside commissioned work by many of Osvaldo's artist friends such as Fausto Melotti and Lucio Fontana, evidence of the designer's lifelong lustre for collaboration.
Leading the somewhat gentle restoration project, entitled Villa Borsani: Casa Libera! is Design Miami co-founder Ambra Medda, who deemed the villa virtually 'perfect,' only making changes that were 'almost invisible or very obvious,' including commissioning special sound, fragrance and floral arrangements that pick up on the restraint of Osvaldo's aesthetic.
His tastes moved quickly from the baroque to the modern, in tandem with the accelerated regeneration of post-war Italy, so additionally Medda switched a few pieces of furniture 'to show how he went from handcrafted to something very engineered and mass manufactured,' but ultimately, the house just needed 'someone to breathe life into it,' she says.
'Given his contribution to design, it's mind boggling how unrecognised he is,' says Medda. 'His dedication to engineering, uncompromising application of form and function – taking the guts of furniture and putting it on the outside was totally revolutionary at the time … he made the mechanics beautiful .. he was so ahead of his time.'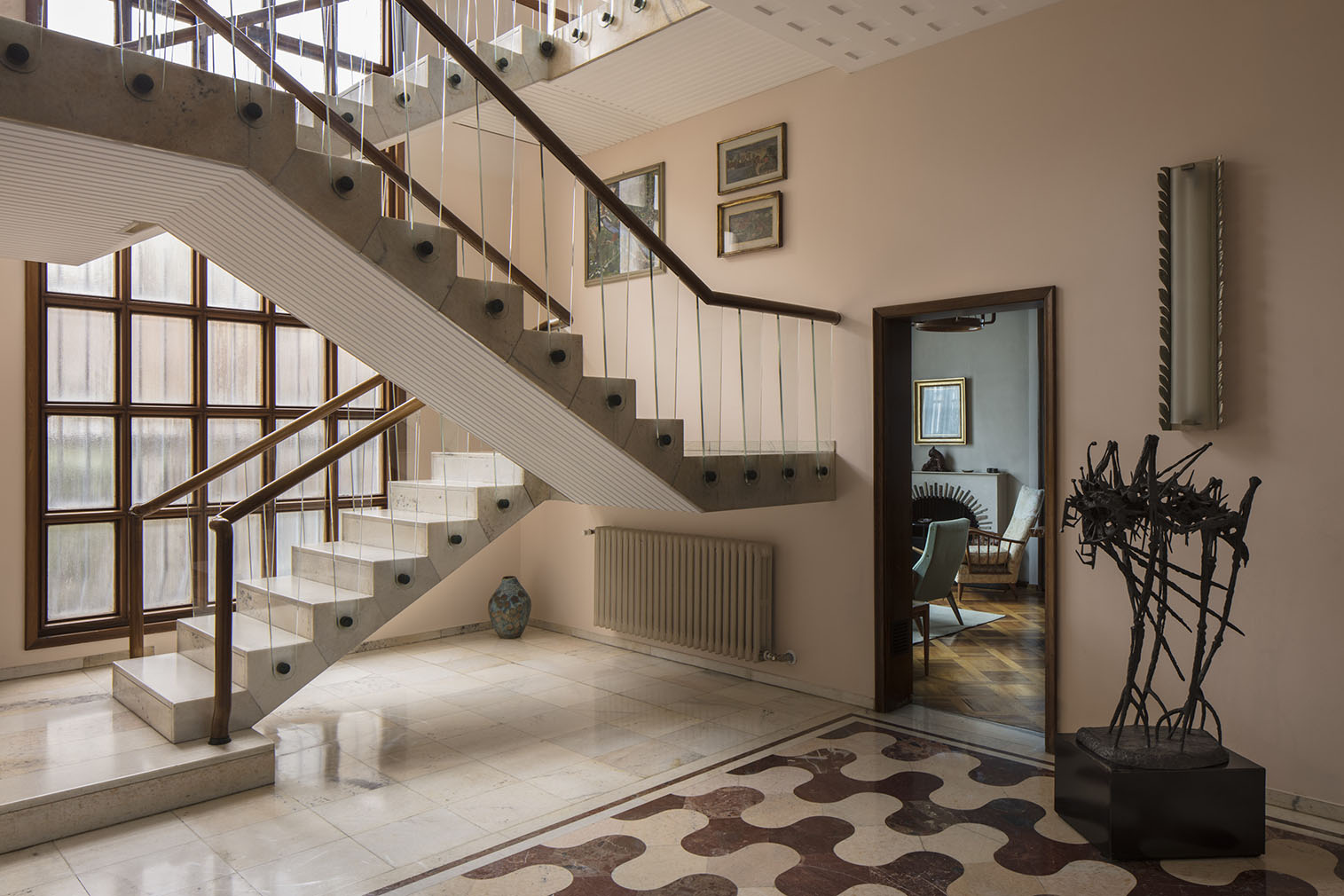 But he was it seems, too engrossed in his work to indulge in self-promotion, too difficult to label.
Fontani remembers, as a child, the constant coming and going of people, daily business lunches and Osvaldo taking very few holidays. Indeed, ascend the Murano glass-lined, walnut staircase to the master bedroom, past tall hand-rolled windows (the first ever in Italy to be double glazed), and you'll reach a balcony with a perfect view of the picturesque gardens – and the former Tecno factory, seen from Osvaldo's office.
Fontani describes his grandfather as 'one of a kind in the Italian panorama,' whose real legacy is his approach to work, with the villa as testament. 'The way [his studio] used to work with such intensity, with such attention to detail… the craft was so impeccable that today after 70 years the house is still perfect.'
But Villa Borsani is above all a family home, one characterised by elegant and subtle detailing, with plenty of space for play and entertaining, the kind of home we all dream about growing up in, but with better furniture.
'Villa Borsani: Casa Libera!' runs until 20 April at Villa Borsani, via Umberto I, 148 Varedo. The Osvaldo Borsani exhibition at the Triennale di Milano runs from 16 May to 15 September, Viale Alemagna 6, Milan
Read next: Studiomama on how to live better on a small scale