2021 started pretty much as 2020 ended; with many of us spending most of our day at home.
But after the first lockdown inspired a mad DIY rush, now is the time to take a more considered approach to updating your four walls, using Pantone's 2021 colours of the year, Ultimate Grey and Illuminating yellow.
Paint
Paint is one of the quickest and cheapest ways to make a big impact. Mix it up by trying a limewash instead – an ancient decorating material dating back to Roman times. The mineral-based, chalky eco-paint is made from limestone mixed with water, and leaves a unique texture to the walls caused by free-hand brush-strokes, as well as having none of the usual solvents found in most paints.
View this post on Instagram

Modern limewash paint supplier, Bauwerk Colour, founded in Australia in 2000 and now supplying across Europe, offers a multitude of tones like Milkweed, Tweed and Birch that allow you to pay homage to Ultimate Grey, but with added depth.
If nothing less than Illuminating yellow will do, try Farrow & Ball's Yellowcake, a popular colour in the 1960s that would look at home in any modern or mid-century design.
Wallpaper
View this post on Instagram
For the bold in life, wallpaper is the only way to go.
The iconic brand Cole and Son's classic Pompeian or Delano designs have 2021's colours all wrapped up.
For those looking for a more daring pattern try Scalamandre's famous Zebras in either yellow or grey.
Originally designed for Gino's Restaurant in New York in the 1940s, it was revived in the 1970s and made famous everywhere from film director Wes Anderson's The Royal Tenenbaums in 2001 to handbag designer Kate Spade.
Art
Not everyone has the understanding partner, patience or landlord needed to be able to paint or paper walls. But art is a moveable and scaleable way to introduce colour to a space.
After Pantone announced their new palette, however, Maurizio Cattelan's 2019 viral sculpture of a banana stuck on the wall with duct tape, immediately epitomised the colour blocking potential.
Mónica Hernández
View this post on Instagram
The Dominican Republic born, New York City-based artist and painter's 6ft canvases are awash with bright colours. Mónica Hernández features mostly portraits of women of colour, exploring the complexities and dynamics in their lives.
View this post on Instagram
Sofia Lind
Swedish artist and print-maker Sofia Lind's calming, patterned portraits are made with gouache and tempera on watercolour paper. They are available to buy as original works, limited edition prints and posters.
View this post on Instagram
View this post on Instagram
Furniture
Dutch designer Kirk Van Der Kooij's classic, yellow, chubby chairs, instantly brighten any living space. With a lower price-tag, try IKEA's neon Janinge chair, with an armrest version in light grey.
Bedfordshire-based Naked Clay Ceramics's handmade earth-ware and porcelain cups and plates are an easy way to update your kitchen.
View this post on Instagram
Fabrics and soft furnishings
View this post on Instagram
Change up your soft-furnishings with items from these Black-owned brands.  Swap out your neutral coloured lamp-shades for ones by Bespoke Binny, made in the UK using African-inspired prints. Or scatter some fresh, sunshine cushions by designer Eva Sonaike.
View this post on Instagram
The Kenyan Crafts Company offers beautiful, hand-weaved baskets and textiles made in Kenya and shipped worldwide.
Books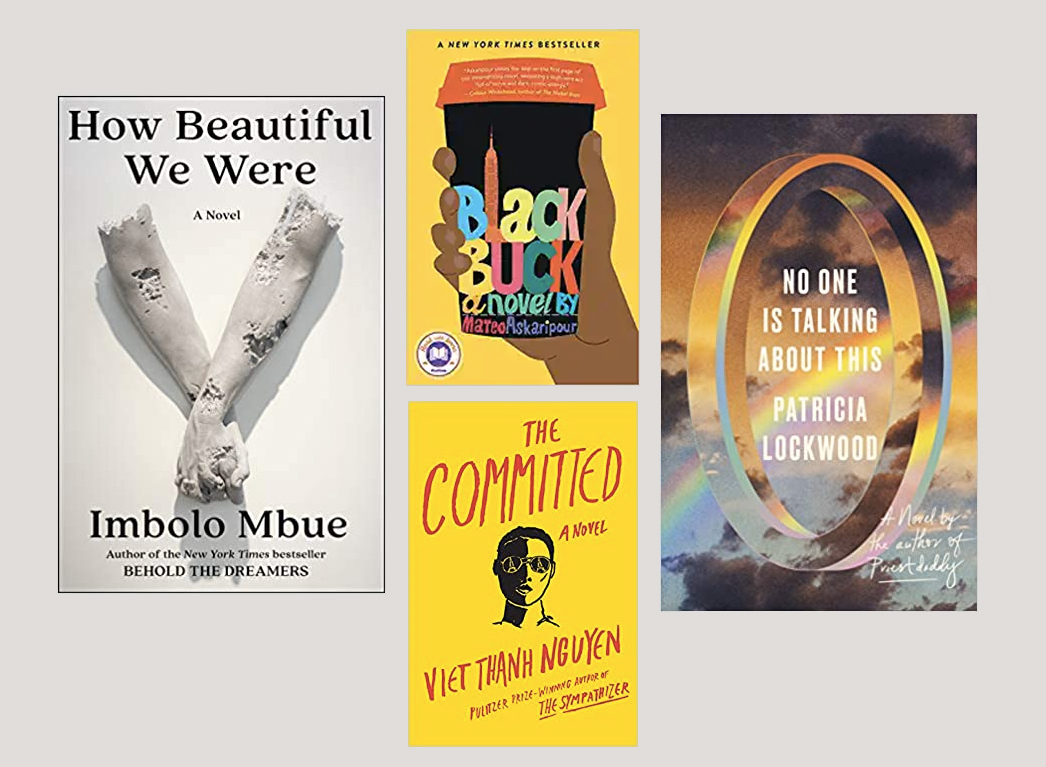 We're encouraged never to judge a book by its cover, but these hotly anticipated works in 2021 would brighten up any bookshelf.
Black Buck, by Mateo Askaripour, published in January 2021.
No One Is Talking About This, by Patricia Lockwood, published in February 2021.
The Committed, by Viet Thanh Nguyen, published March 2021.
How Beautiful We Were, by Imbolo Mbue, published in March 2021.
Floral designs
View this post on Instagram
An unusual side effect of the chaos injected into the wedding industry last year has been the rise of the dried flower trend. Rather than buying an ephemeral bunch of daffodils, consider decorating your space with long-lasting dried floral displays or a hanging installation.
East London floral design company, Worm London, has been pioneering dried flowers for years. Like many businesses they've been affected by the pandemic, offering up their studio to a local food bank.
View this post on Instagram
Or take inspiration from Berlin-based designers and artists like Design Tales, stylists and food bloggers known for their sculptural, floating designs, and Jules Villbrandt, who runs the successful Herz und Blut interiors blog.
View this post on Instagram
Eco and vintage objects
For those looking for an eco way to freshen up their design without buying new products, look to companies like vintage homeware brand Second Abode, who curate second-hand glass.
View this post on Instagram

Or, search the online warehouse of the eponymous architectural salvage brand, Retrouvius. Founded in the UK in 1993 by Maria Speake and husband Adam Hills, they preserve the history of buildings from across the world by repurposing their tiles, windows, doors, lights and floors in new and interesting ways. From using old folio cases at The British Museum as leather cabinet cladding to an accidentally double-printed novel from an old print-works as wallpaper.
View this post on Instagram