'The value of human connection and a good life is what dominates in much of Finnish thinking,' says designer Elina Grigoriou who is working with the University of Helsinki on the future of architecture. 'As a result, the mentality around design and project decisions is very healthy there in a way we don't see so much in other countries.'
This comment on the Finnish approach to design has never been more pronounced than in the capital of Helsinki where daily life and architectural prowess increasingly go hand in hand. The city has taken what Finns hold dear, from their famous sauna culture to outdoor swimming, and has used these activities as jumping off points to deliver fresh, new architecture that is open to everyone.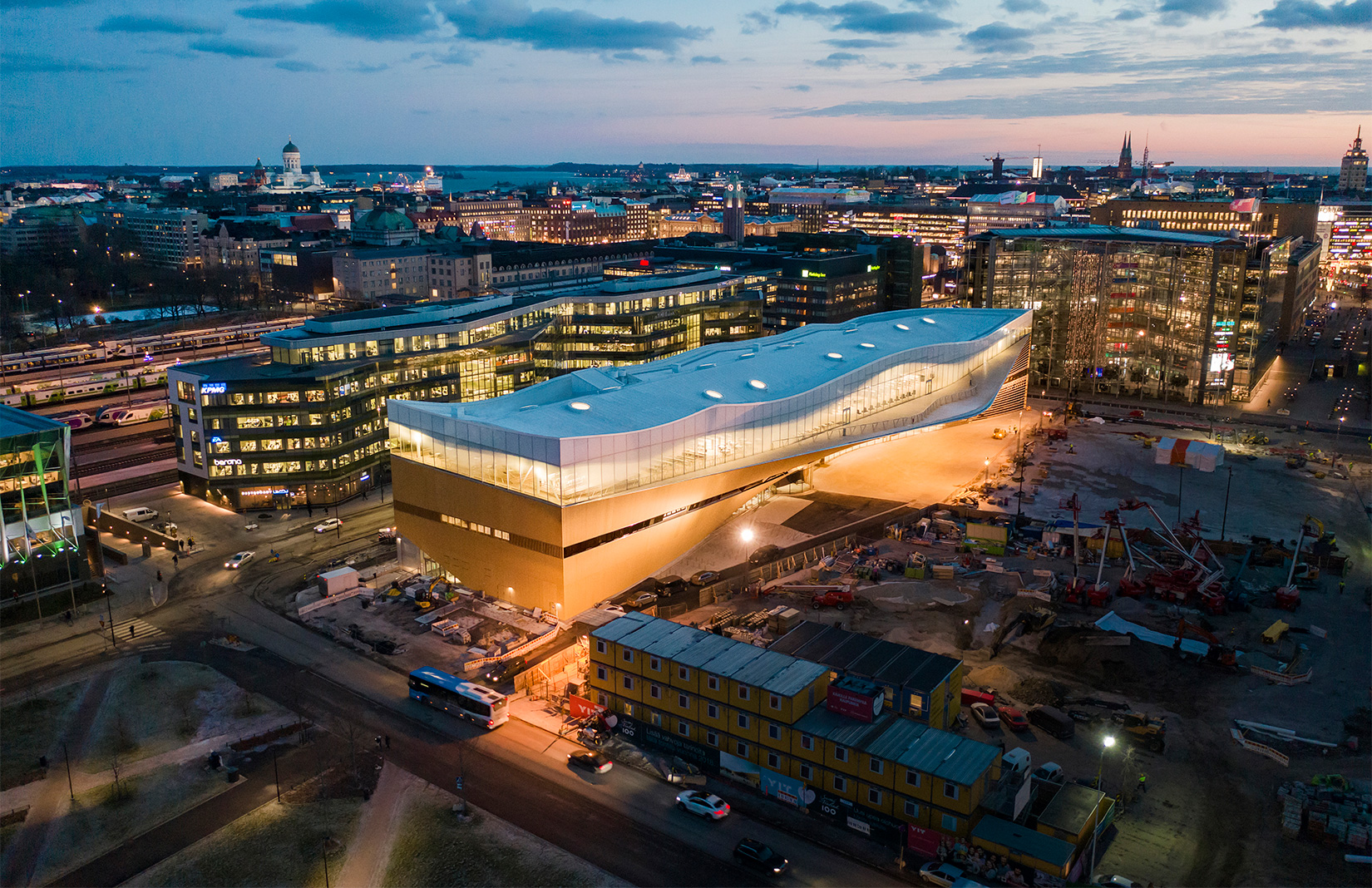 All eyes were on Helsinki at the end of last year when ALA Architects' Oodi Library opened to the public– as much a feat in civic placemaking as design – but there are examples all around the city of projects and events, both in situ and in the pipeline that underpin the value of 'a good life'.
Here are 5 of the best.
Löyly Sauna
The angular wooden structure on the Baltic Sea was designed by Avanto Architects was named one of Time Magazine's Best Places to Visit 2018. The iconic shape is reflected on the inside where two public saunas are cut into the pine cladding. The materials used in the communal shower area and sauna bar are black concrete, light Scandinavian birch wood and blackened steel and visitors can sit around an 'open' fire for drinks before getting dressed and heading into the adjoining restaurant.
Hive HQ
Set to open its doors in July, this new coding school will launch on the top floor of the renovated Haapaniemenkatu factory. Hive was one of the most talked about start-ups at Slush, the now internationally renowned Helsinki-based start-up event, last year. The tech school will have no teachers or lectures, just peer-to-peer, real-life projects and will operate out of the premises delivered by design agency Kuudes to create the 'visual identity and space for the school.'
Hilbert's Hotel
Norwegian architecture firm Snøhetta won a competition to design a futuristic hotel on the city's Hakaniemi waterfront which is slated to open at the end of 2019/early 2020. Based on shards of broken sea ice, the architects describe the building as being 'enveloped in a smooth contiguous white glass skin that is in direct contrast to the surrounding, heavily punched masonry façades'.
Allas Sea Pools
Opened in 2016, these three floating sea pools are surrounded by a network of saunas and restaurants including a roof terrace all built in Finnish pine and designed by Huttunen-Lipasti-Pakkanen.
Amos Rex Museum
JKMM Architects took an unorthodox approach to designing the new Amos Rex Museum, which opened late last year. The art gallery takes over the functionalist 1930s Lasipalatsi building but city planning laws prevented its expansion at street level so the Finnish practice burrowed underground to create a series of subterranean galleries. Their sucker-like skylights peek up to Helsinki Plaza above, creating a surreal and playful public space.
On the horizon…
Trigoni
A cluster of triangle-shaped towers fitted with smart technology will form the heart of Lahdelma & Mahlamaki Architects' Helsinki masterplan. High density is rare in Helsinki but these towers, located north of the city centre in the Pasila district, have been designed and positioned to maximise natural light and well-being for that inside.
Read next: Where to holiday in 2019 – a month by month guide