'Once Upon a Time', the doors to many of Helsinki's historic buildings – an old customs house, a port warehouse, and even a former abattoir – were opened to the unsuspecting public for the first time under the auspices of Helsinki Design Week. Eighteen years on, this festival of design, architecture and urban culture begins a new chapter in Merikortteli: a former cable factory in the maritime quarter.
HDW Exhibition Curator Ulla Koskinen is concerned with changing spaces: what we lose when the barriers between rest and work become fluid, and 'how to make this as fulfilling and calming as possible', she says. As the theme, 'Once Upon a Time' suggests, there is nostalgia for times gone by – a reverence for the city's design masters and heritage – but in equal measure, stories of contemporary innovation and future thinking, whether what's at stake is 'colour, fragrance, material or flavour,' notes Programme Director Anni Korkman.
Concurrently, Finland's largest furniture and design fair, Habitare, riffs on the theme of 'Together' for its central showcase conceived by Anna Pirkola and Kirsikka Simberg of Studio Plenty. In their vision, cohesion is not simply a call for greater community and creativity but 'a form of activism or hope: a mutual goal.'
Elsewhere, exhibition design by Joanna Laajisto is a 'manifesto' against the fast-paced construction industry. 'It would be lovely only to design from a blank canvas', says Laajisto. 'But we have to be very mindful of sustainability. We are designing with the resources we have.'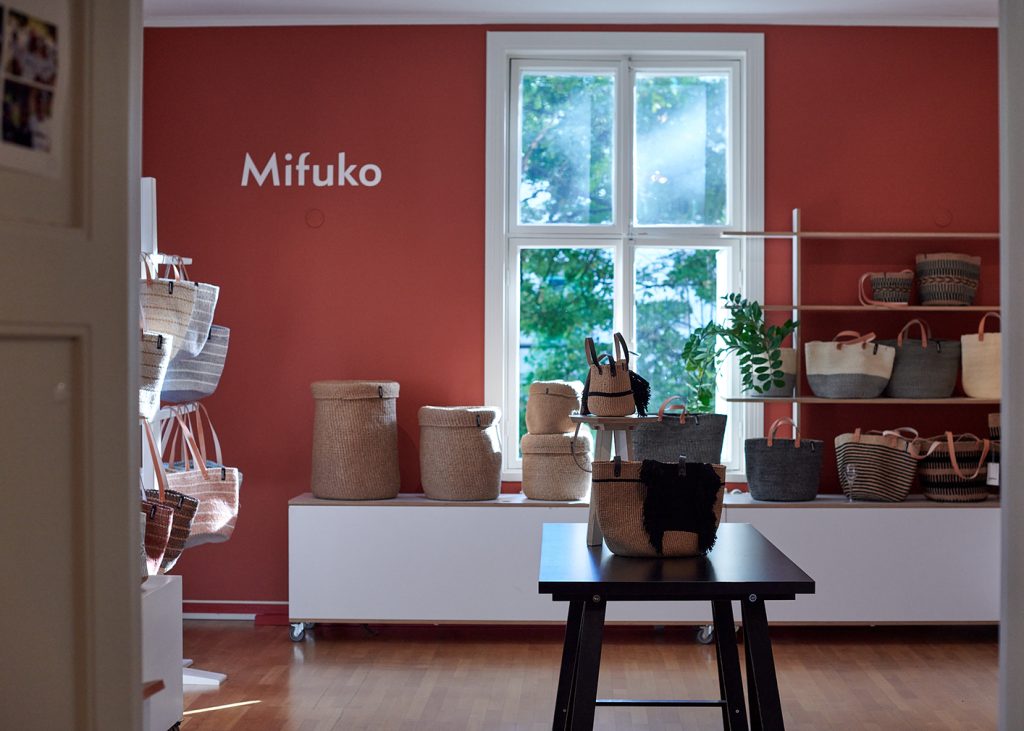 Beyond, the capital is threaded with inspiration during Design Week. The hallucinatory textile work of Kustaa Saksi vibrates around the walls of the Design Museum; the icon of Finnish chair design, Yrjö Kukkapuro, is united with his Pop Art influences at EMMA museum; and designer Ervin Latimer launches a new collection with Fair Trade bag & basket makers Mifuko (on a mission to support African craftswomen) – their first in a series of collaborations with marginalised designers.
Imagine Everyday! Outsider Art Finland
Working to support and celebrate different routes into the creative fields, Outsider Art Finland presents artist Maria Tani's imaginative, vibrant sculptural works, including five giant crochet jellyfish wafting in the breeze at Helsinki Design Week's main exhibition.
'Together' by Studio Plenty
A brushed steel den, a savoy cabbage on a plate, and a quilted cocoon housing an Antti Nurmesniemi lounge chair are all but a glimpse into the surprising spaces of Habitare's 'Together' exhibition, curated by Studio Plenty. Climb the red staircase for Lokal's curated selection: ​​Hanni Koroma's 'Lohoja' cabinet, inlaid by carpenter Antti Nousiainen, is stocked with jars of local honey, whilst glass blown ice-creams by Paula Pääkkönen are mouth-wateringly lustrous.
Iina Kettunen 'Mirroring'
Concept-driven designer Iina Kettunen discovered the distracting — even disturbing – dilemma of mirrors when she and her husband began renovating their home three years ago. 'Mirroring' is a folding concertina mirror of infinitely soothing variations, allowing the reflective surface to conceal itself as much as reveal its surroundings. A video piece and performance evening by dancer Soile Puumalainen accompanies Kettunen's work at her Kinaporinkatu studio.
Didi, Habitare Talentshop
'My way of working is about being serious but also casual,' says Hong-Kong native Didi, whose painstaking handcrafted wooden benches, stools and vases are presented at Habitare's Talentshop, celebrating four emerging designers. His first "try" at a lamp uses wood shavings from a Japanese planer, cross-laminated with rice glue. A bid to create "a structure without a structure", he says.
Kaija Aarikka, Taidehalli Helsinki
A giant wooden ram, a 'Fancypants' candlestick, and metal tins decorated with the 'Stripe of Joy' are all but a glimpse of the charming world of Finnish design master Kaija Aarikka. Kunsthalle Helsinki's showcase of her 60-year career is beautifully rendered by exhibition designer Hanna Anonen, winner of Finland's Young Designer of the Year. Runs until 7 January 2024.
'Folded Future' by Fold
Far from whimsical origami, Fold is a research project based at Aalto University, working on industrial-scale green solutions for the paper and packaging industry. Their 'Folded Future' exhibition at Helsinki Design Week's leading exhibition showcases various plastic-free, lightweight and durable product designs – as vital as they are bewitching.
Choice, Habitare
Helsinki has a strong culture of second-hand homewares, but this is the first dedicated showcase at Habitare of brands promoting ​​conscious choices. Exhibitors include Arkivé Atelier – with their selection of care products for clothes and shoes – and Studio Frö, advocating for seasonal, local cut flowers at a time when 40% of imported blooms go to waste.
Helsinki Design Week, themed 'Once Upon a Time took place from 8th-17th September 2023. Habitare ran at the Helsinki Expo and Convention Centre from 13-17 September 2023.