New York's cache of carriage houses was initially built to store horse-drawn carriages, with digs for groomsmen above. Mostly now homes, these 19th-century ancillary buildings sit in the shadow of skyscrapers, offering antique charm and a sense of a bygone era.
We've found five New York carriage homes on sale in Manhattan and Brooklyn, including a loft penthouse with cinematic views of the Brooklyn Bridge and a pair of Greenwich Village carriage houses with Gilded Age vibes.
Brooklyn carriage warehouse duplex
2 bedrooms; $2.195m via City Realty
This Dumbo loft penthouse flat has a standout view of Brooklyn Bridge, captured by its long wall of glazing in its great room, which sits parallel to the cabled and brick landmark on the Hudson River.
Vistas aside, there are 12-ft-high ceilings, raw coffered concrete, and a red metal staircase spiralling up through a circular recess to the floor above. It is part of a 19th-century building that once stored horses and horse-drawn carriages and retains its original wide doorway.
Greenwich Village carriage house with sunken roof garden
3 bedrooms; $9,995,000 via Compass
NYC's rooftops can offer a reprieve from the bustle of the street level, and this former carriage house has a crowd-pleasing roof terrace with Greenwich Village views and a sunken firepit. The 1829 gut-renovated brick home has a ground-floor garage with dark green doors and polished concrete flooring.
Rustic, beamed ceilings and sash windows are mixed with clean lines, fresh hues, and a metal statement staircase inside the Manhattan property. History buffs would be interested to know it sits on land once owned by the third US president, Aaron Burr.
Twin Greenwich Village carriage houses renovated by Fairfax & Sammons
2 bedrooms; $7.5m via Sotheby's International Realty
Industrialist and art collector Armand Hammer owned this pair of 19th-century carriage houses in the 1920s when Greenwich Village was widely known as America's bohemia. It has curved doorways, window shutters, and a floor plan designed to the golden ratio rules.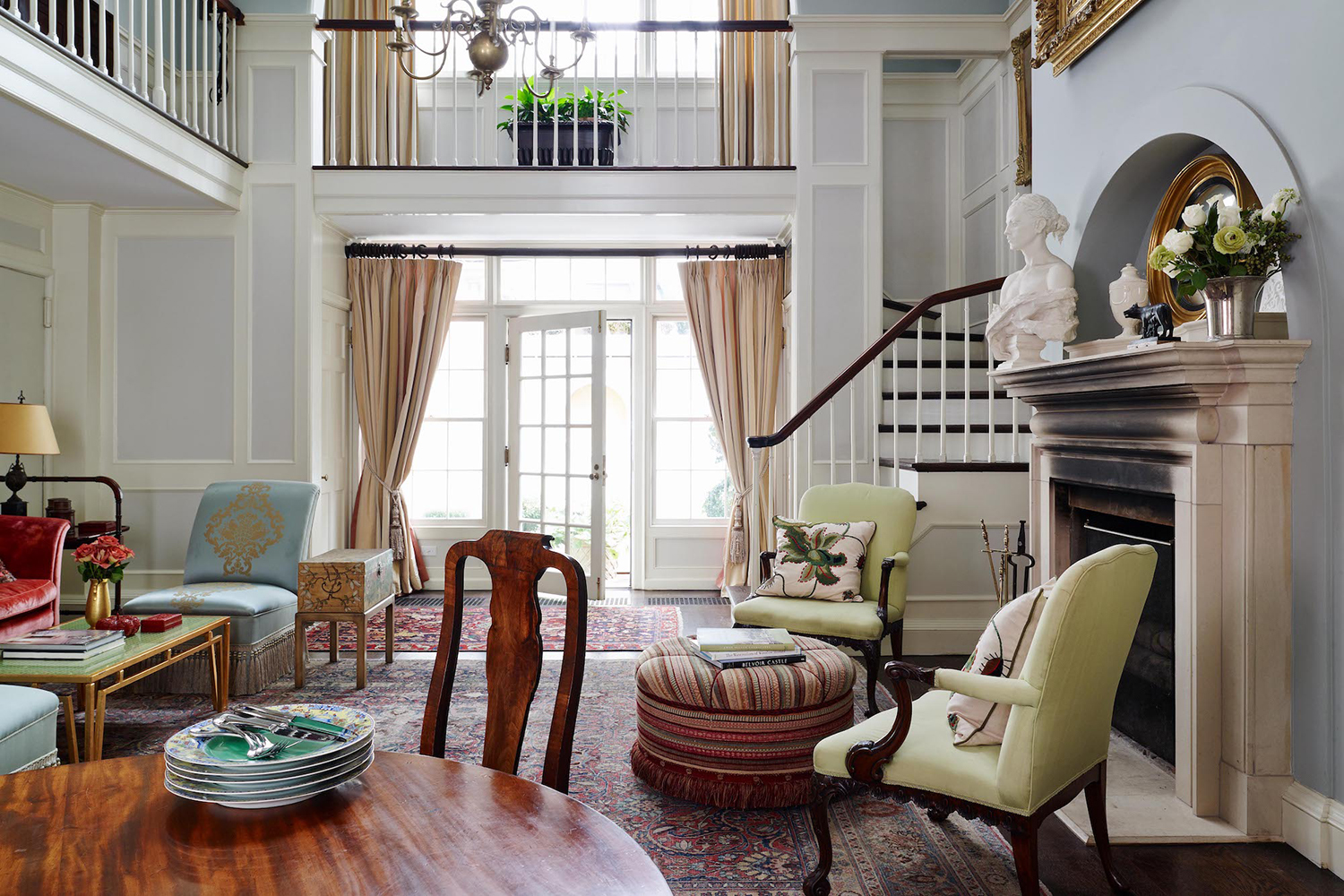 Its theatre-like reception has soaring ceilings, a galleried upper floor, and a large stone fireplace lit by timber-framed glazing. Fairfax & Sammons renovated the home, drawing on its 1920s history through passementerie, heavy drapery and antique rugs. It also has a dapper, 'secret' courtyard garden with ball topiary.
Nolita Penthouse apartment in a former horse buggy factory
6 bedrooms; $18m via Noble Black
While this Nolita penthouse is not technically a carriage house, it has a related provenance: it crowns the Brewster Carriage House development, once home to upscale carriage maker Brewster and Co. Its clientele was the city's vastly wealthy 19th-century elite, such as the Vanderbilts, Fricks and Astors.
The stately home is a Gilded Age industrial fantasy, with an original cast-iron Corinthian column repurposed as a fireplace, metal ceiling-high doorframes, a flourish-packed staircase (with an under the stairs custom wine cabinet). Up top is a huge roof terrace with skyline views.
Fifth Avenue carriage house from the 1840s
3 bedrooms; $9.995m via Redfin
This 1840s Washington Mews carriage house sits just off a street with serious architectural pedigree – Fifth Avenue is lined with art deco icons such as the Empire State Building. The tucked-away stucco mews house has a wooden staircase twisting up through the middle of its three stories, lit from above by a skylight. It has the look of a London mews from the outside, with its large, shuttered sash windows, charming window boxes, and a pretty, cobbled lane setting. It packs in a balcony and a courtyard, too.