Want to get into the mind of an architect? Step inside their home, where professional ideas blur with personal tastes. Architects' homes are a testbed for their most maverick ideas, offering a blank canvas to play about with scale, form, light… and to obsess over the details.
From a 'floating' house in Michigan to an award winning Queensland home, we've rounded up five properties that let you live like an architect.
Planchonella House in Cairns, Queensland, Australia
POA Via Modern House
Aussie architects Jesse Bennett and Anne-Marie Campagnolo drew on Brazilian modernism to inspire their Queensland family home, which scooped the prize for Australian House of the Year 2015.
'The only way for the architect to have serious influence over the completed building is to be more involved in the construction process,' Bennett told Architecture AU.
Though surrounded by rainforest, the L-shaped Planchonella House sits in the suburb of Cairns' Edge Hill and is designed as two undulating concrete platforms that curve out into the tree canopy. The platforms are set with floor to ceiling glass, inset with black silicon seams and rosewood frames.
Interiors are outfitted with custom-built furniture, like a sofa that follows the curve of the glass wall, and details like concealed pivoting doors. Read more on this Australian property.
Plymouth Woods time capsule in Michigan, USA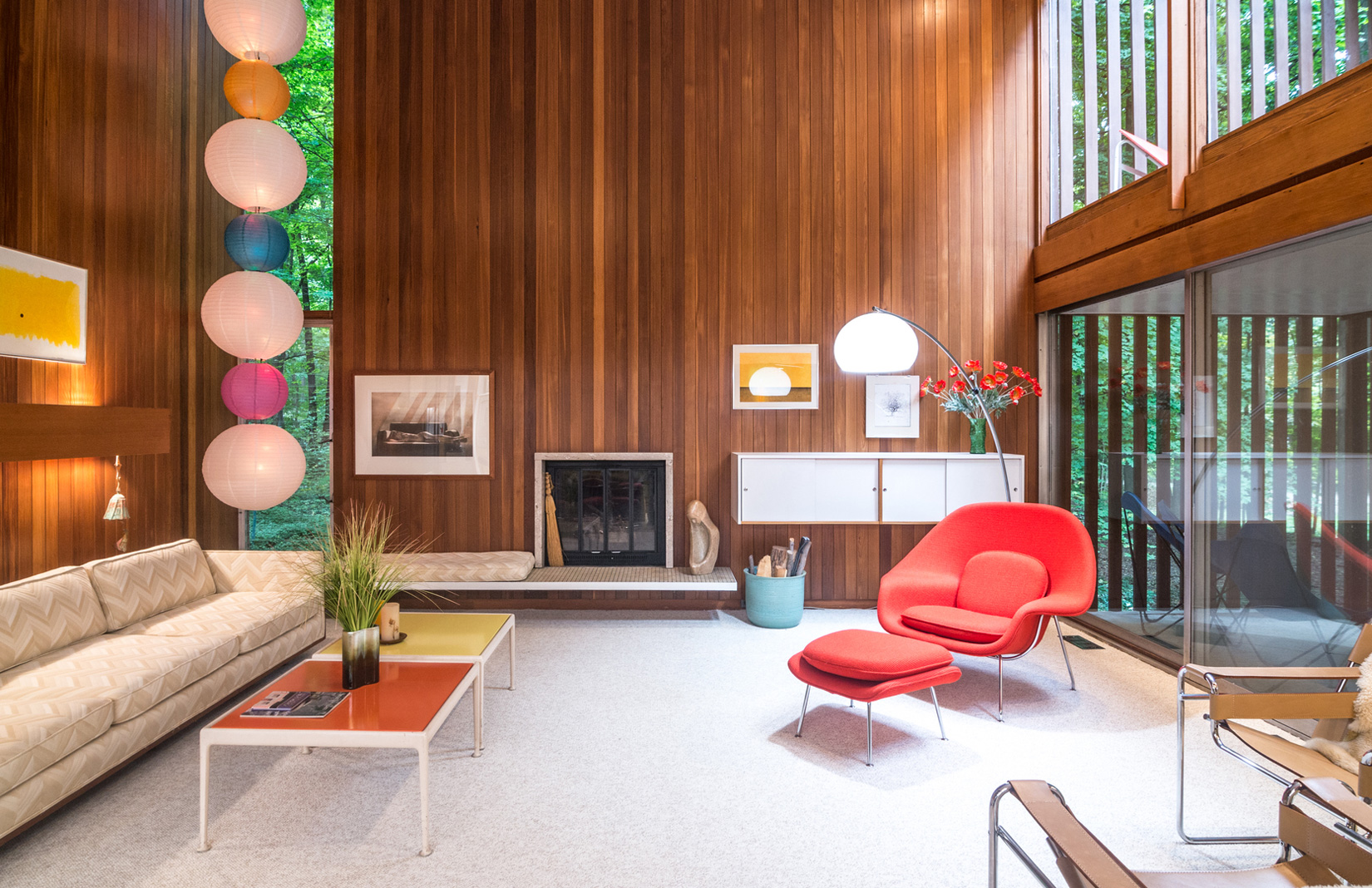 $750,000 via Real Estate One
Michigan architect Tivadar Balogh designed this 'floating' woodland home for his wife Dorothy, and it won a cache of awards for its unorthodox modernist design in 1958 following its completion.
Cantilevered concrete steps lead into the cuboid Michigan property, whose interiors feature rich Douglas Fir panels and Mondrian-like blocks of colour. Its two bedrooms peek out onto the forest, but the real star of the show is the living room, complete with a glazed wall and balcony.
Much of the interior details are original inside the midcentury property (it would make for a canny period film location). Still, the home has had a recent re-paint to spruce it up and is now on the market for the first time ever.
Destelbergen House in East Flanders, Belgium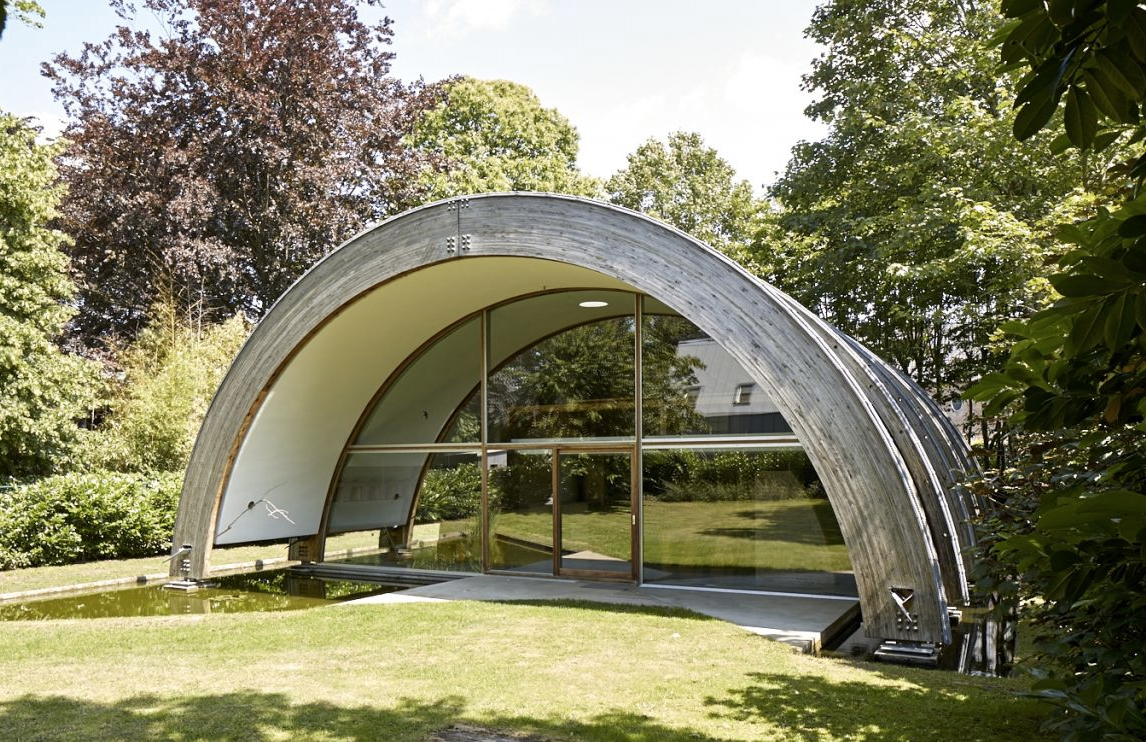 €695,000 via Architecten Woning
Belgian architect Frank Verplanken built this bunker-like Destelbergen house as his family home in 1991, borrowing elements of Japanese and Scandinavian architecture for its unusual arching concrete and brick design.
The base of the Belgian property's exterior walls appears to hover above a reflecting pool which skirts the house. Interiors meanwhile are true to the building's materials, with exposed concrete and brick throughout, and timber trusses spanning the roof.
Georges Vandenbussche House in Tielt, Belgium
€1.495m via Architecten Woning
Architect Georges Vandenbussche – co-principal of practice Konstrukto – built this 6,500 sq ft Belgian property as his dream home in 1969 borrowing Modernist principles which (at the time) were unusual in the country.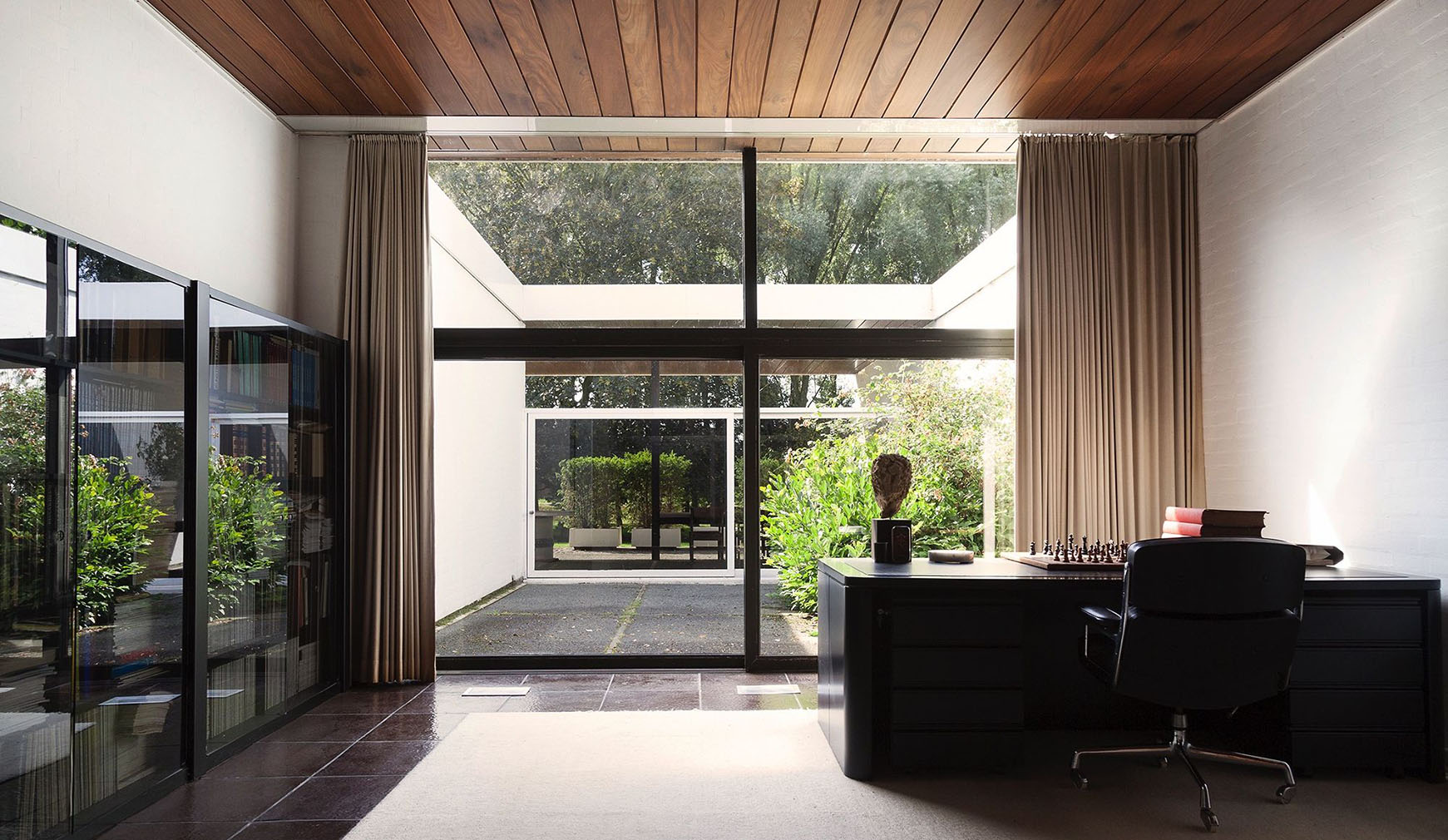 The single storey home has a low slung design with a flat roof, floor-to-ceiling windows, white painted brick and exposed support beams. Interiors have no doorways, and are furnished with bespoke, dark wood cabinetry.
IM Pei's Manhattan townhouse, New York, USA
$8m via Christie's International Real Estate

Following his passing last year at the grand old age of 102, IM Pei's 3,848 sq ft Manhattan townhouse is on the market, and it offers a snapshot of the Chinese master architect's vision.
Pei lived at the 1899 property with his wife Eileen for 45 years, and its interiors fuse late Victorian and modernist aesthetics. Bright white rooms feature soaring ceilings and large picture windows that overlook Sutton Square, while the entrance hall has an 'oculus' spiral staircase designed by Pei, set beneath a skylight. Take a closer look.