We featured hundreds of interiors this year, but some stood head and shoulders above the rest. These spaces raised the bar and started new conversations, whether it was for their eco-sensibilities, emotional take on minimalism, or their unabashed use of colour and volume.
In January, we featured this sushi bar in Mexico City with tables that seem to float under the vaulted ceiling. The design – a collaboration between Michan Architecture and Escala Arquitectos – embraces Japanese minimalism and local pale woods.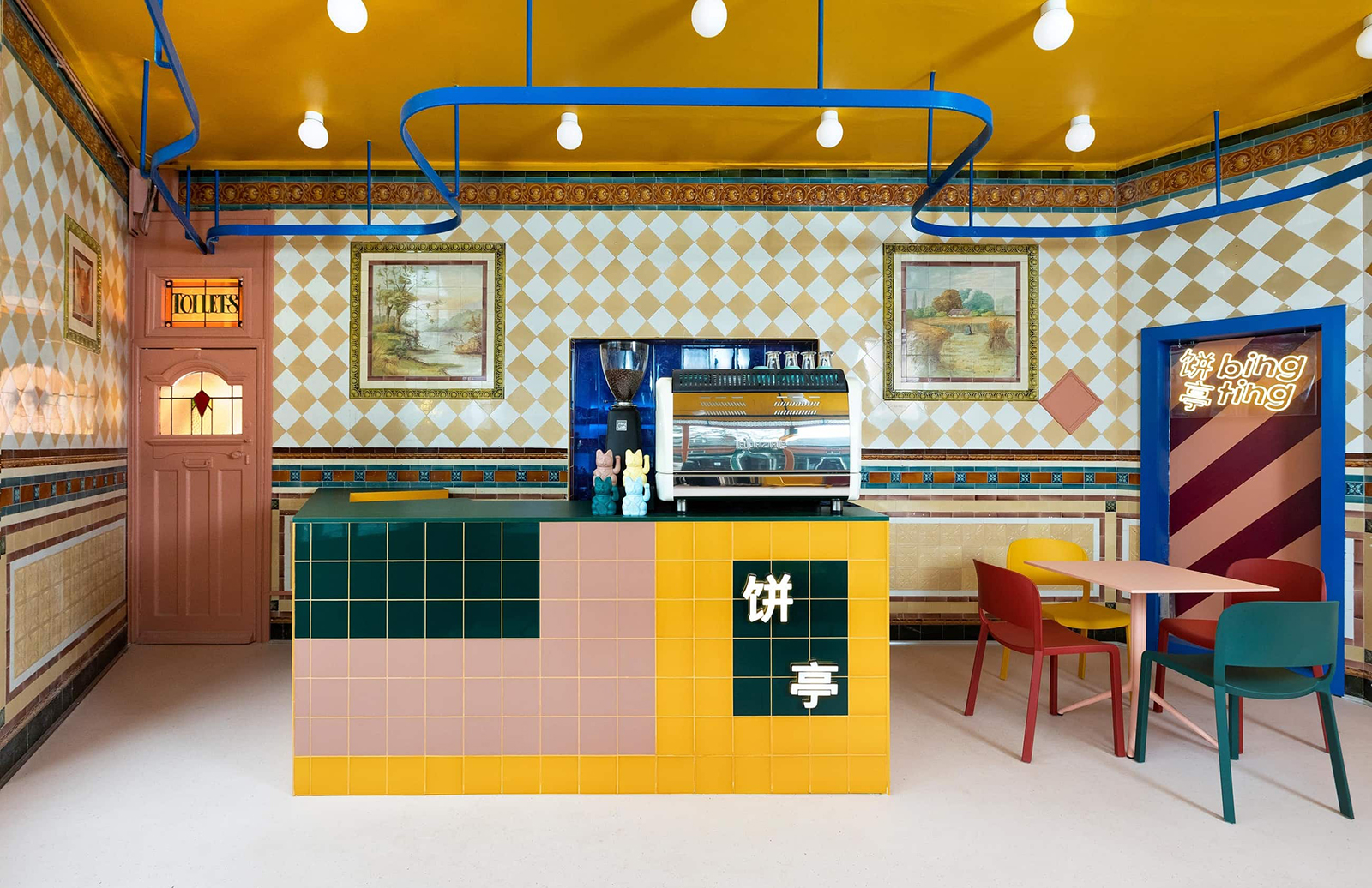 In the small English city of Kinston Upon Hull, Scottish designer Sam Buckley applied his characteristic flamboyance to a Chinese street-food café. The Grade II-listed space is reminiscent of its former life as a Victorian-era butcher shop and preserves its original, listed tiling and stained glass. Buckley played on the colour scheme with a new, glossy paint job and clean-lined heritage-tone furnishings. We featured it in February.
How to distinguish your burger bar from umpteen others cropping up across Europe? Hire Spanish outfit Masquespacio, known for pairing unconventional curves and colours. The designers were inspired by the changing rooms in public pools and certainly appeared to channel the golden Deco era of pool design. The practice used fun sorbet colours to distinguish seating from cooking and serving areas and added a mirrored ceiling to create a watery ripple effect. This was part of our March 2022 coverage.
In March, we visited the home of Jonathan Ellis and Sophie Smith, a developer and designer, respectively, who are unusually conscientious in their approach to residential development. They occupy a top-floor two-storey flat within their East London building – a white-brick walk-up with wide windows and a stripped-back, nu-Brutalist aesthetic. Within the building's concrete, wood and plaster envelope, they added contemporary terrazzo flooring, perforated steelwork and wood furnishings that hearken back to the mid-20th century.
Balenciaga has been embroiled in controversy in recent months, but back in spring, it was still fashion's darling – and the most influential brand on the planet. The label debuted its La Cagole collection in April with a bubblegum-pink faux-fur overhaul at its boutique on Mount Street in London. Muppet hair covered everything except the bags on show until it was replaced with a new scheme in June.
Spanish designer Patricia Urquiola was lured to Holland, Michigan – a college town near Grand Rapids – to overhaul a 25-year-old hotel with her special flair for colour and curve. She designed around a swooping central staircase and added upholstered seating by beloved European designers like Poltrona Frau and Capellini, as well as the local contract furniture manufacturer Haworth. Common areas are distinguished by colour, though they all share a continuous light wood floor. We tracked it down in April.
To Canada in May, where architect Omar Gandhi amassed 400 kilos of maple-wood slats to coat a downtown restaurant run by popular chef Matty Matheson. Gandhi used leather, brass and sheepskin in the interiors scheme, though they all seem to blend into a single, warm Japandi shade of tan.
Sunyata in Chikmagalur, India
Also in May, we were struck by the rammed-earth and concrete marriage of this eco hotel in the hills of Karnataka province. Bangalore practice Kacheri designed it following a thotti mane, or courtyard, layout. The scheme harnesses rainwater, solar power and cool air in each room with passive technology. Local caned furnishings sit easily against exposed brick crafted by local masons.
This cabin by the sea is pure joy for weekenders in Victoria, Australia, with an all-seeing hand-painted mural outside and a sunny scheme within. Overseen by the Jacky Winter creative agency, the decor does a lot with a little space and a calming palette of pale ply, sky blue and yellow. The goalie-net handrail is an unexpected delight.
Composer Max Richter and artist-filmmaker Yulia Mahr welcomed us in July to tour their creative retreat, a calm, woody reimagining of a former alpaca farm by architectural designers Charlie Luxton and James Renfrew. The studio hub is a base for the couple but also a professional retreat for composing, recording and making, with digital and analogue equipment and access to 31 acres of woodland.
Hotel des Horlogers in Vallée de Joux, Switzerland
Hotel des Horlogers is a true creative collaboration between Swiss watchmaker Audemars Piguet, starchitect Bjarke Ingels and Swiss architects CCHE. Beyond the glulam facade is an interior clad in reclaimed white beech with stone flooring, timber ceilings, full-height windows and lighting inspired by an ancient rock in the surrounding Risoud forest. We featured the property in September.
Courrèges, Paris
To outfit Courrèges's Champs-Elysées flagship, artistic director Nicolas Di Felice sought out Belgian architect Bernard Dubois. The boutique's interior architecture references the fashion brand's 1960s origins with go-go mirrors, modern upside-down arches and a space-age sparseness all in white, which sets off the colour of the clothing. The shop launched in September 2022.
Ace Hotel, Toronto
In October, Canada got its first Ace Hotel in an imposing new A-frame-esque building designed by Toronto practice Shim-Sutcliffe Architects. Inside, the sculptural concrete structure is broken up with steel, leather, tile and plenty of wood. Contributions from Canadian artists decorate the common spaces, whereas the bedrooms are left spare.