A lot of hotels claim eco-credentials. Sunyata, in the hills near Chikmagalur, India, takes its environmental mandate seriously. The hotel, designed by Bangalore practice Kacheri and completed last year, demonstrates how an urban building can operate in a truly sustainable way.
The building's off-grid character is obvious just by looking at it from the outside. Kacheri worked with Real Earth Engineers on constructing the various building blocks from available earth. The mud blocks, poured earth, rammed earth, and mud concrete were perforated like traditional jaalis to offer ventilation, natural light and shade and to regulate heat.
A lode-bearing design reduced the requirement for concrete columns. And long-established techniques like brick vaults, jack-arch roofs, precast hourdi clay roofs, and filler slabs reduced concrete consumption. All construction and brick-making equipment were solar-powered.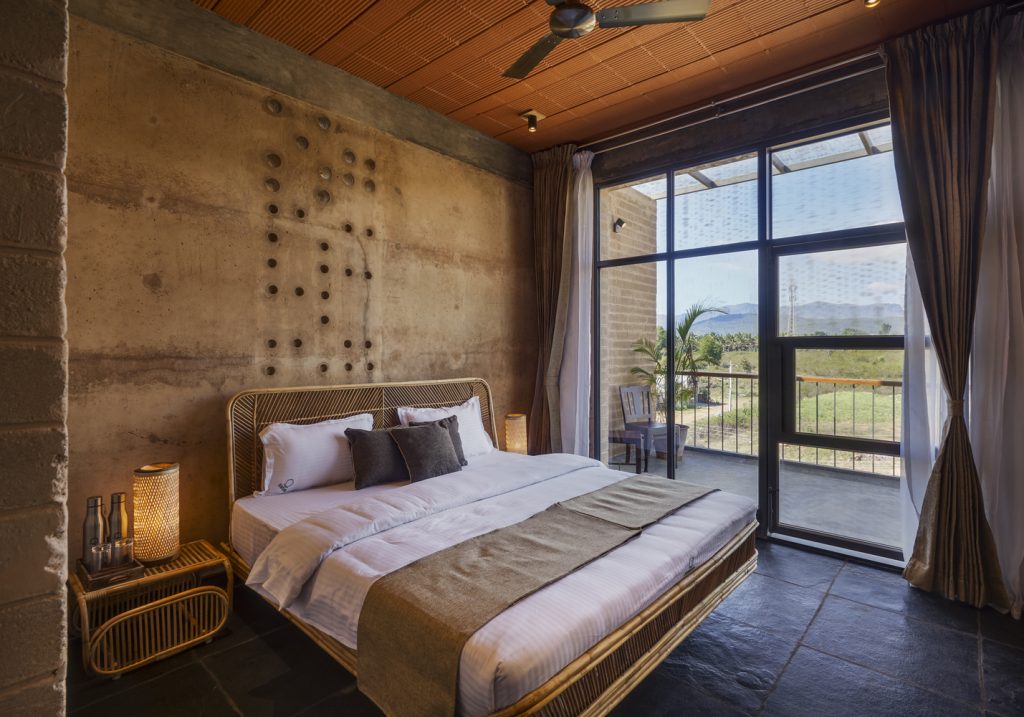 The eco-ambitions of the building generated a calming atmosphere all themselves. The openness, serene palette, and play of light throughout the day contribute to the resort experience. The exposed brick sets a minimalist tone in rooms sparsely populated by cane furnishings. Local artisans worked on-site in non-harvest months to craft the masonry, landscaping, furniture, and built-ins.
Kacheri's design followed a thotti mane layout, local parlance for the area's ubiquitous courtyard homes. On the exterior, terraces look out to the surrounding hills while collecting rainwater during monsoon season. Rainwater and greywater is channelled into a 30-foot courtyard well for storage, passing through natural filters of microorganisms, plants, and gravel. Solar chimneys and earthen air tunnels filter cool air into each room in a passive way – a natural form of air-conditioning. And solar panels produce all the electricity required to power the building.
The hotel is available to book for visits to Kudremukh National Park and the holy temple in Belur.