Geometric houses in a kaleidoscope of bold colours shimmer against blue skies, resplendent palm trees and dusty streets in a new photography series on south Indian architecture.
The photographs frame the boxy concrete homes, showcasing their colour blocking, abstract relief features and exuberant tones, as well as their elaborate entrance gates. They were snapped by Kassia Karr, in collaboration with Spandana Gopal, who champions Indian design through her homeware company Tiipoi.
The striking homes sit in the middle-class outskirts of Madurai, in the south Indian state of Tamil Nadu. But they are by no means unique. South India's urban landscapes are awash with colourful, sharp motif-adorned homes, appearing like 3D abstract paintings. Their designs were built by their owners and feature traditional interiors.
It is not widely known that this architecture was a key influence on the Memphis Group postmodern design style. In the 1960s, on his frequent travels to India, Italian designer and Memphis Group founder Ettore Sottsass discovered colourful and geometric homes of Tiruvannamalai in Tamil Nadu and they became a huge source of inspiration for him.
Karr and Gopal explain why they are shining a spotlight on Memphis's hidden south Indian roots and celebrating this joyful architectural vernacular.
Where did the idea for the series come from?
Spandana Gopal: Looking at the Indian vernacular is very a Tiipoi thing. I'm always interested in the Indian home… I'm intrigued by houses in India where the owners work directly with the building contractor, where no architect is involved, where the owners are the designers of their own space. I really liked the use of colour [in the houses], and colour being used as an architectural or artistic expression, or as an expression of identity. I knew that [my friend] Kassia was in Madurai for work reasons, and we talked about creating a series while she was there.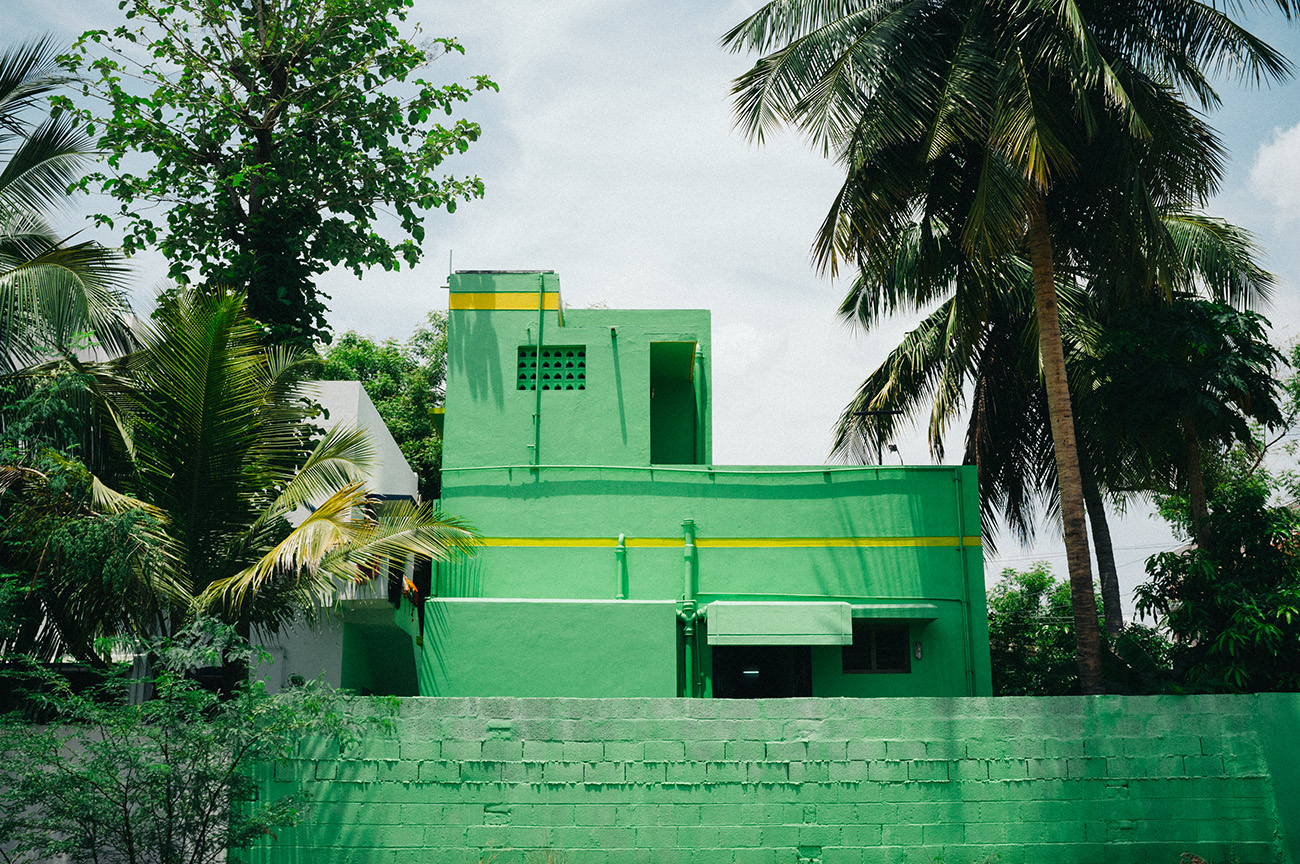 Where were the photographs taken?
Kassia Karr: Predominately in the outskirts of the Tamil Nadu city of Madurai, in its northern suburbs. I was in south India in spring 2018, working on a video documentary referring to Sottsass and the Indian vernacular architecture in Tiruvannamalai, and I had taken some pictures of homes and posted some on Instagram. I had a personal interest in that style, being so colourful and unique.
Where do you think this flair for colour combinations and patterns comes from in this part of India?
Gopal: I don't know whether you can call it a flair as such, and there is no way it comes from a global design movement. It is a completely localised, insular style. Its reference is South Indian temple architecture, and the use of concrete is dictating the array of shapes. They're working with the limitations of the material and are trying to realise their ultimate architectural dream.
Karr: I asked owners where styles come from and the response was a bit mixed, I don't think there is one single reference point, though a few people said that their design had come from a sample book produced by a contractor.
Karr [cont'd]: The people I spoke to [while taking the snaps] had just moved to the outskirts, so it was a big deal for them, to get a single-family home. They want to put the effort in and customise and personalise it with their colour choice.
People are interested in bright paint options as they've become increasingly available. The designs are a big piece of expression and a socio-economic statement of sorts, it says 'We've built this'. Most of the houses I photographed had been built in the past 10 years.
Gopal: I think the style is about decoration and surface pattern. It is about presenting yourself to the outside, similar to women putting flowers in their hair. In India, there is a lot of focus on presentation, especially within the home. There is also a spiritual aspect to people's homes, around the idea of the threshold, which is quite sacrosanct. You take off your shoes and are crossing over into something.
What are your plans for the photo series?
Gopal: We don't know yet, but it would be amazing to create a book or exhibition. I'm sure there is enough and more to use them for various things.
Watch this space