The 58th Venice Biennale opens to the public this weekend, taking over the city with its cacophony of installations and exhibitions that play with space and the senses, and ponder curator Ralph Rugoff's title, 'May You Live in Interesting Times'.
We've rounded up our highlights from the Biennale's storied grounds – as well as a cache of satellite shows worth a visit – from a sobering shipwreck to a beach opera.
Lorenzo Quinn's 'Building Bridges'
Six gigantic human hands rise 50 feet above the old shipyards of the Arsenale for Lorenzo Quinn's sculpture 'Building Bridges'. The colossal resin fibre artwork is billed as a reminder to political leaders that we need to 'work together' in order to battle climate change.
The Ghana Pavilion
It's the first time Ghana is participating in the international art festival, and the country has enlisted British-Ghanaian architect David Adjaye to design its national pavilion at the Arsenale's Artiglierie. Inspired by the Gurunsi earth houses of northern Ghana and Burkina Faso, the pavilion comprises a series of elliptical spaces that are plastered with earth. It hosts inaugural group exhibition, 'Ghana Freedom', with large-scale installations from Lynette Yiadom-Boakye, El Anatsui, Ibrahim Mahama, Selasi Awusi Sosu, and John Akomfrah, that explore Ghana's cultural impact.
Biennale D'arte di Venezia, Arsenale, Venice
'Fornasetti: Rule of Dreams' installation at Fondaco dei Tedeschi
Coins tumble down the galleria of Venice department store Fondaco dei Tedeschi as part of Barnaba Fornasetti and Valeria Manzi's site-specific installation, The Rule of Dreams. Drawn from the Fornasetti Archive, large-scale portraits of women, monkeys and hands have been inserted into the department store's spaces in an instagramable dialogue with the storied building.
Calle del Fontego, 30100 Venezia VE
Central Pavilion, curated by Ralph Rugoff
Japanese visual artist Ryoji Ikeda has created a corridor of light at the Arsenale's Central Pavilion – part of a special commission by The Stores X The Vinyl Factory, curated by Ralph Rugoff. Spectra III is joined by a new dual-screen installation called BLK NWS by Kahlil Joseph and an AI artwork by Hito Steyerl which conjures a futuristic garden that emulates the Venetian landscape of elevated walkways. See more. 
'Chromo Sapiens' at the Icelandic Pavilion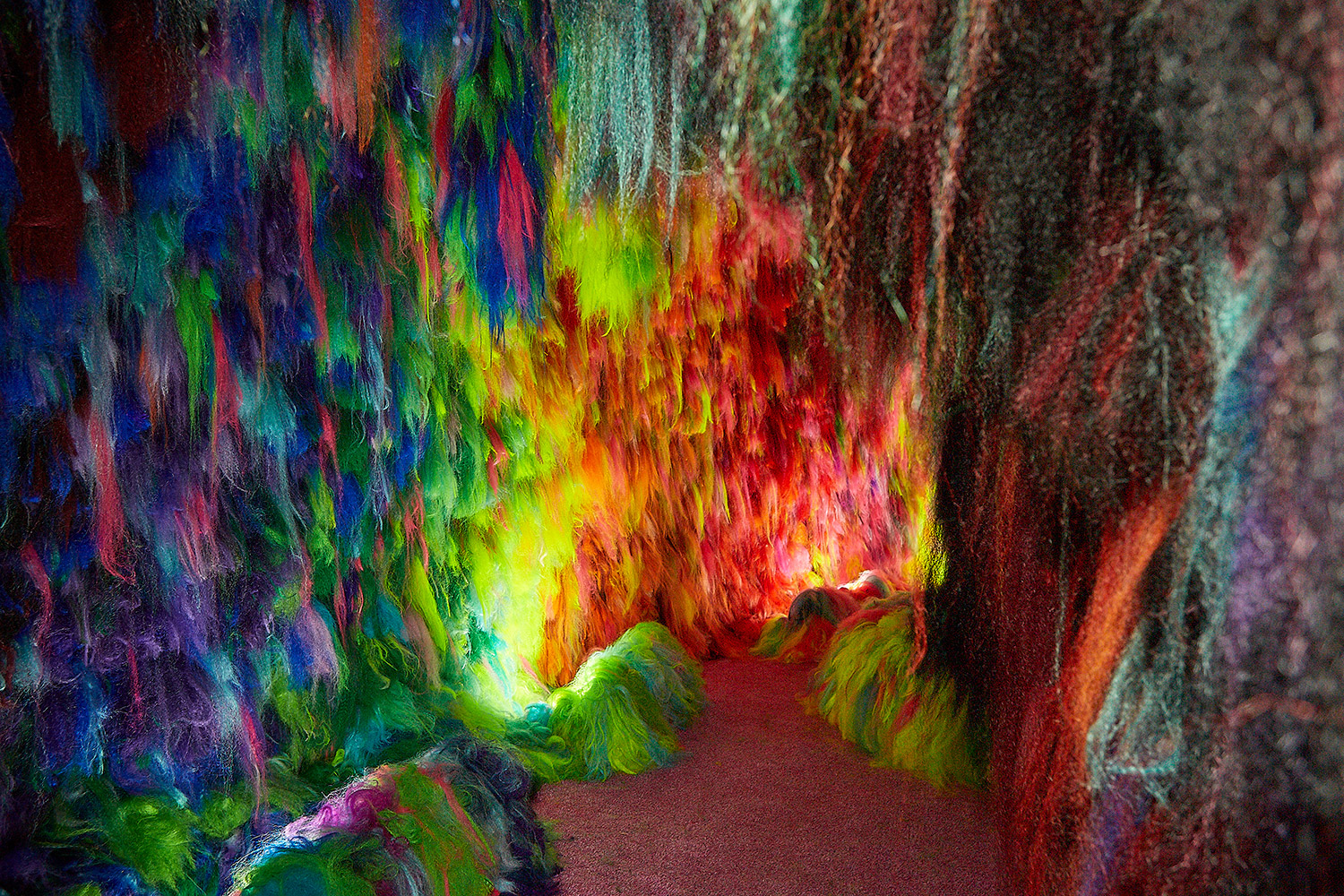 Artist Shoplifter aka Hrafnhildur Arnardóttir has transformed a warehouse into 'a giant psychedelic furry grotto' that helps visitors reconnect with their primal selves for 2019 Icelandic Pavilion. She's enlisted the help of Icelandic heavy metal band HAM for the light-hearted installation, which is a break from some of the heavier-hitting offerings at this year's Biennale.
 Spazio Punch, Giudecca
'Sun & Sea: (Marina)' at the Lithuanian Pavilion
Artists Rugilė Barzdžiukaitė, Vaiva Grainytė and Lina Lapelytė have converted a building near the Arsenale into a sandy beach for their operatic installation, which sees sunbathers breaking into songs about everyday life and political crisis.
Marina Militare, Fondamenta Case Nuove 2738c Venice, Italy
'Deep See Blue Surrounding You' at the French Pavilion

Step through the cloud of fog gathering outside the French Pavilion and be transported into an underwater world of Murano glass sea creatures for artist Laure Prouvost's show Deep See Blue Surrounding You, which culminates in a screen space modelled on the belly of an octopus.
Barca Nostra shipwreck
The most sobering installation at the 2019 Venice Biennale is the real-life wreck of a fishing boat that sank off the coast of Italy in 2015, killing hundreds of migrants. Part of artist Christoph Büchel's Barca Nostra project, the boat has been mounted at the Arsenale's docks for the duration of the festival, but will eventually be turned into a permanent memorial to those that perished.
'Composition for Cosmo-Eggs "Singing Bird Generator"' at the Japanese Pavilion
The Japanese pavilion has been transformed into a sort of giant musical instrument with recorders suspended from its ceiling, controlled by an algorithm. Elsewhere, a giant inflatable orange bench pushes powers recorders when sat on, tooting out notes. The madcap installation explores man's relationship with nature, through the guise of architecture, music, visual art and anthropology.
'Leonor Antunes: a surface, a seam, a hinge or a knot' at the Portuguese Pavilion
The legacies of Carlo Scarpa, Franco Albini, and Franca Helg inspire Leonor Antunes' sculptural installation at the Palazzo Giustinian Lolin. Antunes' restrained works take everyday objects and materials and explores their potential as abstract compositions in the grand setting of the historic palace.
Palazzo Giustinian Lolin, San Marco, 289330124, Venice
'Luogo e Segni' at the Punta della Dogana
Visitors to the Punta della Dogana must part the threads of Feliz Gonzalez-Torres's giant red curtain, part of group show Luogo e Segni curated by Palazzo Grassi director Martin Bethenod. The sprawling group show brings together 100 works by 36 artists that engage with the urban, social, historical and political setting of the Punta della Dogana. These pieces are set up in relations to a selection of artworks that have come to mark the history of the space since its opening in 2009.
Dorsoduro, 2, 30123 Venezia 
Read next:  9 of the best Venice apartments to rent