Finding somewhere to stay in Venice is all about seeking out the less frequented spots where you can soak up the scenery away from the throng of tourists. And with canalside palazzos aplenty, the city has no shortage of grand interiors and historic locations for guests to immerse themselves in – some of which come with price tags to match.
Whether you're staying for the Biennale, or visiting for the weekend, we've picked out nine of the best Venice apartment to rent, from a restored Gothic palace to an interior designer's contemporary bolthole.
Cannaregio studio
Old and new come together in this Cannaregio apartment, which contrasts historic architectural details with contemporary design pieces.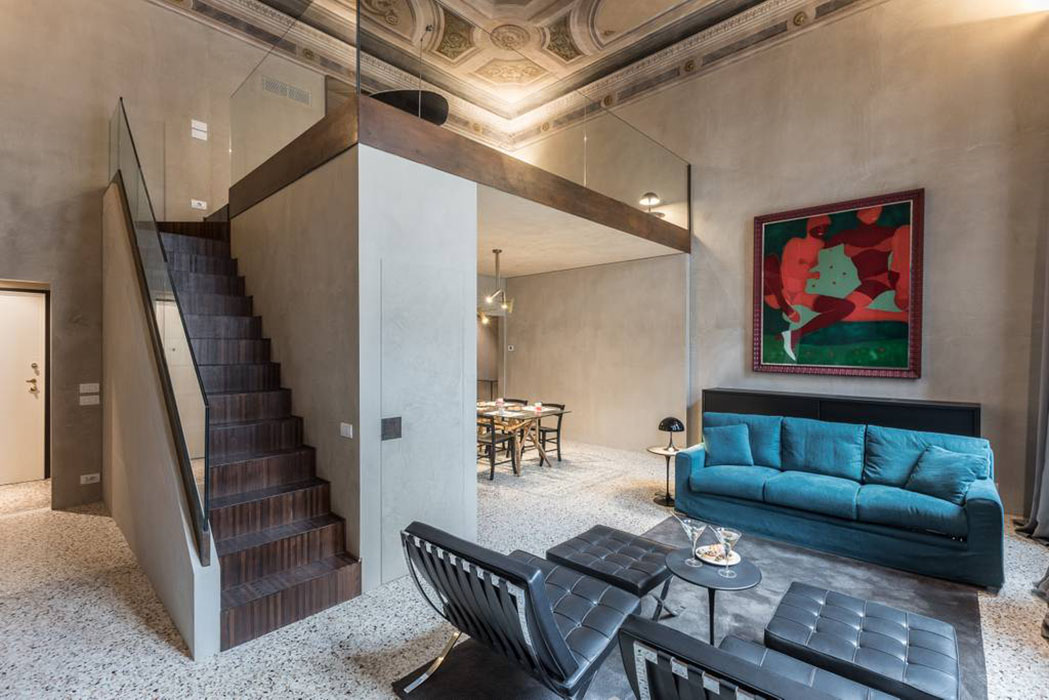 Guests sleep beneath original frescoes on a mezzanine level, and can enjoy views over the water from the long marble balcony. The studio sits in a renovated 15th-century palace, which is tucked well away from the tourist crowds.
From £263 per night. Sleeps 2.
Imperiale San Marco
If you want to be transported back to the glory days of Venice, you won't go wrong with this historic apartment recently renovated by British architect John Simpson. No detail has been spared, from the terrazzo flooring and frescoed ceilings, to the antique furniture and intricate chandeliers. In the evenings, you can gaze over the Grand Canal from the apartment's long balcony before retiring to your four poster bed.
POA. Sleeps 6.
Apartment Residenza F
This 16th century villa, located on the island of Giudecca, is set in acres of gardens that offer a peaceful respite from the hustle and bustle of Venice's various arts festivals.
And it stays true to history, with lavish period furniture and fabrics used throughout the building – formerly the home of Venetian nobility.
From €20,000 a day. Sleeps 4.
Casa L'Arsenale
Guests can dodge the crowds at this home beside the city's historic Arsenale shipyard – ideal for Venice Biennale visitors. Furnished by interior designer Ilaria Miani, the 500-year-old house has six bedrooms, three kitchens, its own gym, and a roof terrace for sipping evening cocktails.
From €10,000 a day. Sleeps 16.
Calle Delle Erbe
This Giudecca hideaway is tucked away from the crowds but is close enough to easily reach the city's hotspots.
Restored by interior designer Ilaria Miani – who also owns the apartment – this 1,080 square-foot Venice apartment comes with an outdoor terrace for canalside dining, and is decorated with flashes of bright colour.
From €2,370 per week. Sleeps 4.
Piano Nobile degli Scudi
Set on the Grand Canal, this Venice property is inside a renovated 15th-century gothic palace and has room for nine guests. Piano Nobile degli Scudi offers clear views across the water from its marble balcony.
Traditional Venetian textiles and antiques are dotted about its rooms, which include a dining area with space for 12.
POA. Sleeps 9.
Casa Flora
This three-bedroom residence bridges the gap between home and hotel, with a mixture of public spaces and spacious private apartments – each of which has its own spa. Located in a 19th century building in San Marco, the apartments are designed by architect Matteo Ghidoni and interior designer Laura Sari, and feature custom-made furniture created by local companies.
From €600 a day. Sleeps 2 per apartment.
Palazzo Morosini degli Spezieri
This 15th-century townhouse is a chance to stay in a bonafide Venetian palazzo. It's been lovingly restored over the course of four years and offers perfectly framed views of the water and surrounding historic architecture.
There are nine apartments on offer, some of which include balconies for al fresco cocktails by the canal.
From €200 per night. Sleeps up to 6.
Central Venice penthouse
Larger groups that like their own space will appreciate this airy top floor apartment, which has soaring wood-beamed ceilings and huge rooms that mean there's no risk of getting in each other's way. Apparently offering the highest terrace in the city, it comes wtih sweeping views of the Grand Canal and Venice's historic architecture.
From £163 per night. Sleeps 6
See the best Milan apartments for rent
See the best London apartments for rent
See the best New York apartments for rent
See the best Lisbon apartments for rent
See the best Paris apartments for rent