Though hardly a new trend, 'raw' has really taken off in 2023 with material textures playing pivotal roles in interior design. But what exactly is it?
The raw aesthetic leans into the rugged side of minimalism, celebrating the texture and honesty of materials. Raw interiors are irregular or rough, weathered and often handworked. Moreover, they seek to stimulate more than just the eyes through the use of marble, concrete, stoneware and plaster.
Here are some of our favourite 'raw' projects that celebrate an 'undone' aesthetic.
Veja's texture-rich Madrid store
For Veja's first Madrid store, Plantea Studio opted for raw finishes and rough textures, contrasting these 'undone' elements' with spartan, smooth finishes. Veja is known for its reuse and repurpose philosophy, and the store riffs on this 'imperfect but beautiful' ideology. The Justice store is located inside an old, 20th-century bank, and Plantea has chipped away at plasterwork to reveal worn brick, wood and layers of old paint.
To contrast these rough textures and worn patina, the practice installed neon strip lighting by Kleber Matheus and neon Veja signage alongside concrete volumes that act as plinths and displays for the brand's shoes.
Old is new again at Kyoto's Hoo Cafe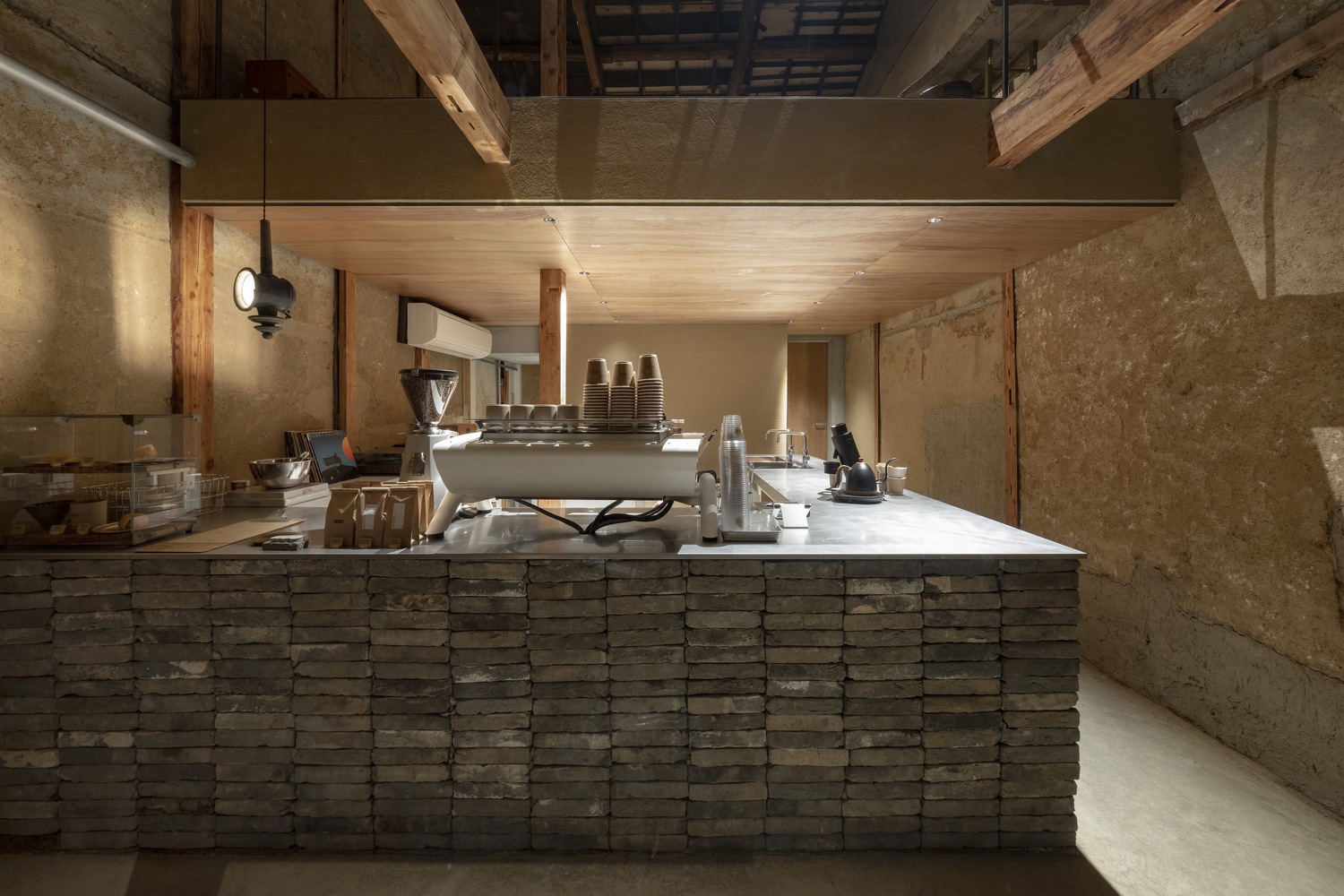 Rather than start from scratch, Koyori Architects decided to preserve and repair the Hoo Cafe's home in Kyoto, adopting a wabi-sabi approach to layering new and old in a patchwork of textures. Like sashiko (the art of visible repair), the existing elements of the building are proudly on show, such as warped beams and patched plaster, with new elements fitting into the jigsaw around them. Vintage bricks have been sourced to build the cafe's counter, and traditional techniques and materials, typically used in traditional machiya, such as earthen flooring and straw, have been used so that they will weather and blend with the rest of the interiors over time. New elements come from custom-built wooden furniture and steel chairs.
A dingy Dorset bunker home is revived
This Dorset bunker is the definition of utilitarian, built into the earth in rugged concrete to withstand bomb blasts and act as a lookout shelter. But even the most robust and dingy concrete box has beauty thanks to Lipton Plant Architects – now part of Corstorphine & Wright – which transformed the Grade II-listed Chain Home radar station near Rinstead Bay into a one-of-a-kind brutalist holiday home. The Transmitter Station now has a 'bomb blast' window which funnels light into the previously windowless space, though its low ceilings and cracked and weathered concrete walls are intact – juxtaposed by polished concrete floors and glass interior partitions which diffuse light across the interior and elevate its aesthetic.
A modern 'temple' villa by Ludwig Godefroy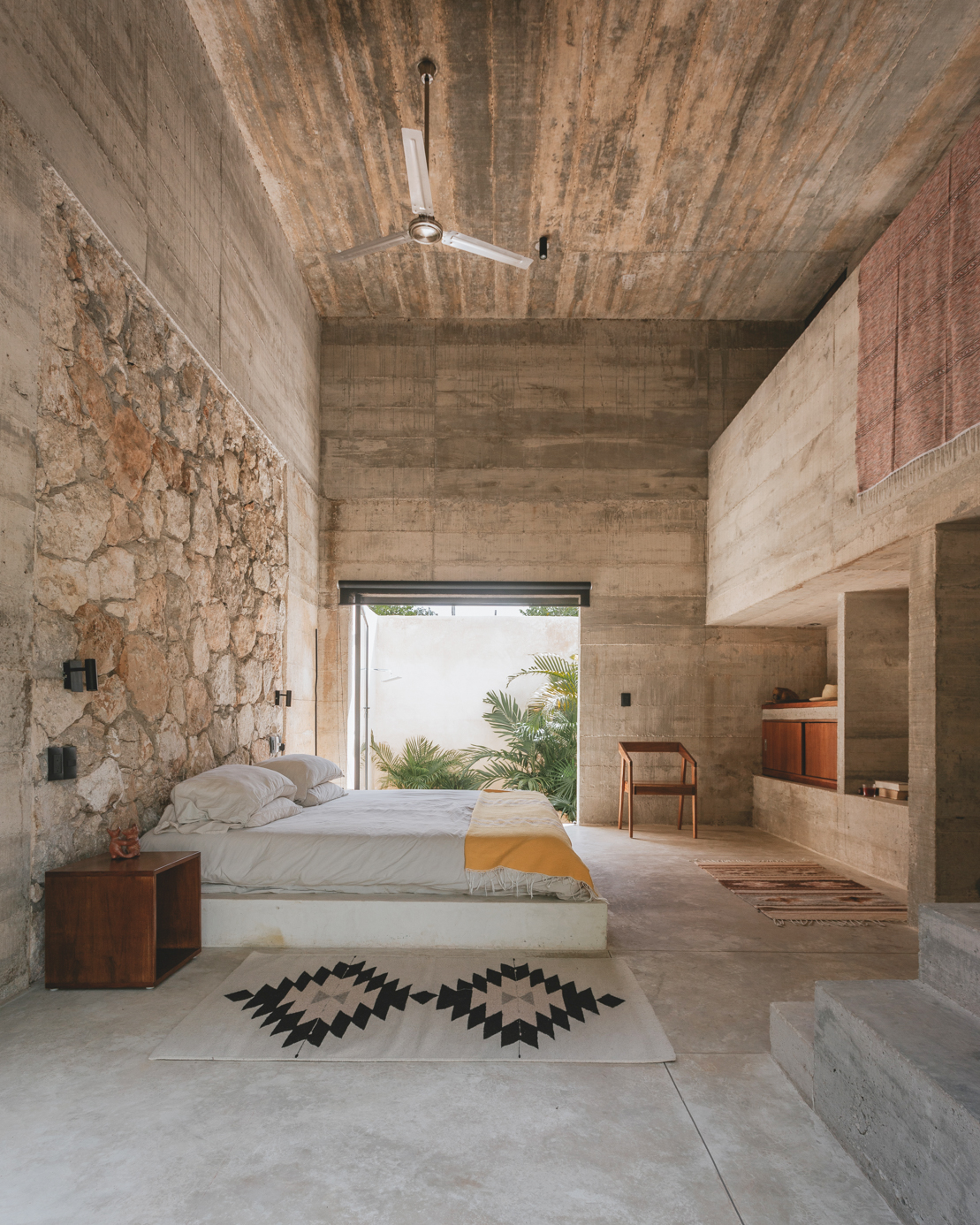 As the other projects in this edit suggest, adaptive reuse and 'raw' aesthetics can go hand in hand when transforming old buildings for new uses. But architect Ludwig Godefroy's newly built projects adopt raw brutalism as their thumbprint, as this Maya temple-inspired holiday villa attests. Godefroy has adopted cast concrete for the structure, leaving it on show across the entirety of the building, from its walls to its ceilings. To add depth and texture, there's also some polished concrete to add versatility but little else to break up the austere and ultra-raw aesthetic aside from the verdant jungle beyond its walls. It's an extreme example of brutalist austerity that still somehow manages to feel rooted in the earth.
Mona Hotel in Athens layers history
New Athens hotel, Mona, started life as a textile factory in the 1950s before it was transformed by House of Shila into a boutique stay. But the group's founders, Shai Antebi and Eftihia Stefanidi, took a less-is-best approach to overhauling the building, leaving huge swathes of raw concrete exposed, as well as an old iron staircase, steel-framed factory windows and weathered walls, which they stripped of paint to reveal layers of patina. Stripped-out materials were upcycled to create new fixtures and objects within the 'sensual refuge', which is decorated with tactile wooden furniture and vintage finds. Drapery, linens and upholstery also play a huge role in softening the austere bones of the building and turning it into a comfortable urban retreat. See more.
A ghostly cottage that takes preservation to an extreme
Raw is popular right now, but the trend has been lurking in the wings of new minimalism and industrial design for decades.
Back in 2017, Croft Lodge Studio scooped the Architects' Journal Small Projects award for its remarkable design. Kate Darby and David Connor took a radical approach to preserving a 300-year-old ruin, building a new structure to encase it entirely. 'Initially, there was the prejudice to clear it up, but we realised the value of the project was in that extreme approach,' Darby said of the pair's preservation strategy, which left everything in tact down to an abandoned bird's nest and dead ivy. The ruins are the ghostly focal point for the 1,238 sq ft cottage, which the pair originally designed as their studio. This benchmark project shows the extremes of preservation and its dramatic impact.
Balenciaga unleashed its 'Raw Architecture' concept
Not all raw interiors start from the same point. Case in point? Balenciaga's Bond Street  concept store, designed by Sub, enacts what it calls a 'raw architecture concept' that explores extremes and feels more akin to a construction site than a boutique store. However, this level of 'raw' is an artifice: what appears to be thick concrete slabs are actually little more than a veneer, added because the building couldn't support the amount of concrete the studio wanted to add. Cutaways reveal the underlying original structure, and a pre-existing lift shaft is encased in glass, with dirt and debris beneath shelving to heighten the work site vibe.