We've discovered some incredible homes across the world this year, but some have proven more popular than others. A few have big-name architect attached to them, while others are incredible conversions that raise the bar in open plan living.
Here are the 10 properties for sale in 2021 that stood head and shoulders above the others.
Frescoed Lisbon apartment
€440,000 via Fantastic Frank Lisbon (SOLD)
This tiny Lisbon apartment is located in Mouraria , just below the historic castle, and clocks in at just 74 sq m. It was 'made under' and led to the discovery of historic frescoes on its walls, which were lightly restored and left exposed along with a wire-pulley lighting system.
Converted Bizkaia chapel in Basque Country
For sale €1.6m via  The Singular Space
Photographer Tas Caraeaga spent three-years restoration this Basque chapel with the help of his friend and architect Carlos Garmendia, taking a light touch in turning the ruin into a minimalist home. The hermitage's stone masonry and flaking frescoes are (rightfully) the star of the show, with the architect inserting a mezzanine level bedroom and office area, and concrete floors as part of its modernisation. Take a closer look at the space which sits on a 900 sq m woodland plot in the Las Barrietas hills of Sopuerta.
From $50,000
There's no building permits, groundwork, construction or assembly required for this 'plug and play' ADU home, which was designed with the COVID-19 age in mind. The high tech fibreglass cabin can be used as a holiday space or guest house and arrives fully assembled on sites across the USA. Touch-free taps and voice control, 10 hours of backup power,  a large water tank, air-purifying systems and in-built smart home tech are some of the features of the adaptable prefab.
Kathryn Bigelow's Beverly Hills home
$7.95m via Compass (sold, pending)
The soft brutalist vibes of Kathryn Bigelow's Beverly Hills Post Office compound piqued your interest, despite the fact The Hurt Locker director has listed the LA property several times without finding a buyer. After a neat price chop, the two-acre compound is pending sale, though you can still peruse its minimalist industrial spaces in our gallery. Leafy canyon views contrast swathes of glass, exposed beams, hardwood floors and of course, tons of concrete.
The Harper House in Michigan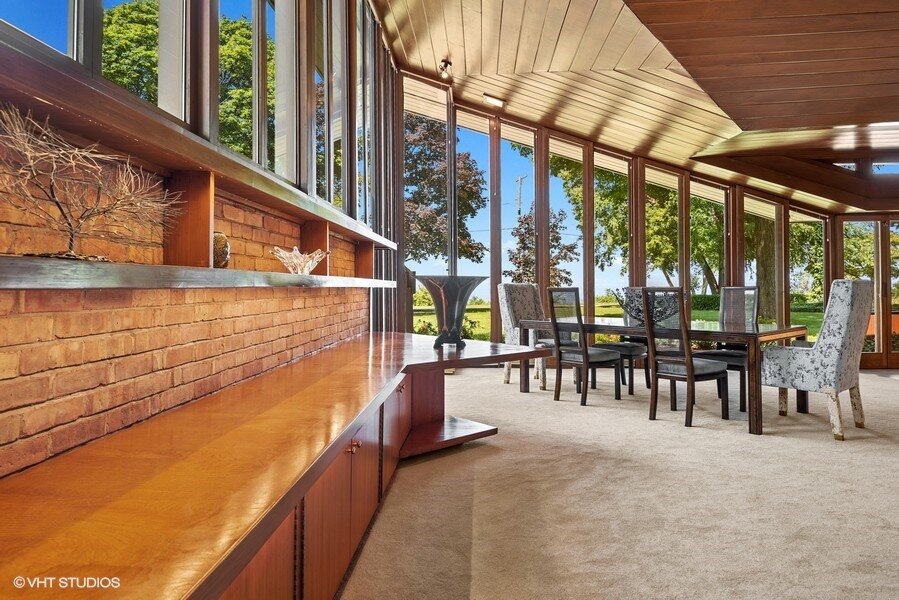 $1.96m via Anne Gain of @Properties (sold)
Did you say Frank Lloyd Wright? As prolific as he was, it seems our readers can't get enough of FLW's residential designs, with his name among our top 20 property keywords year on year. The Harper House was one of his last Michigan residencies, designed for Dr Ina Harper – a pioneering specialist in children's and women's health. It hit the market earlier this year and has all the hallmarks of  FLW's organically inspired aesthetic, including fieldstone and redwood.  Peer inside its rooms.
Essex beach hut
£35,000 via Sheen's (sold)
At the other end of the scale, beach huts were a hot commodity in pandemic Britain, with this Frinton-on-Sea shed fetching £35,000. The 8.76 sq m shed doesn't have any mod cons like a bathroom, but it does have proximity to the sea. It was among 5 we featured for sale this summer – all of which sold at or above asking. Read about how beach huts became such a big-ticket item.
Oscar Wilde's former pad in Posillipo
$4.278m via Sotheby's International Realty
Appearing to hover above the water, Villa Del Giudice in San Pietro ai due Frati offers unrivalled views from its windows and wraparound terracotta terraces which capture the warm Amalfi sun from morning to sunset. The house hosted Oscar Wilde on his infamous trip to Naples and got us dreaming of la dolce vita…
Villa Seynave in Saint-Tropez
€3.5m via Architecture de Collection 
From la dolce vita to la belle vie, Jean Prouvé's perfectly preserved Villa Seynave was designed with architect Neil Hutchinson and has original Charlotte Perriand cabinetry and furniture. The 1962 Grimaud dwelling is located in Domaine de Beauvallon, on the bay of Saint-Tropez and was engineered with Prouvé's 'alba' system of aluminium and concrete. See a full gallery of the midcentury marvel, which listed this autumn.
A gardener's paradise in St Alban's, UK
£2.25m via The Modern House (SOLD)
Hidden gardens and ancient orchards are on offer at this St Albans property in Hertfordshire, which combines Georgian bones with tranquil, earthy interiors. The Grade II-listed Georgian structure is wrapped in 1.25 acres of landscaped gardens, including terraces bordered by topiary box hedging, expansive lawns that run down to the River Ver, a mature kitchen garden and an ancient orchard.
A leafy Melbourne home by Olaver Architecture
Olaver Architecture transformed a Victorian terrace property into a light-filled 'cabin' with a plant-filled courtyard oasis and roof terrace. Concrete floors and wooden walls frame the space, which houses a monochrome, all-black kitchen, living room and a dining area that looks onto the leafy terrace. This cocooned courtyard is planted with veggie beds and trees, visible through steel-framed floor-to-ceiling glass doors. It sold on 14 December, so has just gone off-market. But you can still sneak a peek at its interiors via our gallery.