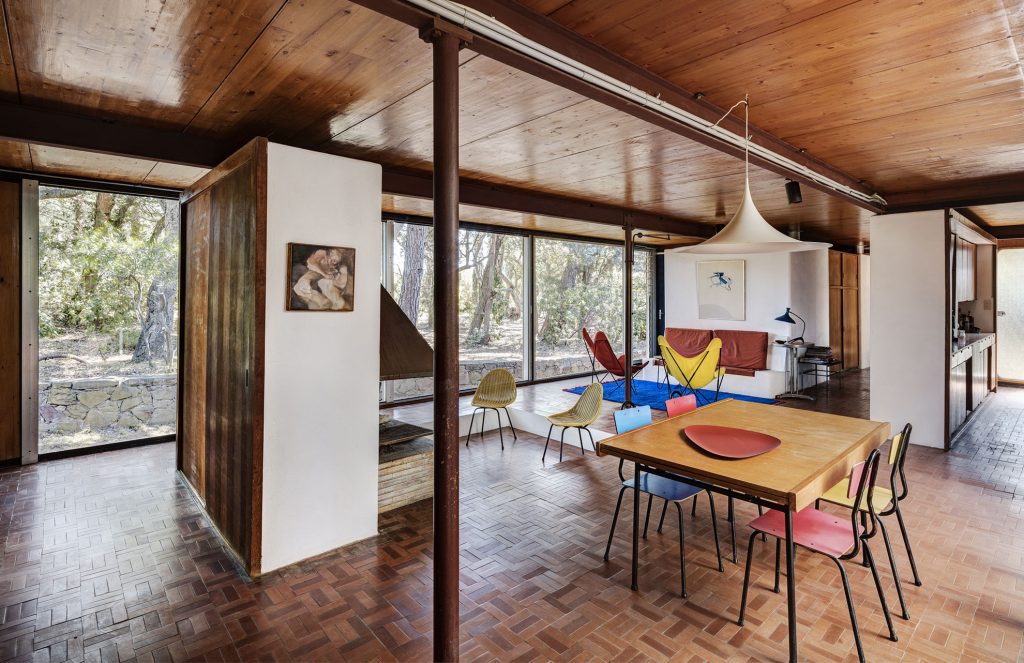 Listed as a Historic Monument since 1993, Villa Seynave combines the genius construction methods of Jean Prouvé with masterful interiors by Charlotte Perriand.
The 1962 Grimaud dwelling is located in Domaine de Beauvallon, on the bay of Saint-Tropez and was constructed by Prouvé using his innovative 'alba' system of aluminium and concrete. It expands over a single storey, with floor-to-ceiling window bays connecting the prefab to the surrounding vegetation, and framing views onto the Vieux Moulin and Gros Pin beaches 300 metres away.
Villa Seynave's kitchen, wooden cupboards and interior fittings were all designed by Charlotte Perriand and are influenced by her time spent in Japan, with warm tan hues running throughout. Surface-mounted lighting meanwhile is by Serge Mouille, another titan of midcentury modernism.
The St Tropez property is listed via Architecture de Collection for €3.5m and has a plethora of other original features – including hooded fireplaces, bevelled windows and parquet flooring – that have been maintained and restored to a high quality. Notably, the home was selected among the 'Nine Reference Houses of the 20th Century' by the Cité de l'Architecture et du Patrimoine in Paris back in 2011 and is a rarified piece of pristine French modernist design.