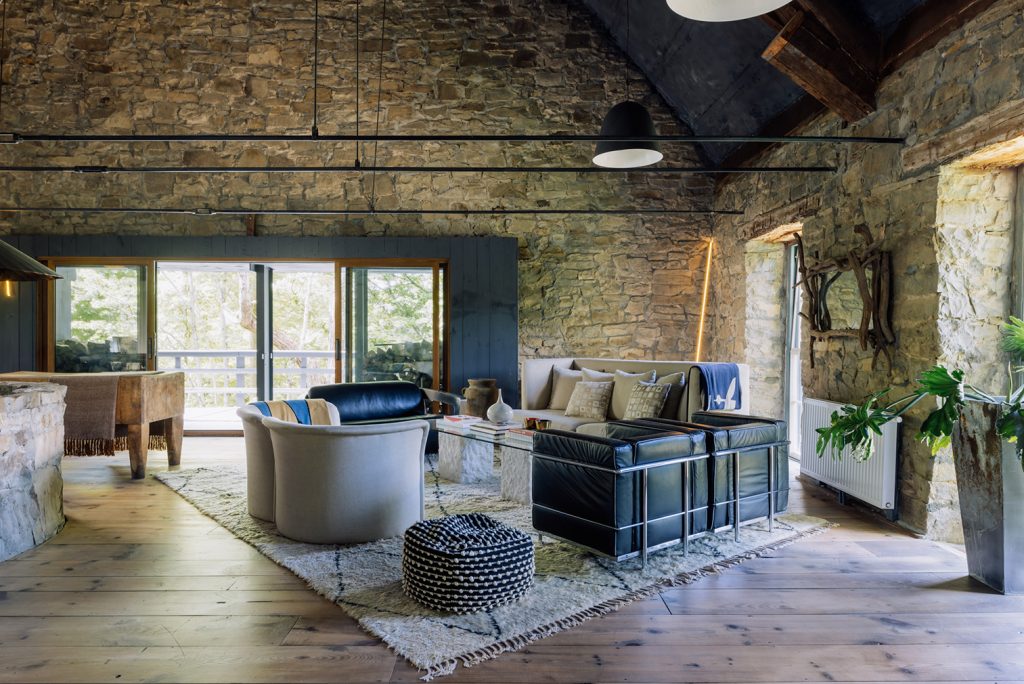 Vast lofted spaces and inky hues abound in this 19th-century church conversion in upstate New York, adding drama to its quirky, rustic structure.
Located in Rifton hamlet, 1.5 hours drive from New York, the building dates from 1876 and has been a church, a town hall and more recently, a farmhouse and an animal shelter. Its owners renovated the eclectic Hudson Valley home using the Japanese philosophy concept of wabi-sabi, which centres around acceptance. They have retained imperfect original elements of its past lives, including exposed beams and stone walls, bedrock ledges, pine flooring and patinaed antique doors. Artfully fitted around them are linear neon lighting, terrazzo tiles, and moody concrete accents.
The open-plan concept preserves the spirit of gathering and community throughout the four-bedroom home, now for sale via Four Seasons Sotheby's International Realty for $2.495m.
The Rifton's second-level entertaining space is capped by a 30ft ceiling with wooden trusses and features a custom stone and steel firepit with Viking vibes. Above it sits a vaulted 'tower room' atelier, which spans five levels. All 32 of its original windows peer out at woodland foliage, and 16-ft-long sliding glass doors lead to a deck three stories above the Wallkill River.