Madrid is a thriving city that wears its history on its sleeve, with a rich architectural tapestry that spans its time as the seat of the Habsburg Empire through to the Baroque and modernist period of the 20th-century. The Madrid properties for sale on this list reflect this heritage, mixing historical and contemporary styles with a hefty dose of Spanish flair.
1920s Salamanca apartment
3 bedrooms; €1.9m via The Sibarist
This airy Golden Mile apartment is a taste of historic Madrid, located on the fourth floor of a 1920s building erected during the dictatorship of Miguel Primo de Rivera. While the rest of Western Europe was embracing liberalism following the traumatic losses of WWI and the 1919 pandemic, Spain became increasingly conservative – giving birth to a thriving creative counter-scene as a result. This apartment typifies this period and is stacked with original details, including mouldings and rich stained glass that harks back to this era, paired with contemporary additions such as a glass-framed study.
An Art Deco riad in The Press Colony
4 bedrooms; £1.3m via The Singular Space
Arabic and modernist motifs mix at this architectural oasis in the heart of the city. Set behind a striking patterned facade, the four-bedroom home dates back to 1945 when it was built in the 'Press Colony' – a modernist enclave designed for journalists by the architect Felipe Mario López Blanco.  Some of the Madrid property's most striking features, such as its stained glass windows, have been awarded heritage protection, and the house underwent a sensitive renovation three years ago. Future owners can sun themselves on the roof terrace or in the garden – which is planted with 100-year old cedars, as well as oleanders and magnolias.
Light-filled Retiro penthouse
3 bedrooms; €2.7m via The Sibarist
Views over Madrid are unmatched at this eighth-floor penthouse, which looks out over the city's Retiro neighbourhood and park from atop a 1960s modernist building. Pale wood panelling and acres of whitewashed walls reflect the home's natural light, which spills in through skylights set in six-metre-high ceilings. A spiral staircase connects the home's two floors, with bedrooms also enjoying views over the city.
Gilded Age Conde Orgaz villa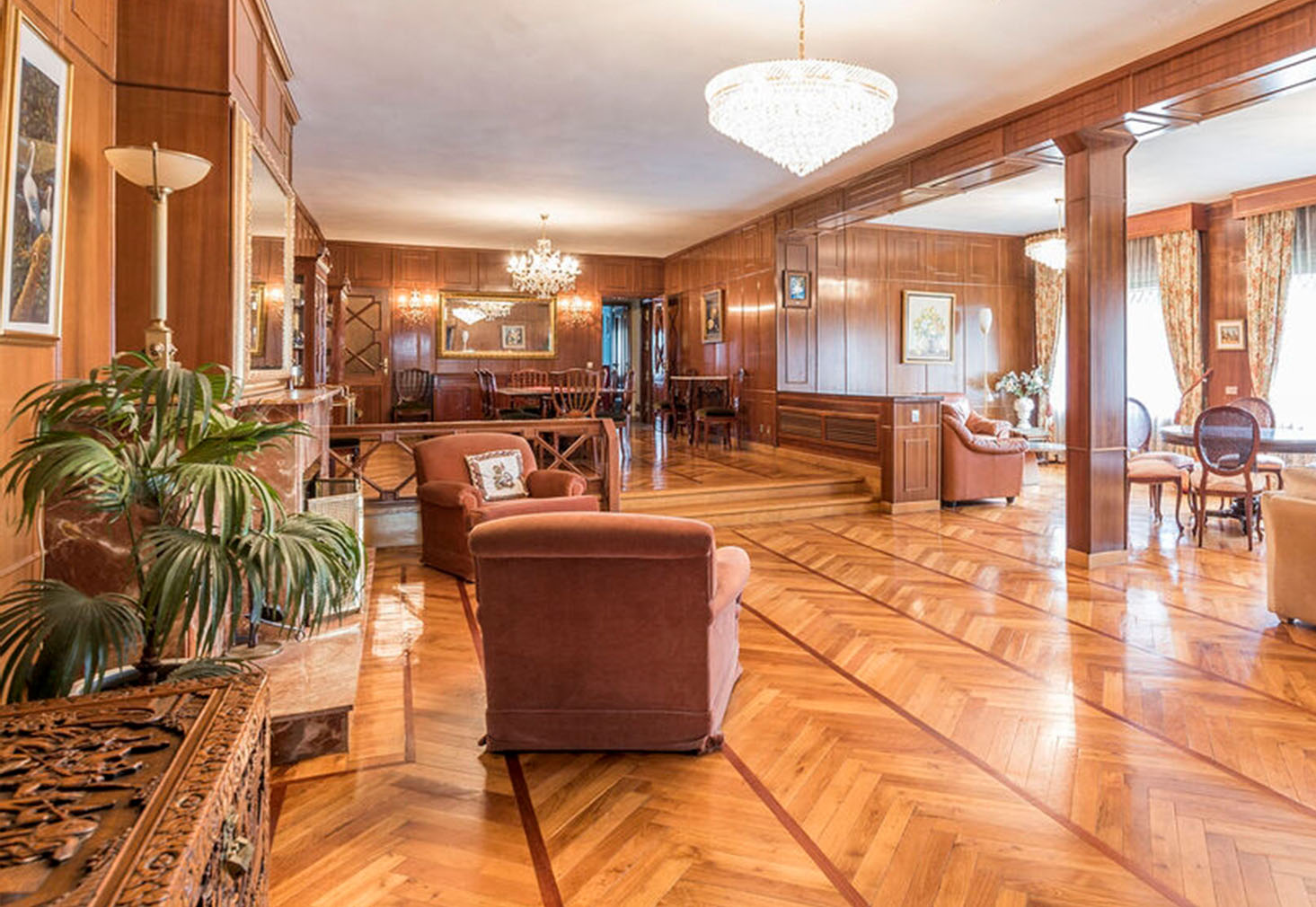 5 bedrooms; €3.7m via Berkshire Hathaway Global
Future owners will have plenty of space to spread out at this five-bedroom villa, which includes an outdoor swimming pool and a vast 100-sq-m living room. Wood panelling and parquet flooring run throughout the historic property's rich interiors, contrasted by red marble fireplaces. There's room for improvements as well, with a basement level that includes a cellar, gym and office.
Justicia industrial penthouse
2 bedrooms; €2.3m via The Sibarist
Full height steel frame windows ensure this penthouse apartment is constantly flooded with light. It's fresh from a total renovation, which has created a minimalist, industrial-style backdrop for the Madrid property's next owner. White floorboards lead out onto the 40-metre terrace, overlooking the neoclassical buildings of Justicia. A long, narrow hallway leads to the penthouse's two bedrooms, both attached to an ensuite.