Victoria might be the second smallest Australian state, but arguably, it has the richest landscape, encompassing mountains, thick bush, wineries and sandy beaches beloved by surfers. State capital Melbourne is a popular tourist destination in its own right. Still, the state is dotted with striking architect-designed holiday homes in stunning surroundings for those seeking adventures off the beaten track.
Here are some of our favourites.
Daylesford Longhouse in Daylesford
Designed by Partners Hill architects, this livable greenhouse is a boutique farm, culinary school, and architectural escape merged into one. The rural Victoria property in Elevated Plains was named 'Australian House of the Year' by Houses Awards, with the 110-metre shed overlooking the plains and vast bushland of Daylesford, Hepburn Springs, and Mt Franklin.
Daylesford Longhouse's bioclimatic design is all about indoor/outdoor living while being engineered to stay cool in summer and warm in winter. There's a semi-outdoor bathroom with countryside views, an indoor water feature and pond, a fire pit and fireplace, and a private sauna. Guests are invited to harvest herbs and produce from the spectacular internal gardens protected from the elements, including a giant avocado tree.
Sleeps 5; from $500 per night via Airbnb
The Wensley in Wensleydale
The Wensley's agrarian shed-cum-chalet design is the handiwork of Byrne Architects collaborating with its owners and riffs on the classic farm or river shack. Walls are built with recycled Oregon and Ironbark timber. At the same time, elevated touches come from cast concrete fireplaces and quality carpentry and craftmanship used across the coastal home – a celebration of humble materials and simple design. The shack house conceived as an escape from city life for its owners and is now available to rent, with views of 80 acres of Victoria's Surf Coast.
Floor-to-ceiling glass doors slide open onto an alfresco dining space, and the Wensleydale holiday home has panoramic views of the surrounding countryside.  'The Wensley' has high open ceilings, a full chef's kitchen and a fireplace for cosying up during the cooler months. Guest can also dip in the outdoor bathtub, and explore the Great Ocean Road and surrounding vineyards.
Sleeps 10; from $975 per night direct
Ross Farm in South Gippsland
Ross Farm in South Gippsland was created by husband-and-wife duo Robyn and Lindsay Moore as a relaxing idyll away from the hustle and bustle of the city. The pair enlisted their daughter Andrea to overhaul the 1970s dairy farm, turning three dilapidated agricultural buildings into modern holiday homes on the estate. The last of the three dwellings were completed in 2019, using locally sourced materials where possible.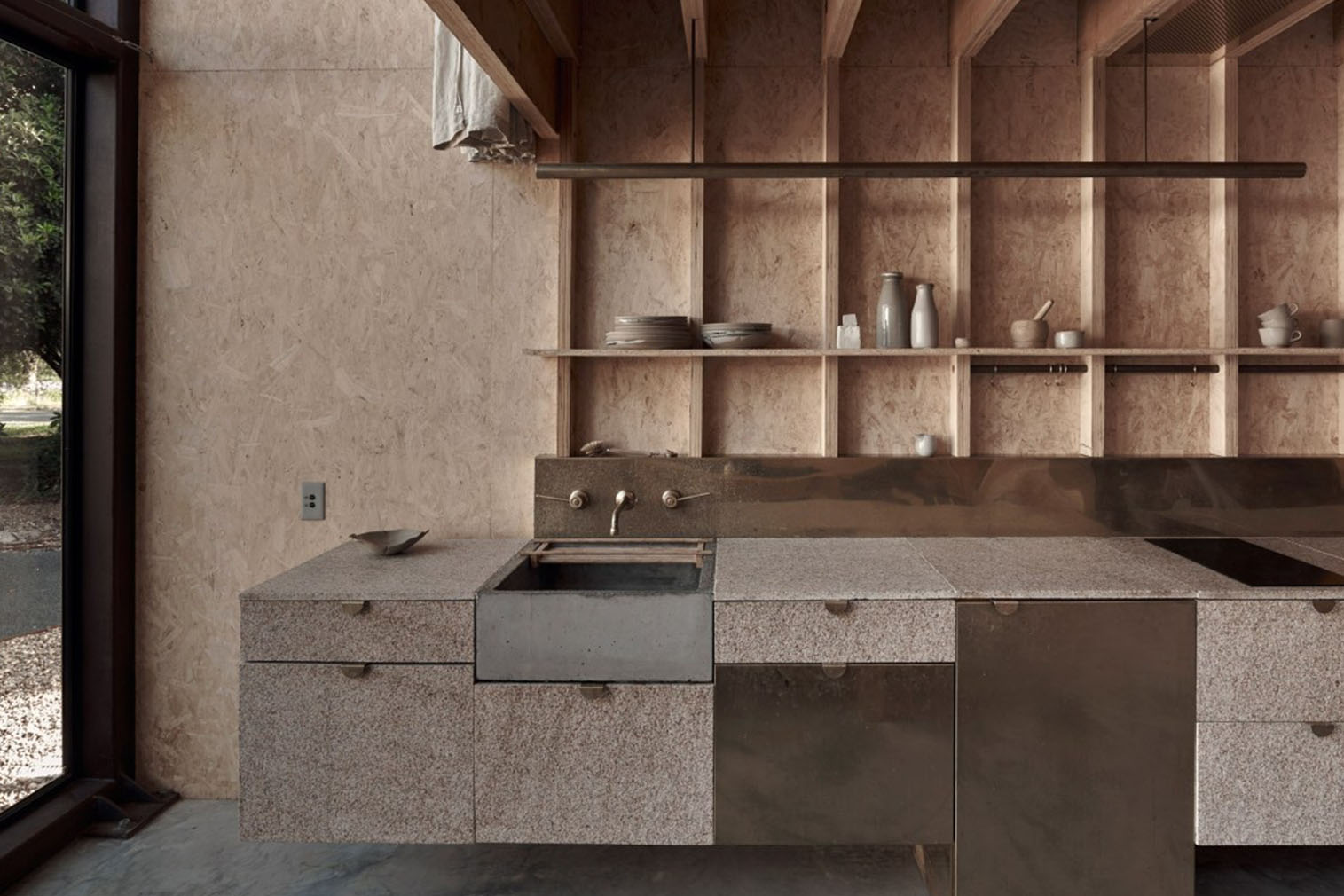 The family hand-crafted much of the South Gippsland property themselves. The Cabin, Dairy, and Barn can be booked individually or all together, and they include a central courtyard, fire pit, outdoor shower, and views of the surrounding countryside.
Sleeps 12; from $960 per night direct
Liptrap Loft in Walkerville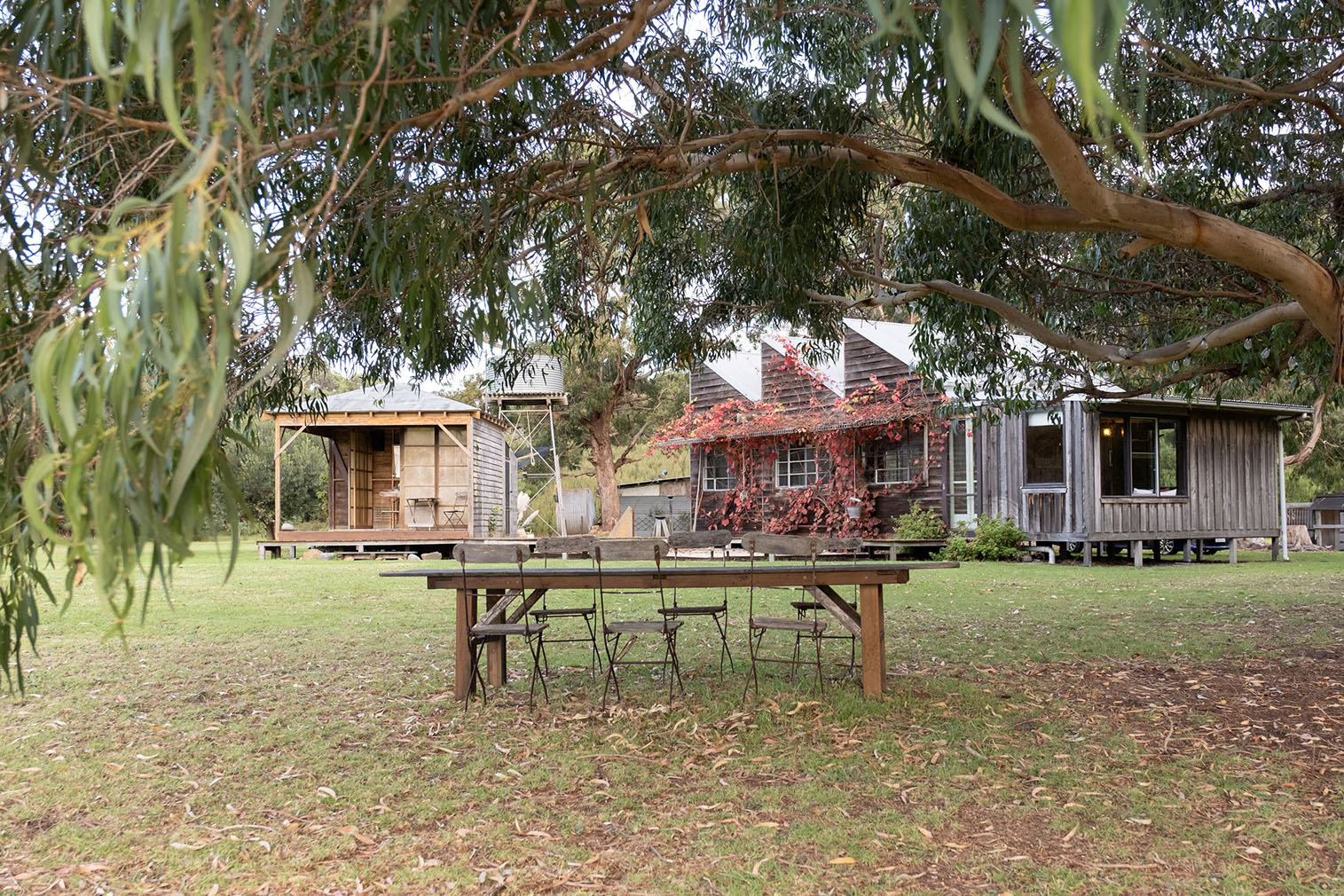 Tucked amongst the gum and acacia trees near the beach is this rustic cabin in Victoria's Walkerville. It was sustainably built from found and recycled materials by architect Jim Commadeur as his own home, and the timber shack features a saw-toothed frame.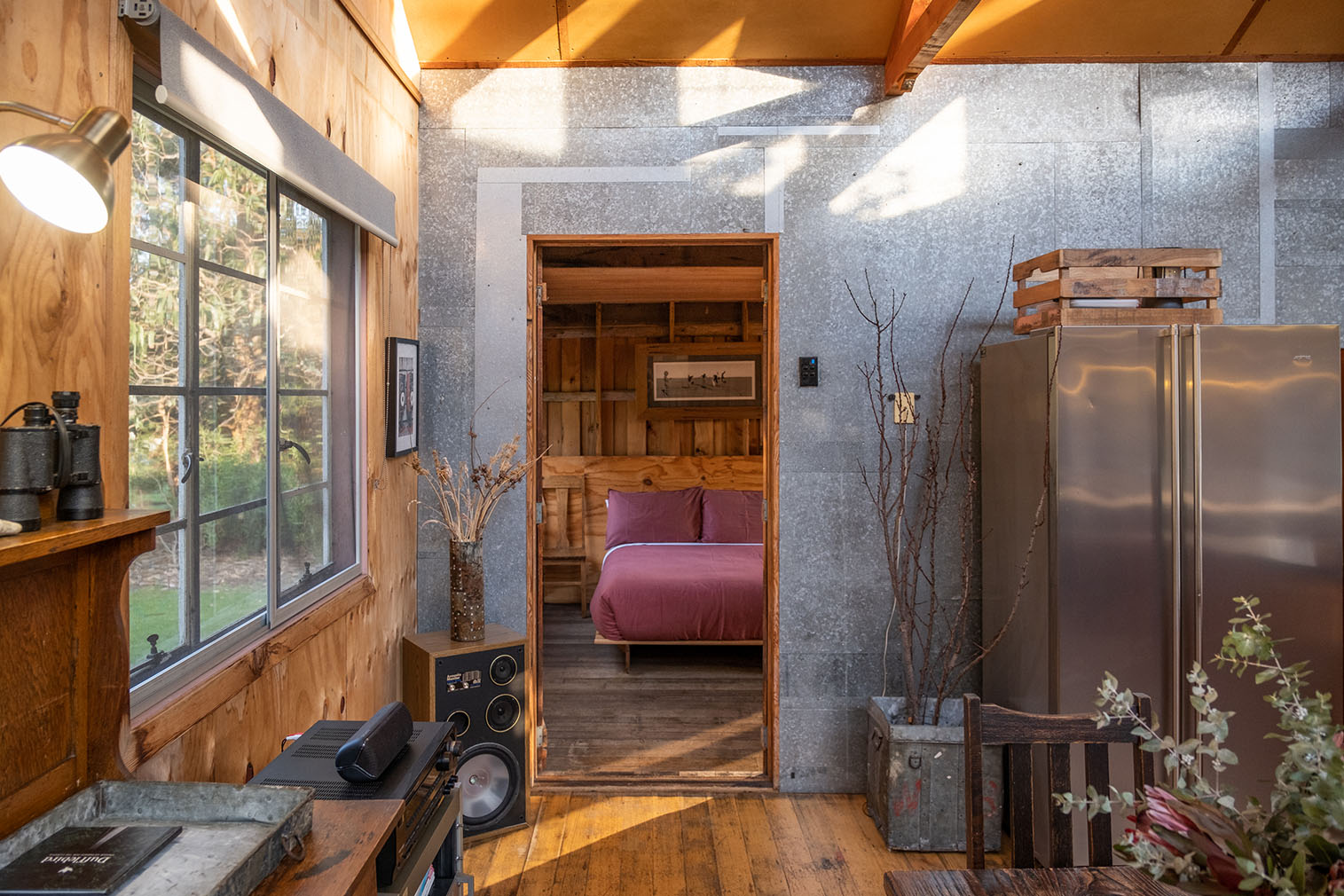 Commadeur hand-crafted every element of the Victorian holiday home, which has a separate Japanese-inspired bathhouse. Current owner Fleur Leslie says, 'I love sitting in the bath and looking out across the paddocks as far as I can see and not seeing any sign of people or neighbours.' The simple hut is close to the coastline and wine regions.
Sleeps 6; from $270 per night via Dufflebird
Casa Warrandyte in Warrandyte National Park
Designed by a founding member of the Australian Institute of Landscape Architects, Alistair Knox, this 1970s mudbrick house offers modernist living amongst the trees in Victoria's Warrandyte State Park.
Casa Warrandyte is surrounded by bushland and backing onto the Yarra River, immersing guests in nature via floor-to-ceiling glass doors that open onto a deck for outdoor dining and bushwalking tracks beyond. The Warrandyte property's owners have carefully updated the modernist home installing new terrazzo flooring and skylights and decking it out in classic design pieces and furniture, along with some unique additions.
Sleeps 7; from $500 per night via Airbnb
Cortes Kiln in Gapsted
This 100-year-old tobacco kiln in Victoria's Gapsted has been transformed into a minimalist retreat by the Cortes family in collaboration with Perth-based practice Whispering Smith Architects.
Located on a walnut farm, the Australian High Country home is an adventurous adaptive reuse project with serene interiors. Polished concrete flooring is paired with white walls and minimalist furniture, and there's an indoor courtyard filled with ferns and large windows that fill the countryside escape with sunlight.
Sleeps 2; from $327 per night via Airbnb
Callignee II in Gippsland
Callignee II is an award-winning eco-home in the Australian bush. Rising from the ashes, the house was painstakingly rebuilt by former owner Chris Clarke with fire-resistant materials after the original house was destroyed in the 2009 Black Saturday fires.
The two-bedroom sustainable retreat is located in Victoria's Gippsland region and is off-grid. Bi-folding doors connect indoor living spaces with the landscaped gardens, lap pool, and outdoor shower. Eagle-eyed readers might also recognise it from the hit television show Grand Designs Australia. Bi-folding doors connect indoor living spaces with the landscaped gardens, lap pool, and outdoor shower.
Sleeps 4; from $345 per night via Airbnb
Lon Retreat in Point Lonsdale
Set on 200 acres of rural land by the ocean, Lon Retreat is designed for slow living and appreciating the finer things in life, from quality air and sea views to careful craftsmanship and rugged materials.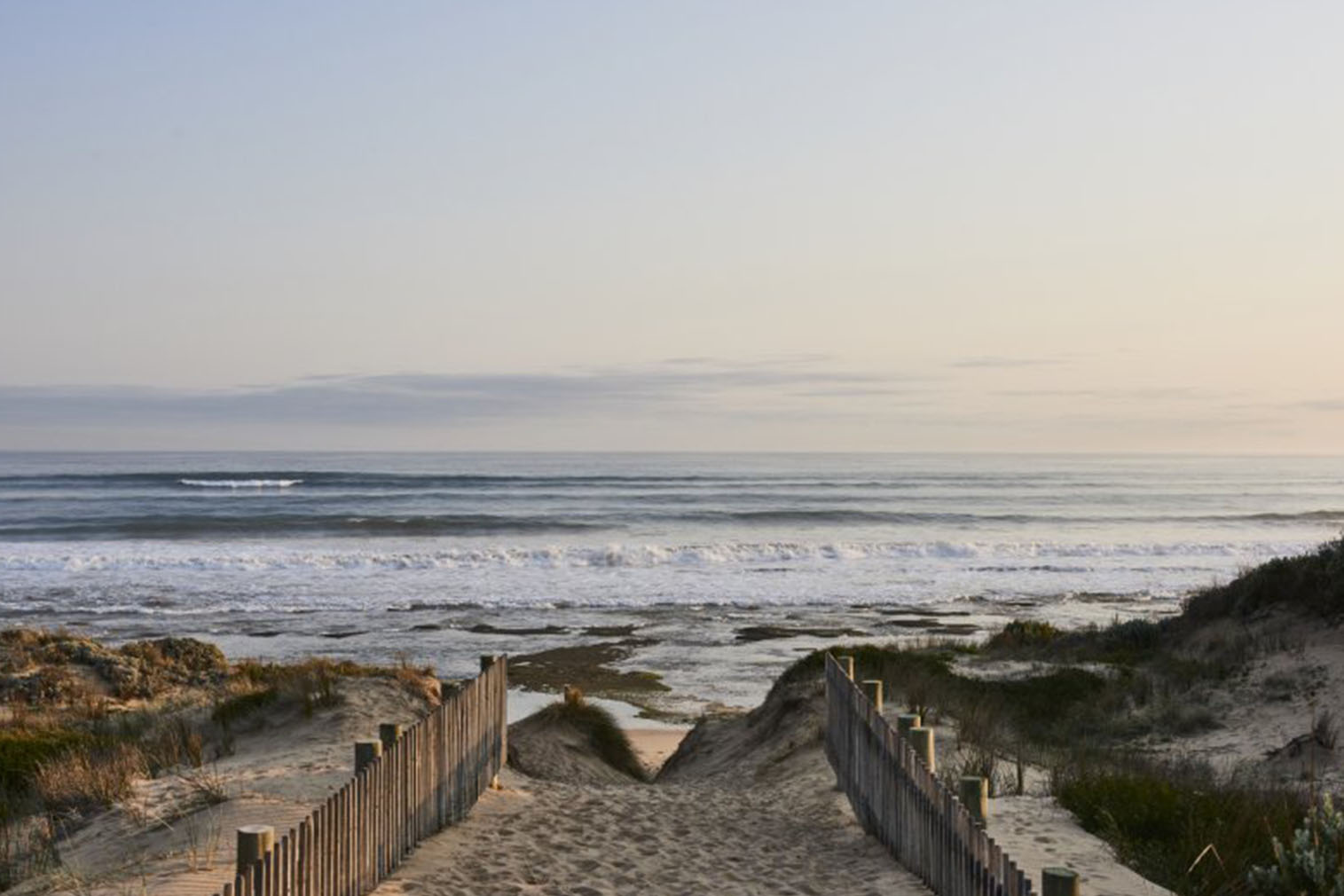 The Point Lonsdale hideaway contains seven luxury suites, a spa, and a heated indoor mineral pool on the Bellarine Peninsula, 90 minutes drive from Melbourne.
Owner Claire Gemes and her builder husband Rob opened Lon Retreat in 2018 on land owned by the same family for almost 150 years. Its warm interiors are designed by Claire and local designer Pip of Pip Interiors, and large glass windows have ocean views.
7 suites; from $390 per night direct
Oikos at Breakneck Gorge in Central Victoria
Melbourne-based practice Robert Nichol & Sons designed this Corten steel holiday home, which looks like it's folded in on itself in Victoria's Hepburn Springs. It's one of two architectural escapes built on 18 hectares of land. The modern holiday home capitalises on views of the Elevated Plains landscape, with floor-to-ceiling glass doors opening onto a front terrace.
Interiors have a sleek, moody vibe thanks to dark woods, herringbone fabrics and black steel appliances. The architects described the Hepburn Springs holiday home as 'a sculptural interpretation of the rugged landscape it inhabits.'
Sleeps 2; from $760 for 2 nights direct
Sky High in Mount Franklin
Local builders Josh and Tik White of Spa Country Builders designed mountain retreat Sky High atop a high ridge to capture views of Mount Franklin and the surrounding countryside. Its sharp, geometric design features acute pitched roofs and angled windows and circular 'porthole' arches framing views across the site. Inside, polished concrete contrasts the hardwood terraces that wrap around the house.
The 50-acre wellness retreat is a 5-minute drive from Hepburn Springs and Daylesford, and guests can explore various walking tracks or take a dip in the plunge pool.
Sleeps 8; from $2,298 for 2 nights direct