Things are heating up for Australia's New South Wales, home to some of the country's most spectacular landscapes and architectural escapes. You don't have to travel too far from the state's capital, Sydney, to reach pristine beaches and lush bushland retreats ranging from architect-designed homes to humble bush shacks.
Here are 7 of the best holiday homes in New South Wales.
Courtyard House in Hawks Nest, Mid North Coast
Sleeps 4; from $475 per night via Airbnb
Sydney architecture studio CHROFI designed this off-grid holiday home in New South Wales' Hawks Nest for reconnecting with nature. The sustainable Australian property is built by Fabprefab and sits on 60 acres of land, with emphasis placed firmly on the great outdoors. The house wraps around a central courtyard garden with an outdoor BBQ.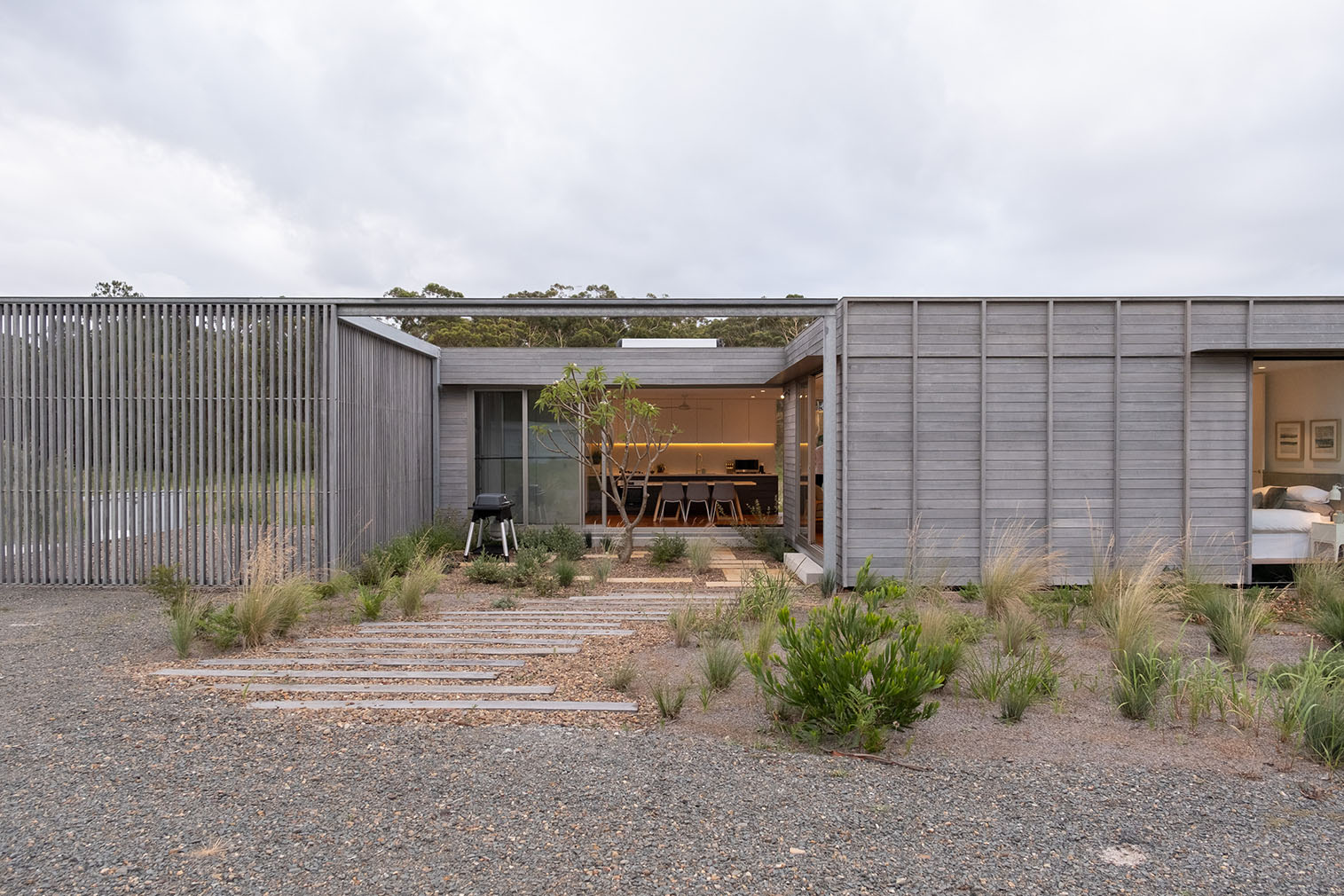 The solar-powered retreat doesn't have wifi so guests can switch off and unwind or take a dip at the local beaches a few minutes' drive away.
Heartwood Cabin in Burringbar, North Coast
Sleeps 2;  from $324 per night via Airbnb
Heartwood Cabin is a modern treehouse surrounded by 100 acres of bushland. The eco-cabin is a wifi-free zone and was designed as an escape from reality and modern connectivity. Walls of glass open onto a large deck complete with an outdoor bathtub and views of the Burringbar Ranges, Mount Wollumbin, and Mount Warning.
Burringbar is 40 minutes drive north of Byron Bay and just over 8 hours from Sydney.
The Perch in Byron Bay Hinterland, North Coast
Sleeps 5; from $495 per night via Byron Beach Abodes
Byron Beach Abodes designed this Byron Bay Hinterland retreat to nestle within nature above Possum Creek Valley on the North Coast of New South Wales. The house is fairly remote, around an eight-hour drive north of Sydney, and is designed to bed into its bushland terrain.
The countryside villa is known as The Perch, and it reflects its earthy surroundings via a terracotta-washed mud brick exterior, timber slatted cathedral ceilings, and natural brick-paved flooring. Interiors are furnished sparingly, though comfortably, with a 'minimalist-rustic' aesthetic, an outdoor dining area and shower and a wood-burning fireplace.
Swell at Blueys Beach, Mid North Coast
Sleeps 10; from 2,300 per night direct
This beach house in Blueys Beach on the Mid North Coast perches above 900 metres of pristine sand and has 180-degree views of the Pacific Ocean. The simple 5-bedroom holiday home has a low-slung modernist silhouette built from stone and timber, with soaring ceilings and expanses of glass that open onto the shore.
The house is around a three-hour drive north of Sydney, and facilities include an outdoor stone tub and a wood-burning fire for warming up after a day at the beach.  Nature lovers can also spy sea eagles, dolphins, and whales while dining on its expansive front deck.
Villa Surin in Cattai, Sydney
Sleeps 11; from $5,300 per night via Airbnb Luxe
Around 90-minutes' drive from the Sydney CBD, this modern villa by architect Timothy Moon sits above the Hawkesbury River in Cattai, nestled among 141 acres of lush trees and pastures. Moon has borrowed tropical modernism elements across its open-plan design, with exposed timber beams, cathedral ceilings, and high windows allowing light to flow through. Outside, there's a cerulean swimming pool, and guests can explore the river by kayak.
A stone's thrown from Villa Surin is a secret treehouse built into the rocks that form the house's foundations. It a private study if you're on a working holiday – or a quiet escape away from the house's five bedrooms.
The Range in Byron Bay Hinterland, North Coast
Sleeps 12; from $7,857 per night direct
This Australian farmhouse in Byron Bay's Hinterland was designed by creative owners, Emma and Tom Lane, who also created the paddock-to-plate concept restaurant, The Farm Byron Bay. The sustainable 120-acre New South Wales holiday home is inspired by the couple's European travels and comprises three dwellings that blend with the surrounding landscape.
Interiors of The Range fuse European and Australian influences, with timber trussed ceilings, brick floors and white-washed walls recalling a French farmhouse while industrial light fixtures and concrete worktops add a modern twist.
Paddock Hall in Tintenbar, North Coast
Sleeps 2; from $350 per night via Airbnb
This rustic timber shack in Tintenbar is just under 8 hours drive north from Sydney and around half an hour south of Byron Bay. The New South Wales holiday home was designed for relaxation and recuperation and had a simple design fabricated from sustainably sourced timber, exposed across its interiors.
A couple-sized vintage bathtub is located on the veranda, overlooking the surrounding trees. Inside there's a cosy fireplace and a four-poster bed.