Buena Design blends coffee hues with Japanese stylings to create Allpress Coffee's 'Streamline' Toranomon store in Tokyo.
The Tokyo-based studio designed the glowing space for the eponymous coffee brand in the Toranomon Hills skyscraper complex in the Minato ward café. It has a natural wood and ceramic tiled interior with neat linear lines and a curving geometry of retro diners.
Located on the second floor of Tokyo's tallest skyscraper, the linear coffee shop has a backdrop of wall tiles arranged in contrasting bands and a shoji-style door motif made from diatomaceous earth plaster. A glass wall lies at one end, drawing natural light into the space.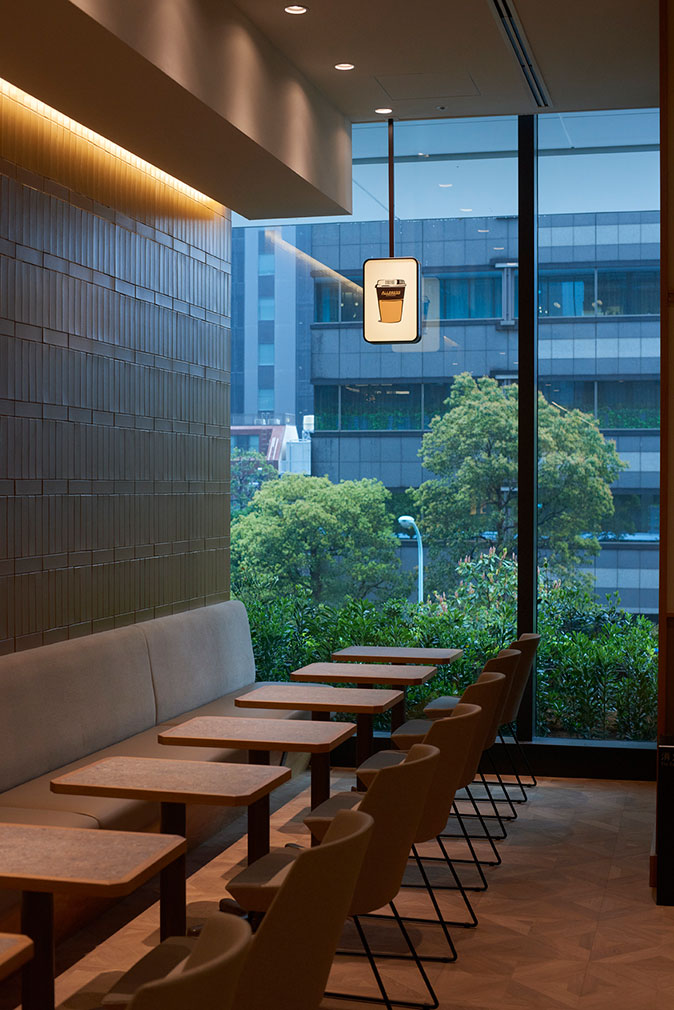 A central coffee bar sits below a curved-edged canopy with a recessed top. It is clad in Japanese-made tiles, fired to resemble the colour of café latte, and features ribbed timber wall cupboards and sleek, stainless-steel containers for its ground coffees.
Seating adds to its inviting look: chairs with black, triangular back legs are reminiscent of Jean Prouvé's style and banquettes and benches with aerodynamic detailing and beige upholstery. All around is the warm glow of ambient lighting.
The Toyko café serves the city's workers breakfast staples, such as smashed avocado, boiled egg and smoked salmon on toast, and a layered yoghurt, muesli and berry compote pot, alongside its coffee menu.
The Toranomon café is Bueno's second design for Allpress in Japan, the first being its Tokyo Roastery & Café, set in Tokyo's Kōtō city inside a former lumber yard.
Allpress Espresso Toranomon Café is at Toranomon Hills Business Tower, 1-17-1 Toranomon Minato-ku, Tokyo, 105-6402, Japan