Costa Rica offers miles of sandy beaches, verdant jungle and burgeoning surf spots – not to mention its diverse wildlife. It's also home to some of the most striking examples of tropical modernism.
Whether you want to sleep among the trees or survey the sea views, here are six of the best holiday homes for rent in Costa Rica.
Casa Maleku, Santa Teresa
Steel and concrete are surrounded by waving palm trees and blue skies at this jungle retreat. It's designed by Costa Rican practice Studio Saxe, which laid out a sweeping open plan floor, and a trio of upper volumes that take in views of the tree canopy as well as the ocean.
Visitors can admire the greenery from the home's huge concertina window, or take a dip in the private pool if the heat gets too much.
Available to rent via HomeAway from £1,153 per night
Hotel Nalu Nosara, Nosara
Visitors to this boutique eco-hotel can choose between surfing and yoga, making the most of the big waves at the nearby Nicoya Peninsula, or working out at an on-site studio. The hotel's comprises three individual villas, all of which have floor-to-ceiling glass doors that open directly onto the jungle.
Guests can also enjoy their own salt-water swimming pools and outdoor showers.
Available to rent from $255 per night
Montezuma treehouse, Puntarenas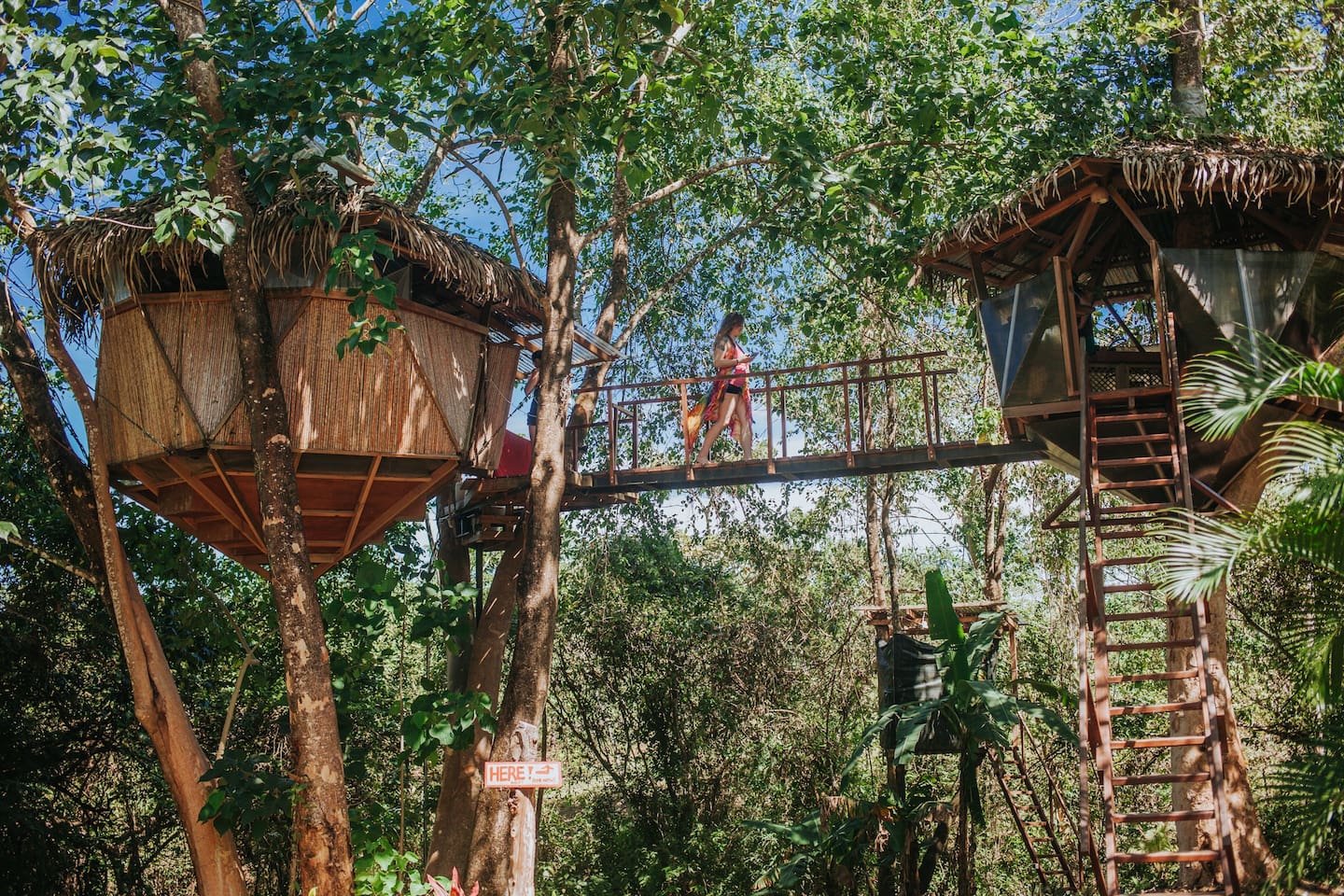 Stay among the trees at this thatched home, which is located on a 40-acre organic farm. It's divided into three timber treehouses and a viewing deck, all connected by suspended bridges. There are mountain views to be admired from the property's hanging bed, and plenty of space on the terrace for morning yoga or sunbathing.
Available to rent via Airbnb from £54 per night
Casa Flotanta, Puntarenas
Get a taste of tropical modernism at this holiday home on stilts. The house is divided into three wooden 'pods' – each connected by aerial bamboo walkways. Studio Saxe designed the Costa Rican property to reduce environmental impact, incorporating solar panels, rainwater collectors, and fully openable living areas, so guests can enjoy natural ventilation. See more.
Available to rent via Plans Matter from $714 per night
Casa Ilios, Tamarindo
Guests can spread out at this Tamarindo home, which perches right on the edge of the coast and sleeps 16. Its three living rooms mean everyone can enjoy their own space at the end of a long day on the beach – which is a few minutes walk away. The house even comes with its own trained bartender.
Available to rent via Airbnb from £1,814 per night
Casa Bri Bri, Santa Teresa
Casa Bri Bri's balconies overlook both the ocean and the surrounding Cabo Blanco Nature Reserve. Plants engulf the indoor and outdoor living areas, as well as the saltwater infinity pool. Inside, interiors are minimal, putting the focus on the floor-to-ceiling windows and the views beyond.
Available to rent via Joya Villas from $990 per night