Healthy living is more important – and more nuanced – than ever before, as we spend increasing amounts of time in our houses with less access to public spaces and fitness facilities.
This cache of domestic spaces is designed with wellness in mind and offer more than just a home gym. The healthy homes connect to nature and promote a strong mind and a fit body – think access to open-air hiking trails and ski slopes, swimming pools and saunas to relax the body or zen interiors that soothe the soul.
Here are our favourite healthy homes on the market right now.
A rustic cabin in Järpen, Sweden
6 bedrooms; 7.5m SEK via Skeppsholmen Sotheby's International Realty
This log house is set amongst the snowy woodlands of Järpen in Sweden and was designed by architect Folke Hoving to radiate wholesomeness. The cluster of structures features tarred timber facades, solid timber floors, fireplaces, country kitchen, and of course, the secret to healthy Scandi-living – a sauna.
The chocolate-box home was built in the 19th century on 3,300 sq m of land about an hour from Östersund airport. It's also just 15 minutes from popular ski resort Åre, meaning the Swedish countryside property is ideal for winter sports enthusiasts.
11 bedrooms; $2.74m via Sotheby's International Realty
The Sanctuary at Two Rivers on Costa Rica's Nicoya Peninsula was built by Entourage actor and environmentalist Perrey Reeves with local studio Luz de piedra as a private estate, hidden in the jungle.
Built in one of the world's 'blue zones'  – where people live longer lives due to their environment, lifestyle and diet – the healthy home focuses on wellbeing and conservation. The Sanctuary comprises seven small timber-style houses and borders rivers and hiking trails. The sustainable complex is entirely off-grid with solar energy and rainwater-collection built into its structure. It also boasts a mountain-top deck with ocean views, a fire circle, swimming pool, waterfall, purpose-built yoga space, and a dining area in lush gardens.
Maison H near Cahors, France
3 bedrooms; €690,000 via Architecture de Collection
Raw concrete 'Maison H' by architect Franck Martinez is surrounded by nature. The eco-friendly home near Cahors in France was built in 2015 in the shape of the letter H, creating living spaces that tumble onto outdoor patios via sliding glass doors.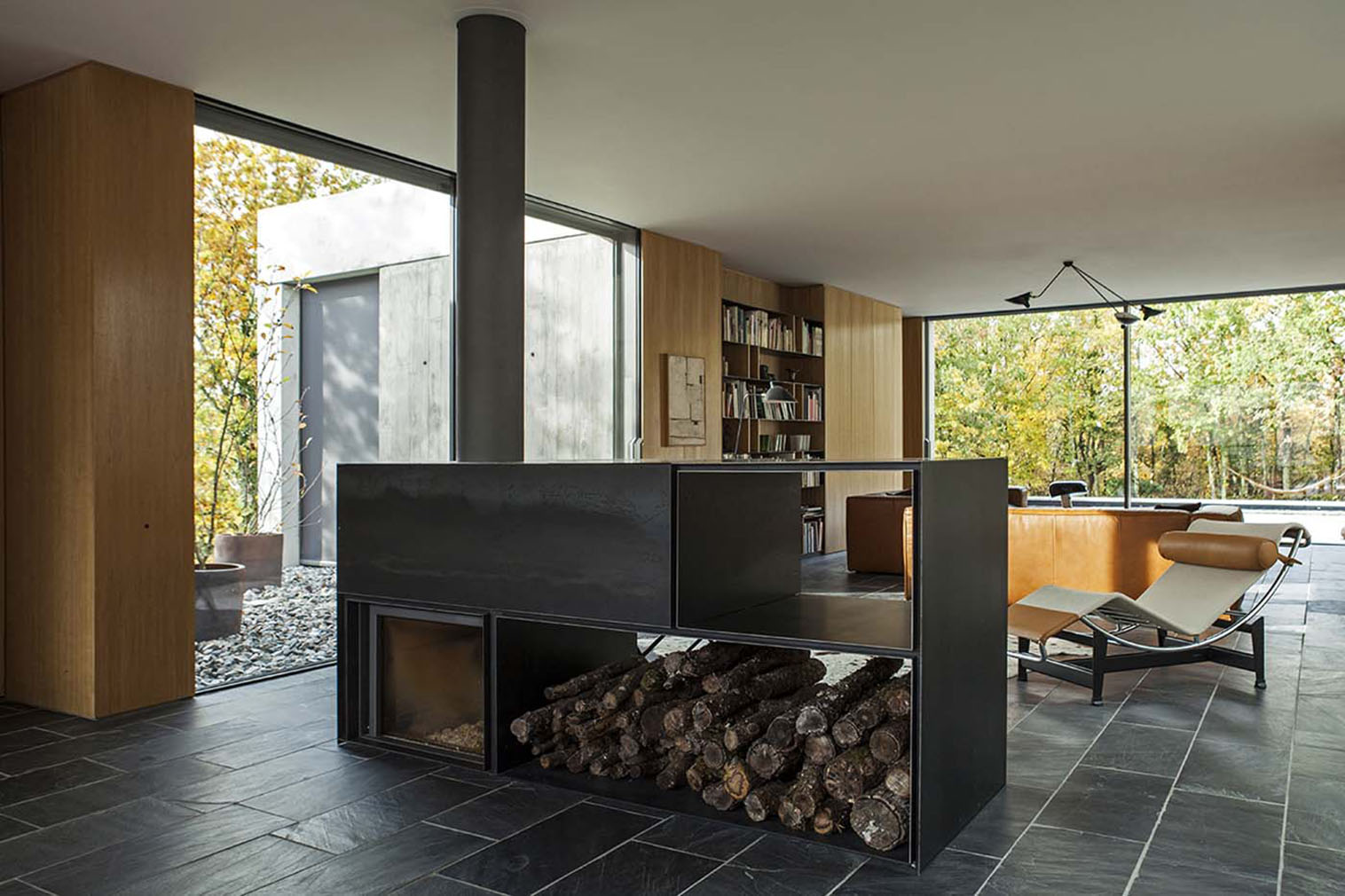 Walls of glass capture leafy views on all sides, while interiors draw on a minimalist, natural palette with stone floors and timber walls creating a calming environment for living. The countryside property and its pool are heated by sustainable geothermal energy, has rainwater collection for the garden, and is border by woodland. There's also room to add a home gym.
3 bedrooms; $1.55m via Compass and Brown Harris Stevens
This post-and-beam house in Long Island's East Hampton sits high amongst the trees on a 1.4-acre wooded plot. The modernist 'treehouse' was built in the mid-80s with an 'upside down' layout, making the most of far-reaching ocean views. Windows in the kitchen and living spaces peek across the surrounding canopy of trees, and it has a large open deck, perfect for practising yoga.
Outside, there's a swimming pool enveloped by foliage, a firepit, and there's ample space to add a tennis court on the grounds, and the lower level (currently a rec-room) could be renovated as a large gym or hobbies space.
The zen Long Island home is just minutes to Sag Harbor and the beach, popular for swimming and water sports.
A modern timber cottage in Klövsjö, Sweden
3 bedrooms; 3.8m SEK via SkandiaMäklarna
Nestled at the foot of the mountains in Sweden's Jämtland County, this modern timber cottage was built in 2020 as a holiday home for outdoor enthusiasts. The Swedish cabin is to close ski slopes, cross-country skiing and snowmobile trails and celebrates all things wintery.
Owners can watch the seasons change through latticed glass doors and take in views of the towering mountain above from the garden where there are hiking trails a short walk from the ski retreat. There are restaurants and a spa nearby and the cabin has its own sauna and wood burning fireplace for unwinding after a long day on the slopes.
3 bedrooms; €550,000 via Fantastic Frank
Trulli Pugliesi has been revived with the modern Mediterranean lifestyle in mind. Rome studio Lab36 restored the rural property, which dates back to the 16th century, in southern Italy's Castellana Grotte. The studio has retained its canonical roof design while opening up interiors spaces to allow fresh air and light to circulate throughout.
Old and new structures are built into the countryside terrain using local stone while living spaces have a minimalist aesthetic designed to soothe and relax. An infinity pool overlooks the trullo's private olive grove, oak trees, and cherry orchard.