As places of calm and reflection, yoga studios harness design's impact on our emotions to great effect. But it's not all minimal interiors and muted palettes. We've chosen six yoga studios from around the world using design in surprising ways – from open-air spaces in the centre of the jungle to studios that embrace unconventional materials and epic adaptive reuse projects.
Simhanada Ashtanga in Melbourne, Australia
Granite and steel feel like strange companions for a yoga studio, but architect Richard Stampton made them work inside this Melbourne space. Class-goers are greeted by an incongruous pile of boulders – designed as a contemporary take on a zen garden – and a geometric metal staircase, which leads up to a more traditional studio space.
Ground floor, Russian House, 118 Greeves Street, Fitzroy 3065
Luum Temple in Tulum, Mexico
Less a studio and more of a pavilion, this open-air yoga studio is in the heart of the Tulum jungle. Practitioners benefit from the breeze flowing through the structure as they hold their downward dog while also being shaded from the sun and rain thanks to its bamboo and woven grass roof. See more on this innovative eco-design.
Carr. Cancun-Tulum Mz. 27 Lt. 001 Aldea Zama Smz. 001, Tulum, Q.R., Mexico
Warrior One in Melbourne, Australia
Design studio Golden took a minimal approach to this Mordialloc yoga centre. Colour is kept to a minimum and instead of using sisal fabric, timber beams and pink marble to add texture to rooms. Equipment and belongings are stashed safely out of sight in custom cabinets during classes, and members can relax on daybeds and other pieces of furniture made by local artists after sessions.
227/228 Beach Rd, Mordialloc VIC 3195, Australia
Humming Puppy in Sydney, Australia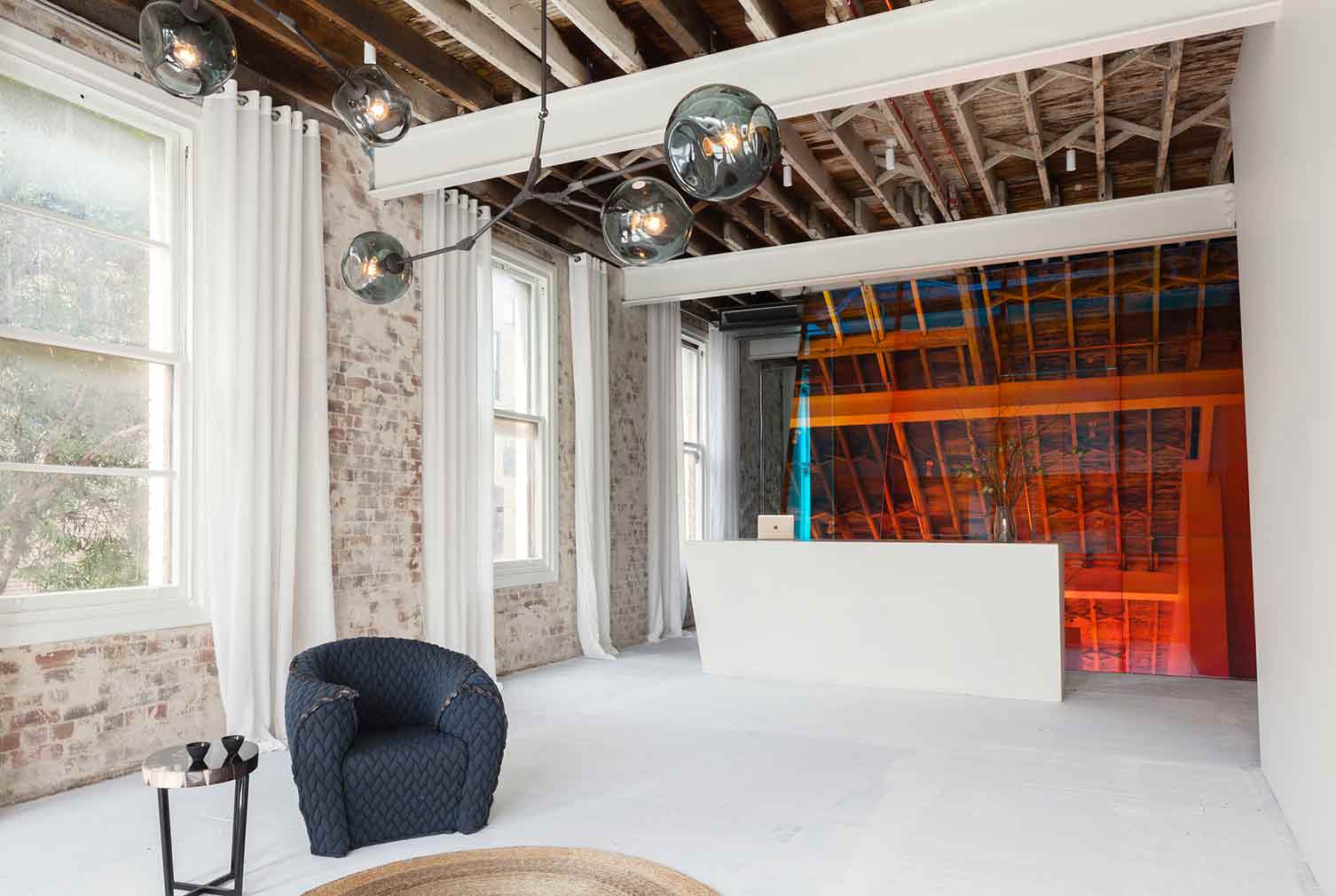 Visitors expecting whitewashed walls and wooden floors will be surprised at this Redfern yoga studio. Architect Karen Abernethy has installed dichroic filters inside the industrial building, creating shifting colour effects as class-goers pass by. The studio's classrooms have black floors and ceiling panels that absorb light and sound.
Levels 1 & 2, 146 Abercrombie Street, Redfern NSW 2016, Australia
Pure Yoga Pacific Place in Hong Kong
It's all about the details at this Hong Kong yoga studio, which is filled with one-off artworks included hand-painted murals by Elsa Jean de Dieu and rugs by Omar Khan. Inside practice rooms, light filters through diamond-shaped wooden panels which cover the windows. After a tough class, guests can cool off under rainforest showers in the marble and granite-lined changing rooms.
L1 Pacific Place 88 Queensway Road, Admiralty, Hong Kong
One Hot Yoga in Sydney, Australia
This Art Deco building, home to one of Sydney's first supermarkets, has been carefully converted into a hot yoga studio. Class-goers sweat it out in interiors dominated by white timber and muted colours, letting them focus on their practice. One Hot Yoga claims its hydronic heating system uses less energy and ensures yoga students won't suffer from dry skin and eyes.
34 Kellett St, Potts Point NSW 2011, Australia