Simplicity is what Spain's most authentic food houses are famed for, and tube lighting, functional steel counters and disposable paper tablecloths are often signals of a great meal.
But a new generation of Spanish designers are shifting this association, championing unique, carefully crafted interiors that elevate the gastronomical experience.
From fresh new openings to long-standing favourites, here's a taste of Madrid's best culinary haunts with equally bold decor.
La Terraza del Casino by Jaime Hayón
A booking at La Terraza gets you past the doorway of El Casino de Madrid – one of the city's most exclusive private members' clubs. After first designing it in 2007, Jaime Hayón gave La Terraza a fresh look last year. His glossy colour palette springs out joyfully from the black and white chequered marble floor beneath.
Etxeko by Lazaro Rosa-Violán
Inside the new BLESS Hotel is 10 Michelin-starred Basque chef Martin Berasategui's first Madrid restaurant. A life-sized bronze bull sits in a cage at the centre of this atrium-like space, which oozes warm tones of crimson and amber. The ornate cross-stitch patterns of the ceramic floor tiles recall traditional 1950s Madrilenian decoration.
NuBel by More-co
The dining space inside Jean Nouvel's extension of the Reina Sofia modern art museum opened as NuBel in 2016, with Asturian chef Manuel Berganza dishing up contemporary Spanish cuisine. Local designer Paula Rosales of More-co crafted the spaceship-like restaurant interiors, in which biomorphic shaped furniture sits glowing under Nouvel's undulating, reflective red ceiling.
Fismuler by Arquitectura Invisible
Since 2016, Fismuler has served fuss-free, sustainable, seasonal dishes inspired by Nordic cuisine. The decor echoes this ethos of simplicity and authenticity, from the exposed concrete to the unfinished plaster. In what was previously a claustrophobic, labyrinthine basement, design studio Arquitectura Invisible wanted to create a space that was as welcoming and democratic as the restaurant's approach to food.
La Cabra by Mecanismo Studio
Top chef Javier Aranda relaunched his acclaimed dining house last year and invited designers Marta Urtasun and Pedro Rica to give it a makeover. In three weeks, they replaced and rearranged all the furnishings, introducing warm wood tones, brown marble and brightly coloured upholstery to create a cosy environment that fits with the chef's new relaxed vision for the restaurant.
Larios Café by Tomás Alía
This dining, cocktails and live music venue took Madrid's nightlife by storm when it first opened in 1999. Tomás Alía, the designer of the original space, gave it a dramatic makeover for its relaunch in 2017, washing it in showy shades of turquoise, cobalt and powder pink. The natural textures of bamboo and rattan contrast with brass, velvet and glass accents.
New York Burger by Proyecto Singular
Located in the affluent suburb of La Moraleja, this upscale burger joint was among the winners of the Restaurant Bar and Design Awards 2019. The meat grill sits, literally and conceptually, at the centre of the establishment. The colours, textures and materials respond to the concepts of ember, wood and smoke that inform the Madrid restaurant's approach to eating.
Lobito de Mar by Astet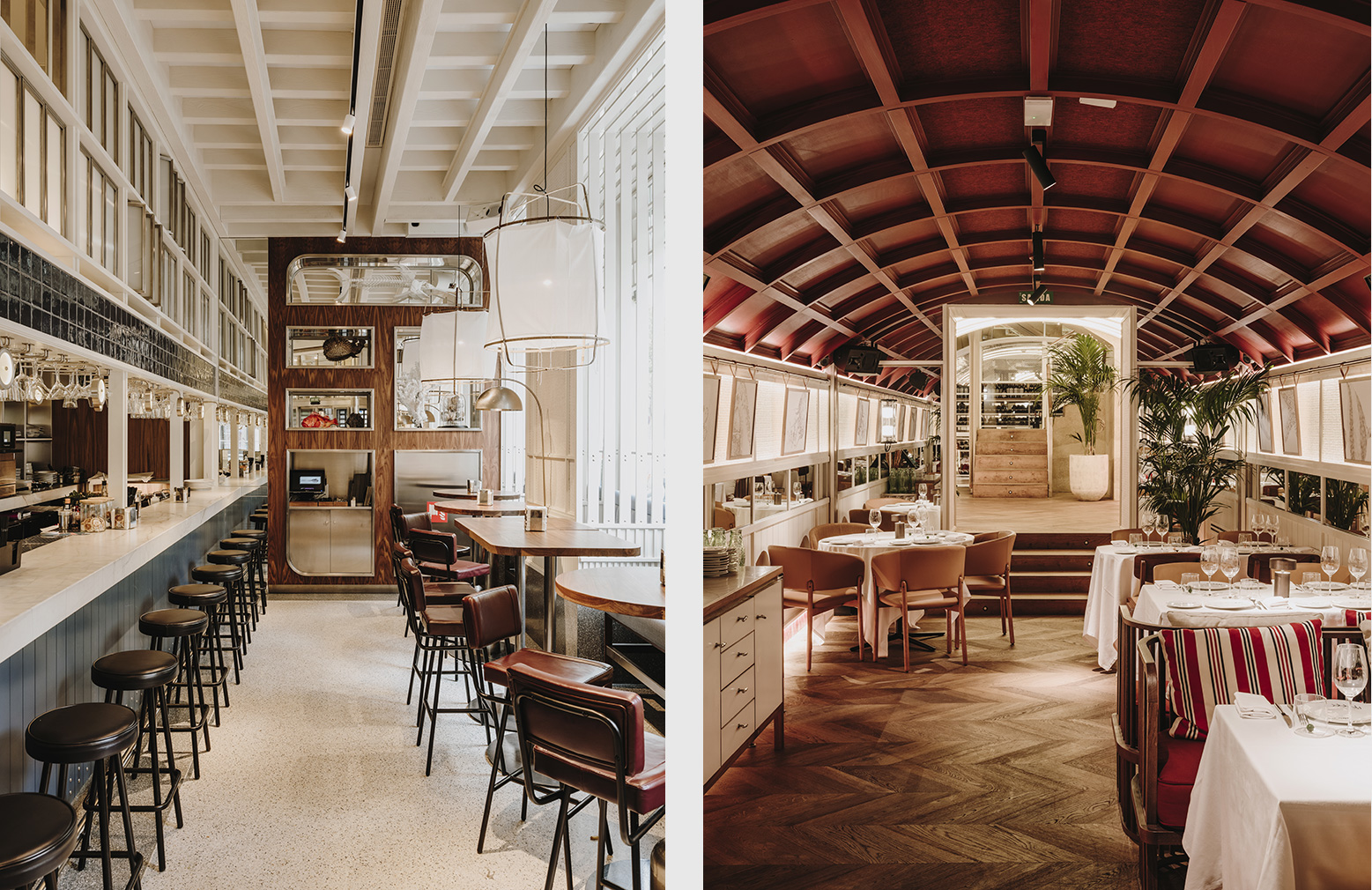 Marbella's Michelin starred chef Dani Garcia is bringing the flavours of the coast to Spain's landlocked capital with this new restaurant. Astet design studio opted accordingly for a marine theme – part shipyard, part fish market. Sand from the south coast's beaches has been used to create texture on the walls and stairways.
La Primera by Tarruella Trenchs
Evoking a sense of chef Paco Quirós' native Cantabria, in northern Spain, Studio Tarruella Trenchs introduced a feeling of vegetation, with walls and ceilings painted an intense green and plants sprouting from various corners of the spaces. The Madrid restaurant is housed in the emblematic Edificio Grassy, the first building on the city's Gran Vía, built by architect Eladio Laredo – also from Cantabria.