Residential design doesn't get more radical than Sphynx Hill, an unapologetically OTT postmodern home designed by John Outram in 1999 as a colourful pharaoh's palace.
Outram ripped up the rulebook with his colourful PoMo buildings, saying, 'My work has been a rebellion'. Colourful, with bold geometries, his buildings cut through the 'drabness' of post-war architecture by embracing decoration and play. More recently, his buildings have been protected by Historic England, including his 1985 Grade II-listed* Storm Water Pumping Station on the Isle of Dogs and Grade I-listed New House at Wadhurst Park (1978).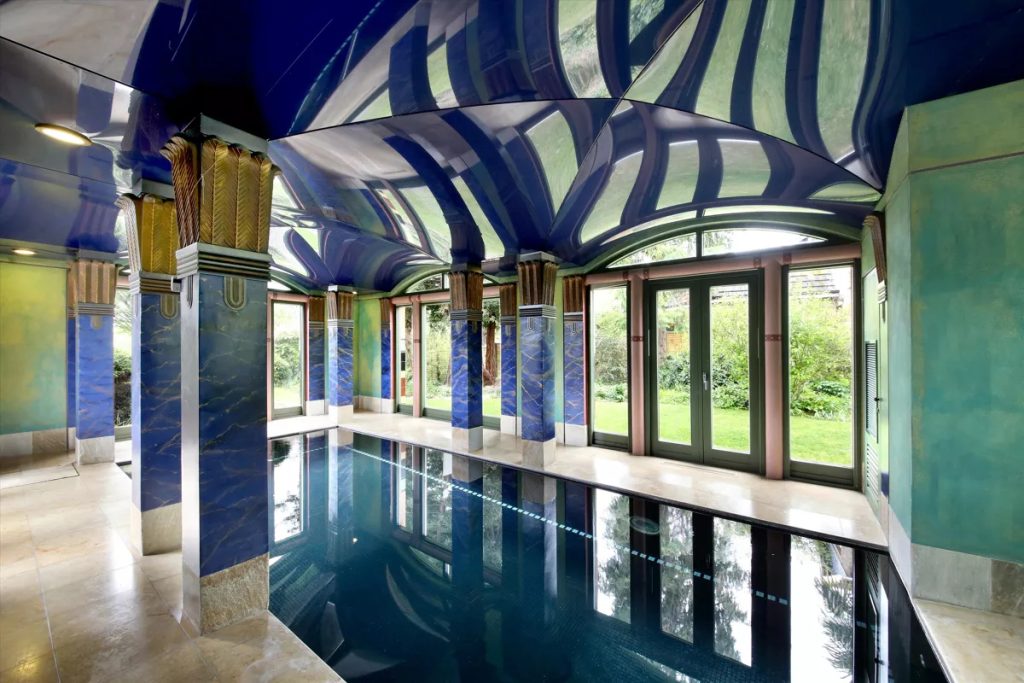 'Egyptian House', as Sphynx Hill is locally known, is no exception. Now for sale via Knight Frank for £2.5m, the three-bedroom Oxfordshire property is located in the village of Moulsford and boasts a prime riverfront position, arranged symmetrically in parallel with the water, with views of the Thames straight through the house.
Its colourfully rendered facade gives way to equally colourful interiors, featuring original, decorative elements such as columns, vaulted ceilings daubed in blue, an all-black tiled swimming pool, and zig-zagging mosaic bathrooms and bespoke cabinetry by Philip Koomen. Most dramatic of all is the study/lounge, with its glass pyramid-enclosed fireplace, portal windows set high beneath the roof and river views. Another set of free-standing columns commands the vaulted space.
Bedrooms are on the upper level, with the main bedroom opening onto a private terrace. This overlooks the gardens where a pair of sphinxes guard wildflowers, flowerbeds and grassy lawns, culminating with 65ft of mooring on the Thames.
The postmodern property admittedly isn't for everyone, but for fans of the style it's a covetable gem that's faithful to Outram's original vision.