Welcome to our weekly property digest, where we bring together the best homes for sale and rent across the world. This week, we have a converted train station in Sweden and a live/work loft in Toronto among our discoveries.
A tiny cabin with big views in Quebec
Sleeps 2; from CAD $175 per night via Parc Poisson Blanc
Canadian studio L'Abri designed this remote retreat on the far end of Quebec's Pointe de la Truite peninsula. The timber-panelled tiny cabin is surrounded by parklands and a lake and takes on a remote bent in winter, accessible only by skis, snowshoes or sleds. Luckily there's a wood-burning stove and campfire to warm up next to upon arrival. See inside. 
A live/work loft in Toronto
1 bedroom; 1,095 sq ft; CAD 1.098m via Ramsay Real Estate Group
The 1916 William Wrigley Jr Building is a Beaux-Arts landmark in Toronto's Leslieville – once Canada's 'Chewing Gum Capital'. Nowadays the former factory is a covetable loft building, with units that rarely come on the market, which makes this corner of interest. The lofty live/work space has 13.6-ft-high ceilings, concrete mushroom columns, painted brickwork and original industrial windows that offer views of the downtown skyline. Take an online tour. 
A converted train station in Stockholm County
4 bedrooms; 5.7m SEK via Historiska Hem
Dating from the 1910s, this shingle-clad train station in Sweden's Ösmo looks like it belongs in a Wes Anderson film, but colourful interiors tell a different story. The converted station was designed by Ferdinand Boberg in a National Romantic style – a Swedish successor to Art Nouveau – and has been given a top to toe refurb for its new domestic role. A particular highlight is the large and open kitchen. See inside.
An architect's NYC-style loft in Melbourne
3 bedrooms; 3,600 sq ft; guide price $4m AUD via Colliers
This penthouse loft in a converted 1924 warehouse on Melbourne's Flinders Lane is on the market for the first time. Inspired by the fabled NYC lofts of the 1970s, its architect owners chose to celebrate its rugged character when they purchased the historic Toronto House loft in 1991, making minimal changes. Steel-framed warehouse windows span the walls, while ceilings reach 3.77-metre-high throughout. Take an armchair tour. 
A 500-year-old townhouse in Hertfordshire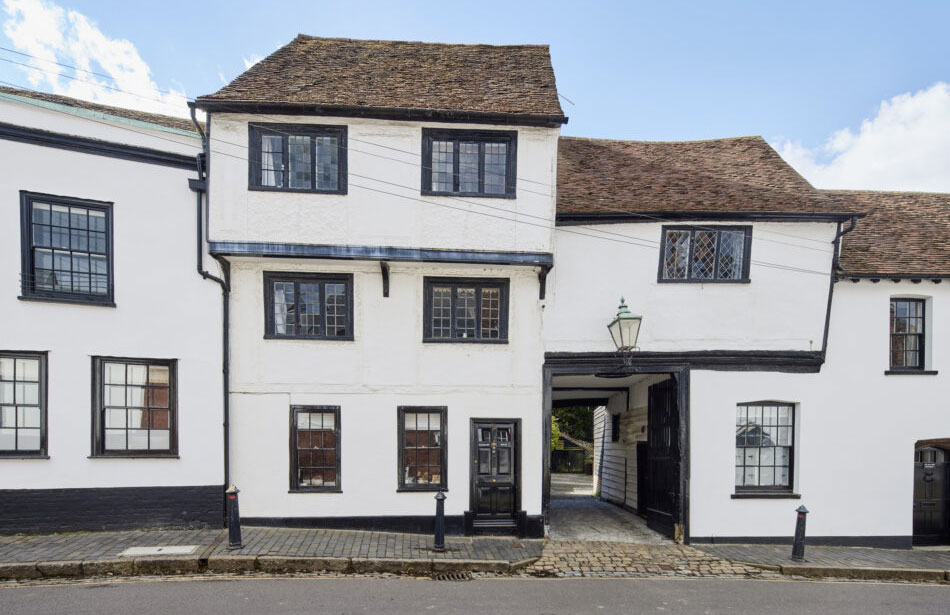 2 bedrooms; 1,301 sq ft; £1.15m via Inigo
This Grade II listed townhouse's warped facade is a testament to the Hertfordshire property's rich past. Bankhart House in the St Alban's Conservation Area was built before 1500 and its historic features have been restored throughout its living spaces, including a 500-year old timber staircase. See inside.