Assemble made history in 2015 when the multidisciplinary group became the first art collective to win the Turner Prize. This year marks another first for the 37-year-old art award, which has announced its 2021 shortlist – composed solely of collectives.
Following on from the events of the last 12 months, it's perhaps no surprise the focus is on groups of creatives working together. Community has taken on a renewed importance for many of us as we've seen our worlds shrink to the surrounding neighbourhood due to lockdown. The pandemic has also brought social issues into sharp focus, and, notably, all of this year's nominees are all social practice artists.
'One of the great joys of the Turner Prize is the way it captures and reflects the mood of the moment,' says Alex Farquharson, director of Tate Britain and chair of the prize. 'After a year of lockdowns, when very few artists have been able to exhibit publicly, the jury has selected five outstanding collectives whose work has not only continued through the pandemic but become even more relevant as a result.'
Array Collective
This Belfast-based collective brings together a group of 11 artists who work on their own practice and collaboratively. Work so far has ranged from protests, street interventions and rallies to exhibitions, events and banner-making workshops, with Array taking what it describes as an 'activist approach' to work. Projects include public artwork to support the decriminalisation of abortion in Northern Ireland and challenging discrimination against the queer community. (Same sex-marriage only became legally recognised there in September.)
'We try and hitch our anger to that of the many disenfranchised groups that we're also a part of and highlight the serious consequences of ambivalence towards us all by those in power,' says the group's Emma Campbell. 'We try and use play and humour. We are all constituents or allies of the communities we protest with and make art about.'
Black Obsidian Sound System
Set up in 2018, Black Obsidian Sound System aims to bring together an art community of queer, trans and non-binary people of colour – challenging a predominantly straight and male sound system culture. The sound system was originally built for an exhibition by artist Evan Ifekoya but has since been taken to parties and used for workshops and performances. It remains available for community groups to borrow.
The collective's key pieces include an audiovisual installation hosted at FACT Liverpool, which brought together archival imagery in an installation reflecting on how marginalised groups have united – and a 24-hour online fundraising rave. Since their nomination, BOSS has released a public statement via Instagram, questioning the practices of art institutions, including a perceived lack of adequate compensation for artists and the recent strike actions and redundancies at Tate.
Cooking Sections
London duo Cooking Sections examines the world through the lens of food, doing work that pushes at the perceived boundaries between creative and scientific disciplines such as art and ecology. Last year, Tate Britain hosted the pair's Salmon: A Red Herring – a light and sculpture installation that exposed the synthetic pigment added to fish feed to turn them pink, instead of the natural grey of farmed salmon.
Cooking Sections has also been praised for its ongoing CLIMAVORE project, which explores how diet will adapt to climate change. The CLIMAVORE: On Tidal Zones installation, on the shores of the Isle of Skye's Portree, invites visitors to sit down and enjoy food at an oyster table that's only revealed at low tide.
Gentle/Radical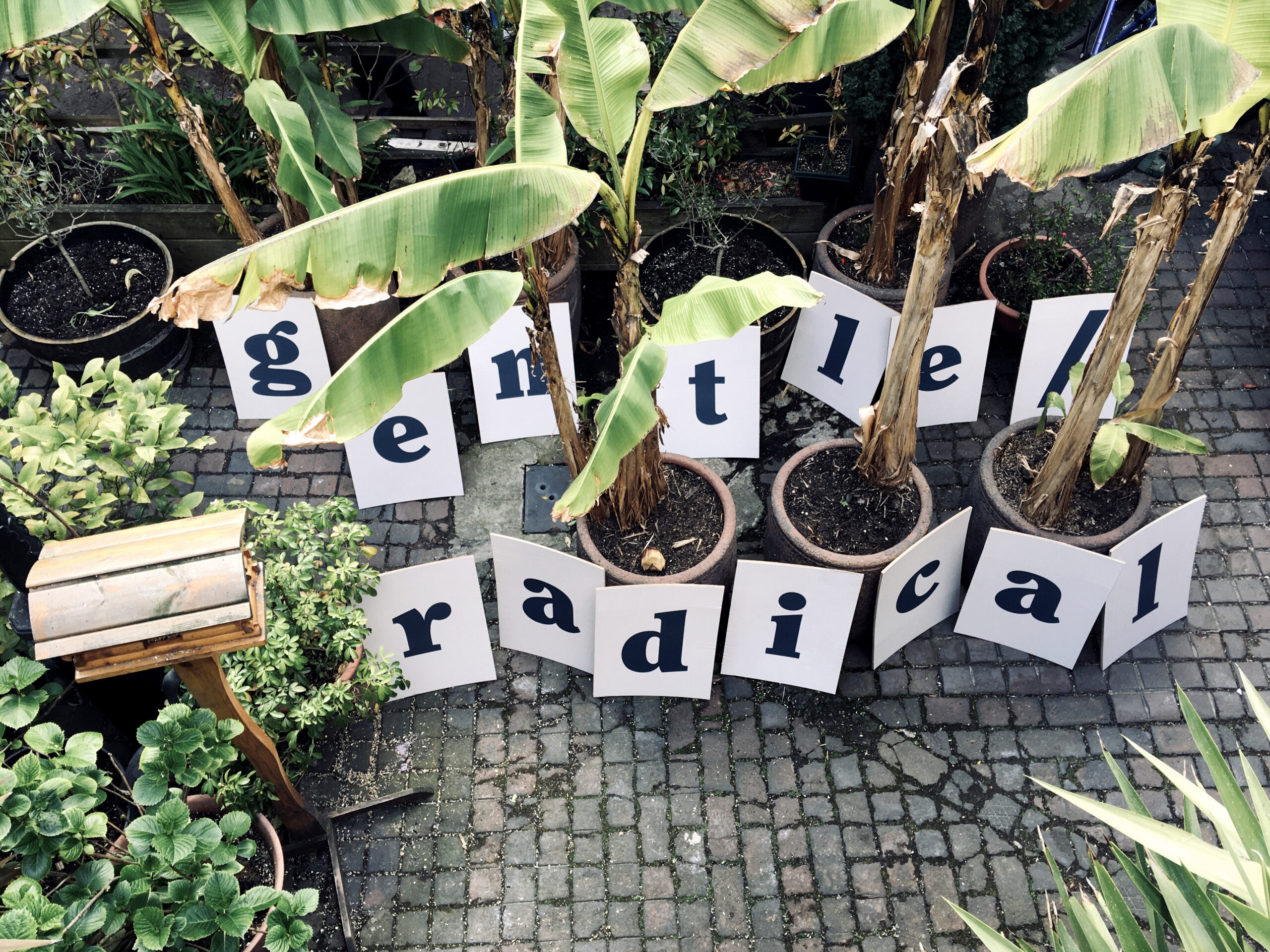 Cardiff-based collective Gentle/Radical collaborates with diverse disciplines, including community activists, educators, historians, researchers, faith practitioners, and journalists. According to Gentle/Radical: 'Our activities shift according to cultural need, interest, and the challenges our communities are facing.'
Work takes place in different realms, although previous projects have ranged from films screenings and pop-up events to walks, talks and readings, always focusing on bringing people together. During lockdown, Gentle/Radical's Doorstep Revolution helped the people of South Riverside share neighbourhood stories and history. The Turner Prize jury expressed admiration for this commitment to the hyper-local.
Project Art Works
A group of neurodiverse artists from Hastings make up Project Art Works, whose recent film, Illuminating the Wilderness, followed the group as they explored a remote Scottish glen. The collective aims to raise awareness and increase diverse representation, helping to share the work of neurodivergent artists and makers with a range of projects that span disciplines and mediums, including film, print and digital.
According to Project Art Works, its studio spaces are 'without hierarchy', allowing work to unfold and artists to come together 'in purposeful collaboration using total communication'. Spaces are adapted to the different needs of artists, with caregivers on hand to support artists. As well as offering a vast range of materials and processes Project Art Works punctuates its studio programme with trips and visits. Work by the group's members has been shown at Hastings Contemporary, as well as Autograph in London, Tate Liverpool and Phoenix Brighton.