We're in the age of a 'new normal'  and the UK is finally reopening, from restaurants and pubs to art galleries. Here are some of the most enticing art exhibitions worth entertaining in the coming months as we move along the 'roadmap', from immersive audiovisual worlds to miniature ones…
Rachel Whiteread: Internal Objects at Gagosian, London
After the strangest – and most absent – year for art,  Rachel Whiteread has seized the moment to take her architectural sculptures in a whole new direction for  Internal Objects. While her work explores hidden narratives and human presence through cabin-like sculptures, Whiteread's new exhibition inverts this haunting theme. For the first time, she's chosen to build new shacks rather than casting existing forms, embracing openness, renewal and imperfection.
Internal Objects runs until 5 June 2021 at Gagosian's Grosvenor Hill Gallery.
Ryoji Ikeda at 180 Studios, 180 Strand, London
Celebrating five years of collaborative works with The Vinyl Factory, Japanese audiovisual artist Ryoji Ikeda opens the doors to brutalist hub 180 Studios, 180 The Strand from 20 May 2021 for his biggest European exhibition to date. Across multiple floors, he'll share 12 artworks – five of which have never been seen by the public before – and activate imperceptible frequencies to create an immersive digital experience.
Ryoji Ikeda is a ticketed event, running from 20 May 2021 at 180 Studios, 180 The Strand.
Masterpieces in Miniature at Pallant House, Chichester
Pallant House Gallery is a Grade I-listed Queen Anne style townhouse in Chichester that dates from 1712 – but don't let the exterior fool you. The gallery is home to home of the biggest 20th-century art collections, displayed in its historic spaces. For Masterpieces in Miniature, 30 miniature artworks – created during lockdown by John Akomfrah, Michael Armitage, Tacita Dean, Lubaina Himid, Damien Hirst, Magdalene Odundo, and Gillian Wearing – are displayed in a specially commissioned model art gallery by architecture firm Wright & Wright. This miniature world will be displayed alongside two earlier model galleries, offering an overview of 80 years of art in a doll's house scale.
Masterpieces in Miniature opens on 26 June 2021. Pallant House Gallery offers quiet visiting times, accessible to people living with dementia, and is neurodivergent friendly.
Forest for Change (Global Goals Pavilion) Somerset House, London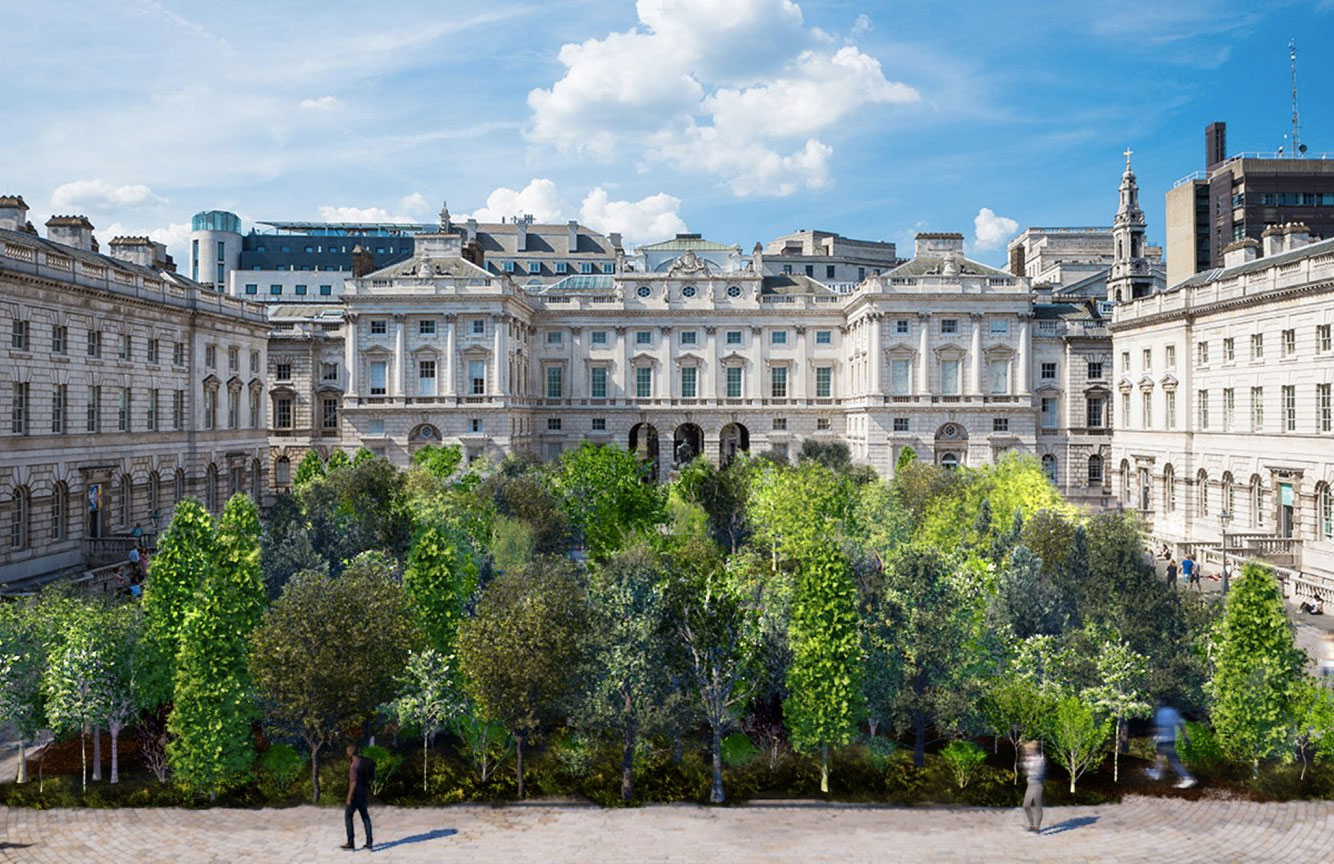 Set designer and London Design Biennale's art director for 2021 Es Devlin joins forces with Forest For Change to plant trees in Somerset House's courtyard for the first time in history. In doing so, Devlin reframes its neoclassical design and transforms the urban space into a woodland filled with 400 native trees while posing the question: can we design a better world?
Portable Sculpture at the Henry Moore Institute, Leeds
This genre-bending group exhibition aims to shift views of immobile sculptures into dynamic and kinetic artworks. Portable Sculpture brings together works from 1934 to the present day, made to fold-up, pack-down or built on the go. It features fifteen artists, including Do Ho Suh, Alexander Calder, alongside new works made exclusively for the exhibition by James Ackerley and Claire Ashley.
The exhibition will open as soon as government Covid restrictions have been lifted with an opening date to be announced.
Alice: Curiouser and Curiouser at the Victoria & Albert Museum, London
The iconic masterpiece, Alice's Adventures in Wonderland, has a deep-rooted place in our national psyche. Marking 157 years of Lewis Carroll's creation, The V&A museum offers an immersive journey into the origins, adaptation and evolution of Alice's world. Over 300 objects will be displayed thematically – spanning film sets, performance, fashion, art and more.
Alice: Curiouser and Curiouser opens on 22 May 2021.
Yayoi Kusama: Infinity Mirror Rooms at the Tate Modern, London
The queen of polka dots is back and taking over the Tate Modern, with her largest installation to date this spring. Kusama is launching two beloved Infinity Mirror Rooms – Filled with the Brilliance of Life and Chandelier of Grief – for art appreciators to immerse themselves in boundless illusions.
Yayoi Kusama: Infinity Mirror Rooms runs until to 27 March 2022 at Tate Modern Bankside London. Gallery reopening dates and tickets TBA.
Virtual Care and Lumen at Baltic Centre, Gateshead
Gateshead's Baltic Centre reopens next month with a double-thriller. Berlin-based artists Neringa Cerniauskaite and Ugnius Gelguda aka Pakui Hardware explore the future of robotic healthcare in their first solo show Virtual Care. The duo delves into the relationship between materiality, technology and economy, transforming the Baltic into a clinical surgery where technology has replaced human presence.
Similarly, Sutapa Biswas, A British-Indian conceptual artist, launches a solo show in jubilation of her extensive life work. As a vital contributor to the Black Arts Movement, Biswas' main themes gender, identity and desire are ever-present throughout Lumen.
Virtual care will run from May 21to 3 October 2021, while Lumen from 26 June 2021 to 20 March 2022.
Alison Milner: Decorative Minimalist at Yorkshire Sculpture Park
For those who prefer open-air art, self-titled decorative artist Alison Milner is presently exploring the relationship between nature and human-made works. Using only sustainable and natural materials, Milner's Decorative Minimalist debuts a tile mural of over 100 ceramics to depict the life and soul of Yorkshire Sculpture Park.
Alison Milner: Decorative Minimalist runs until 27 June 2021.