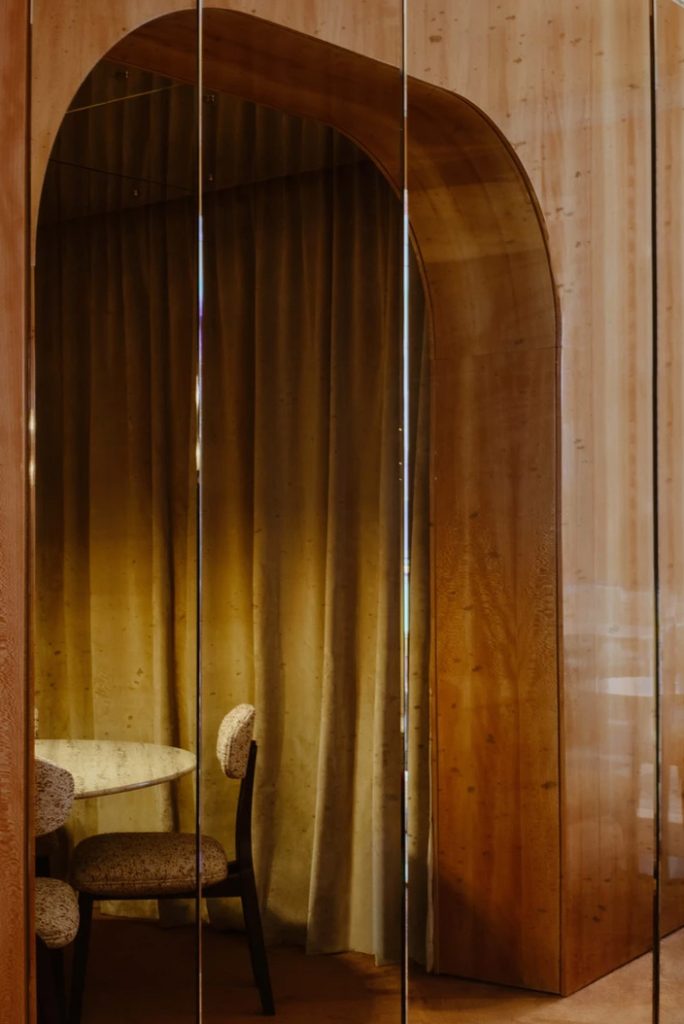 Arnaud Behzadi's interiors are as carefully honed as the food at new Paris restaurant Mallory Gabsi.
At first sight, it looks as if Behzadi has adopted a minimal philosophy, using muted colours, clean lines and slick, polished materials.
However a closer look reveals a carefully chosen palette of textures and shades. The amber-coloured banquette is a reference to saffron, a favourite ingredient in Mallory Gabsi's dishes, while hints of turquoise nod to the chef's preferred colour.
Behzadi has wrapped one cave-like niche in the restaurant in velvet curtains, adding a mirrored ceiling and white marble dining furniture to offset the enclosed space.
Geometric-patterned dining chairs, speckled stone floors and oxidised metal columns all add dimensionality to the interiors. It's emphasised by mirrored walls and glossy wood panelling – which hint at some more vintage inspiration for the restaurant.
Mallory Gabsi's menu is a similar story of contrasts, with unexpected flavour combinations including chocolate and parsnip.
28 Rue des Acacias, 75017 Paris, France
See more of our favourite Paris spots