Joia translates to 'jewel' in Portuguese – and the name offers a spark of inspiration for the Iberian restaurant's interior stylings by Russell Sage Studio, which encompass gem tones and midcentury flourishes.
Helmed by two Michelin-starred Henrique Sá Pessoa, the new dining spot opened on 23 February 2023 and is located on the 15th floor of Battersea Art'otel in South London. The 'skyline destination' restaurant offers staggering views over the Battersea power station and the capital beyond through its floor-to-ceiling windows.
Sage has drenched the 85-cover dining room's interiors in soothing blush-pink tones, which pay homage to the power station's art deco origins. Jade green seating and salmon banquettes continue the jewel theme, with midcentury elements coming via rich timber flooring, arched openings,' porthole' mirrors and brass accents.
Rather than have the chef's table secreted away, it's positioned adjacent to the kitchen to capture views of the power station and the kitchen crew at work.
Sá Pessoa's menu of snacks, periscopes, and tapas celebrates the myriad flavours and cooking techniques found across the Iberian peninsular, made using local British produce. His signature dish, Bomba de Lisbon – a potato croquette made with traditional Portuguese Alheira sausage and served with tomato and sofrito sauce – and Iberian favourites like octopus salad with red pepper, potatoes and smoked paprika offer a modern spin on Portuguese classics.
Sage's rich colour palette continues down the grand staircase, which echoes the glamour of the 1920s, to the 14th floor, where JOIA's cocktail bar is located.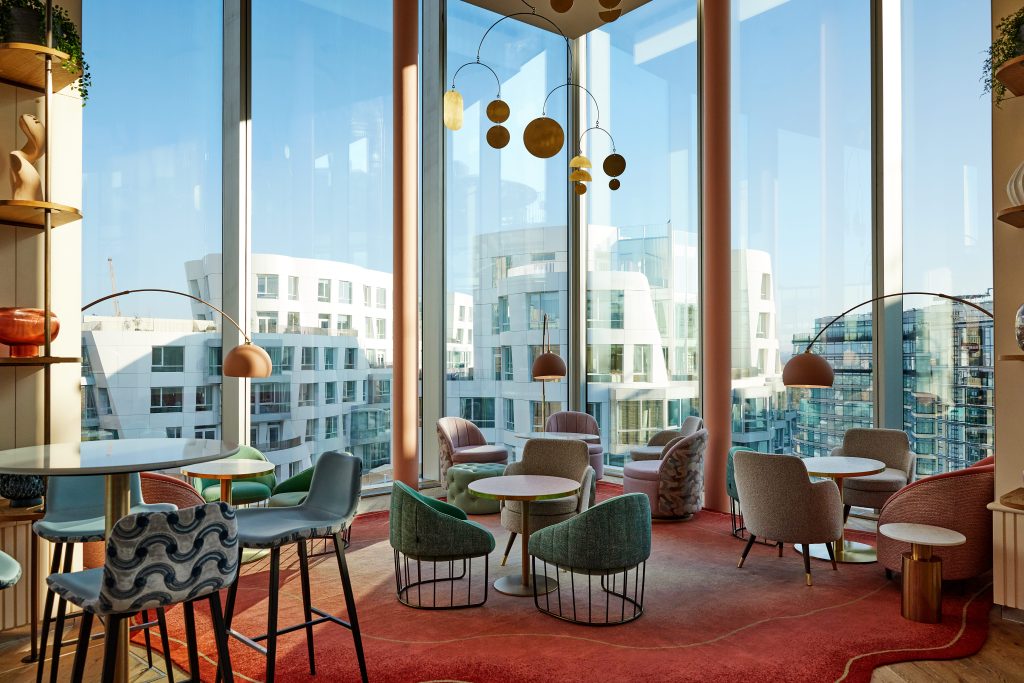 A vast L-shaped bar anchors the space, topped by a crisp marble slab. Its ribbed timber front is painted signature pink, recalling the colour scheme of the dining room above. Jewels also inspire the cocktail menu: 12 signature cocktails by bar manager Alessandro Mannello reflect the colours and qualities of gems found in the region.
15th Floor, 1 Electric Boulevard, Nine Elms, London SW11 8BJ, UK