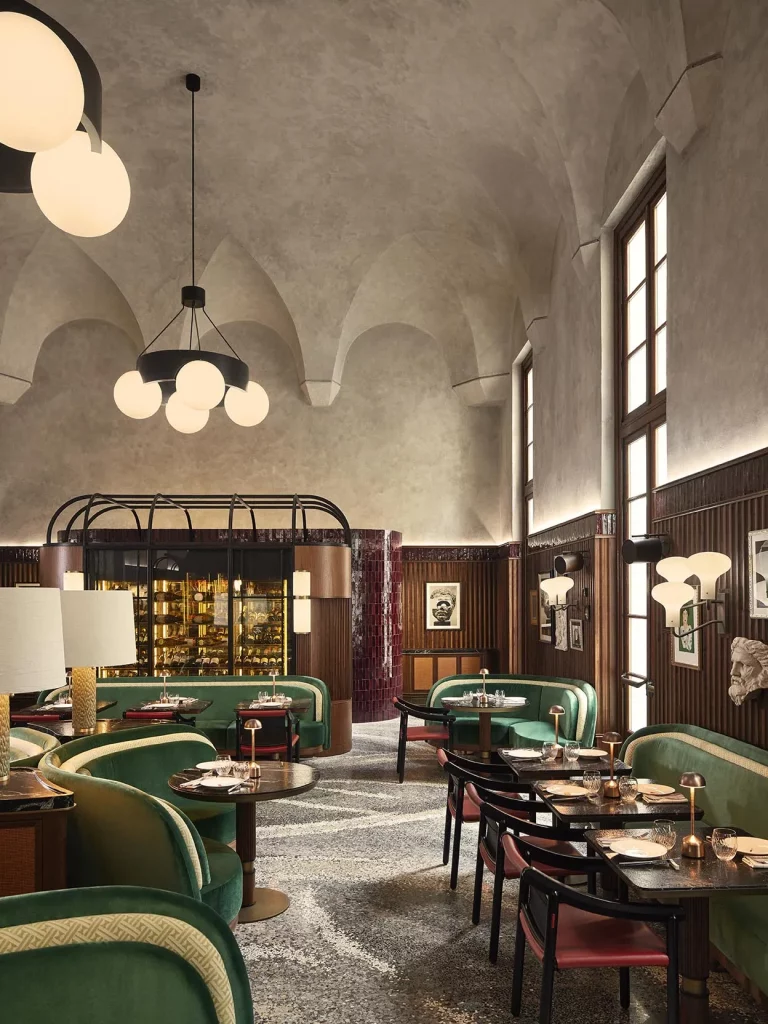 Green velvet booths, red leather and dark woods pay homage to 1950s Italian fashion and design at the sumptuous new dining spot, Beefbar Milano.
The Milan restaurant is located on Piazza del Quadrilatero, inside a former archepiscopal seminary dating from the 17th century. The fashion district complex has been recently transformed into a dining, entertainment, hotel and wellness destination, Portrait Milano, under the guidance of architect Michele De Lucchi's practice studio_aMDL.
Montecarlo-based studio Humbert & Poyet conceived Beefbar Milano's interiors. The practice drew on Milan's history as a fashion destination through the 50s and 60s for inspiration – a time when Beefbar's parent company and founder, the Giraudi Group, was also getting started as a meat importer.
Riccardo Giraudi created the first Beefbar restaurant in 2005, and nearly 20 years later, there are outposts on every continent – each with a unique, site-specific design.
The seminary's vaulted spaces set the framework for Humbert & Poyet's interventions, with the kitchen, bar, and dining spaces tucked within the former nave. Dark walnut panelling recalls the famous Milanese bars of the era, as do verde marble tabletops and curving green velvet booths, which add decadent touches.
'The atmosphere at Beefbar Milano recalls the style of a creative city full of figureheads and trends related to the opera, whose style and design reveal at the same time the inimitable sensuality and relaxed nature of the Italian spirit,' says Beefbar.
Accents come via frosted glass globe lamps with gold fixtures by Humbert & Poyet and an expansive collection of art that sprinkles the walls. There's an inherent sense of drama, too, channelled via red vertical tiling and leather chairs by Vico Magistretti chairs.
Beefbar Milano's menu meanwhile celebrates the best cuts of meat. Executive chef Thierry Paludetto is overseeing the kitchen, with dishes ranging from street food inspired to classics.