Büro Ole Scheeren has completed an auction house and museum near Beijing's Forbidden City that is the first custom-built institution of its kind in the world, according to the studio.
The Beijing practice designed the Guardian Art Center – opening in May – as the new headquarters of China Guardian Auctions, which specialises in Chinese art and antiques. As well as accommodating the company's auction rooms, the building houses a range of spaces that are open to the public, including galleries, restaurants, a hotel and flexible events rooms.
Guardian Art Center will have a multifaceted programme combining commercial functions with community resources. Ole Scheeren describes it as a 'hybrid arts institution' that reflects the ongoing 'democratisation of art'.
'Museums are no longer just dedicated to art, so we wanted to build a hybrid here in which art, culture, events and lifestyle start to merge into a complex cultural machine with many possibilities,' the architect explained.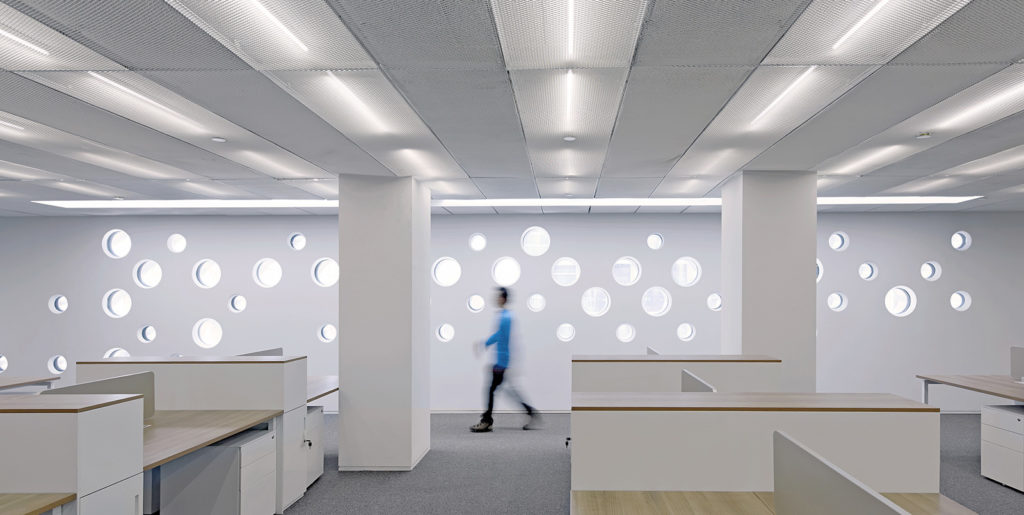 The building's historically sensitive context prompted a design that references Beijing's past and present through the distinctly different forms and materiality of its upper and lower portions. A pixelated basalt-stone base evokes the tightly packed nearby traditional hutong courtyard houses, while a crown wrapped in glass panes that resemble giant bricks introduces a contrasting contemporary detail.
Inside is a complex arrangement of interlocking spaces that enable the centre to achieve the dense layering of functions required by its owner, within a volume that was limited in scale by strict planning regulations.
At the centre of the Guardian Art Center is a flexible 1,700-square-metre exhibition space that can be divided into separate areas or used as an enormous single gallery. The stone pixels around the base create pockets that accommodate offices, restaurants and a bookshop. A glazed crown contains the hotel, while a smaller ring inserted inside it houses educational facilities.
Scheeren points out that, as the auction hall is only active a few times a year, the goal was to create a new multipurpose destination for art that he hopes will help to halt the recent cultural exodus from the city to the suburbs.
'I think it will bring the art scene partly back into the centre of Beijing,' he suggests, 'by providing a versatile space that deals with art in a more diverse and active way than a typical museum can.'
Guardian Art Center has already hosted several auctions and exhibitions of Chinese art. Completion of the hotel and the remaining facilities will take place over the coming months.
Read next: 10 important new museums opening in 2018