Brighton is a city famous for its Regency architecture and history as a pleasure resort patronised by royalty and high society. Today, it's also putting its best foot forward as a culinary mecca, drawing crowds outside of London to its diverse foodie scene and showcasing the best local Sussex ingredients.
Furna opened in late 2022 and is a new feather in the city's cap – the first solo adventure of Yorkshire-born chef Dave Mothersill. The intimate 37-cover restaurant takes over the ground floor and basement of a Grade II-listed Georgian building on New Road, with interiors that lean into the site's classical heritage.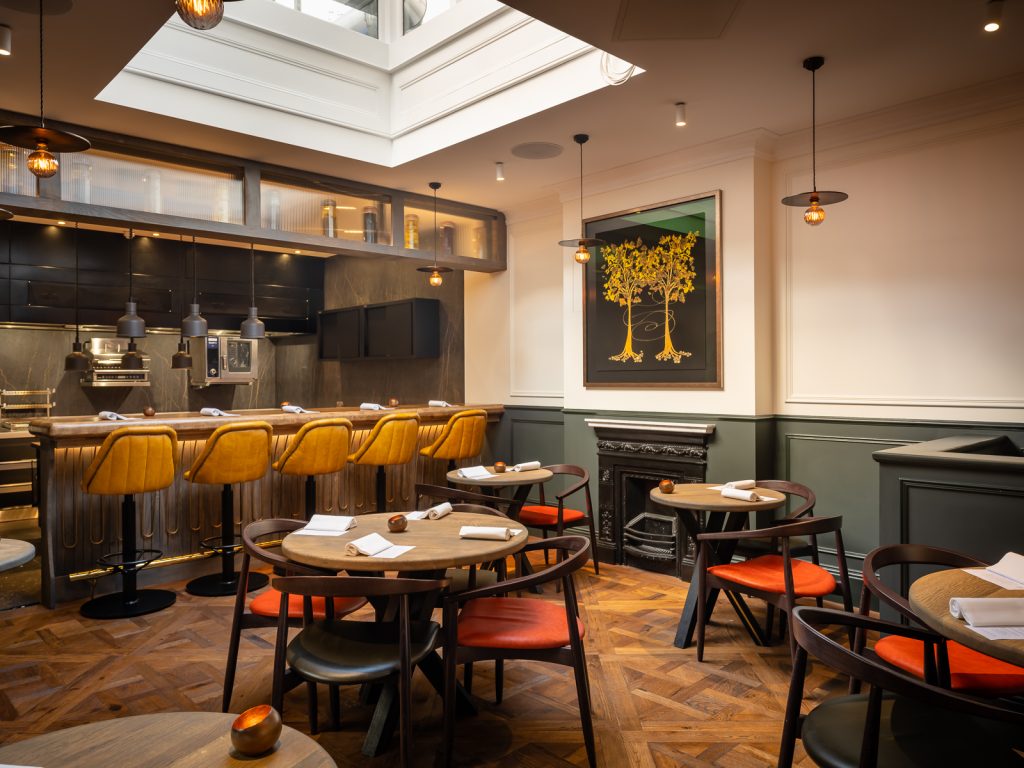 'I originally wanted to go quite modern but that would not have been right for the building,' Mothersill told Big Hospitality. In fact, the history of the site asserted itself in unexpected ways, including an archaeological dig which delayed the build for several months.
Mothersill's team adopted a site-sensitive approach, opening up the space while retaining its classical coving and floor-to-ceiling windows at the front. A sumptuous green ombre colour scheme runs throughout, with wall panels adding a historical nod. 'Heavy' materials come through banquette seating, delicately stitched with gold, and tables and chairs made from reclaimed Sussex timbers.
Furna's crescent-shaped bar is a weighty addition at the front of the dining room and offers a vantage point over the open kitchen (there's also a six-person private dining area for those seeking a more familiar experience.)
Brighton branding agency Good Noise collaborated on the project, weaving a cohesive identity for the space, while artworks by Sarah Arnett, depicting elm and oak trees, add another local dimension.
Mothersill's multi-course tasting menu (which starts from £90) celebrates British ingredients, with influences from his childhood and travels and an emphasis on nose-to-tail, seasonality and dry-aged meats. Example dishes include milk-brined veal sweetbread, delica, maple sherry, roasted chicken sauce, and mushroom agnolotti with black garlic, aged parmesan, chestnuts and Wiltshire truffle. An expansive wine menu is also available.
6 New Rd, Brighton BN1 1UF, UK