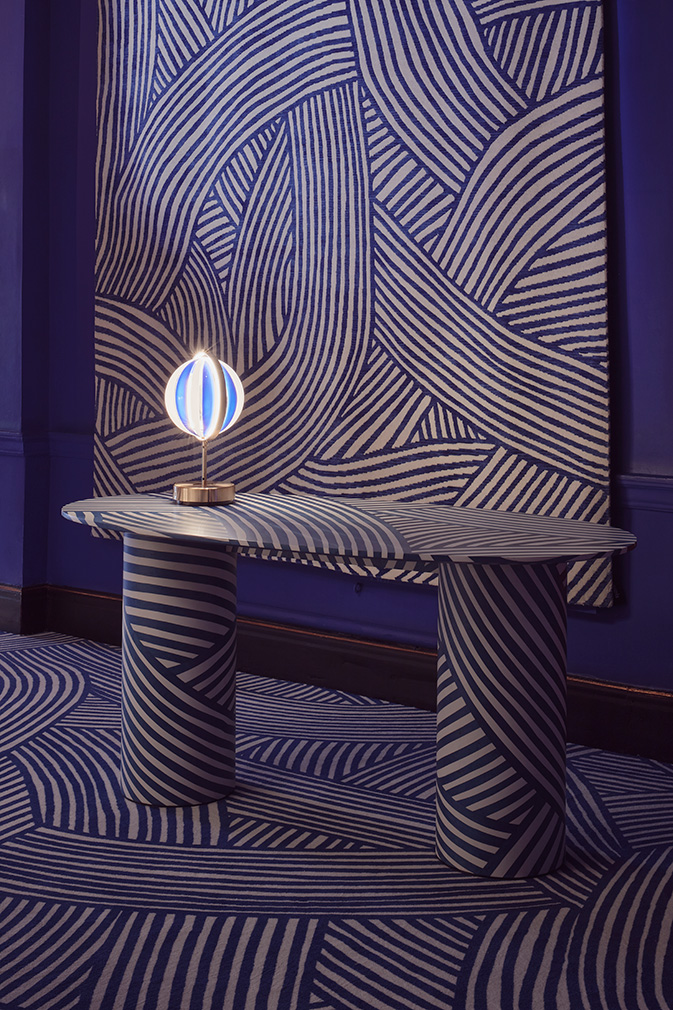 The massive appeal of Bethan Gray's work owes much to her graphic interpretation of familiar motifs in nature, using colours that are easy on the eye and soul. The easy elegance of her work makes sense at Sketch, an all-hours Mayfair brasserie and gallery whose longevity and relevance rely on its support of design 'auteurs'.
Sketch has fun with its half dozen spaces – including its famous alien-pod loos, where they've hung diaphanous architectural drawings by Tannaz Oroumchi over the toilets. It's given over the pastoral-themed Glade – or at least the ceiling – to Moritz Waldemeyer's Through the Looking Glass chandelier, made up of 45 magnifying glasses enhancing 45 flickering flames composed of LEDs.
Gray gets a prime spot in the entranceway – more like a swish hotel lobby than it sounds. Here she's referenced her popular 'dhow' pattern, inspired by the arced sails of Omani boats and rendered on rugs and sideboards handcrafted in Muscat. Gray's Inky Dhow Universe envelops the hallway with hand-painted cobalt-striped walls and a carpet woven with Italian rug-maker CC-Tapis. They highlight her new Ripple modular armchair and sofas, upholstered with Bill Amberg leather, and a new console-style desk with marquetry by Omani artisans from Shamsian.
Apart from reinforcing our current affection for head-to-toe dressing in a single colour or pattern, it feels soothing and suitably rich. Coordinating vases thrown by 1882 Ltd in Stoke-on-Trent and handblown-glass lighting from a collaboration with Murano atelier Baroncelli are like the jewellery on the outfit. It's just a shame the setting is restricted to the foyer. The installations are on show until Sunday, 16 October 2022.
Sketch, 9 Conduit Street, London, W1S 2XG