Space Exploration Design led the interiors of this Brooklyn cocktail haunt in Greenpoint, which borrows all the design cues of the quintessential American bar.
From its tin tile ceiling to its mahogany counter, Bar Americano feels like a space out of time. Instead of bells and whistles, Space Exploration Design worked with a palette of simple, warm materials and classic furniture to give the cocktail bar a timeless, warm, and inviting atmosphere.
'Probably the most important thing we sought to achieve with Bar Americano was to make it feel like it had always been there,' says practice founder Kevin Greenberg. 'With that said, we also wanted it to feel crisp.'
'We struck that balance by using warm, rich materials and classic lighting silhouettes, but we distilled the geometry of the seating elements and introduced a subtle interplay of fluted elements at different scales throughout the space, which complement the delicate glassware in which the drinks are served.'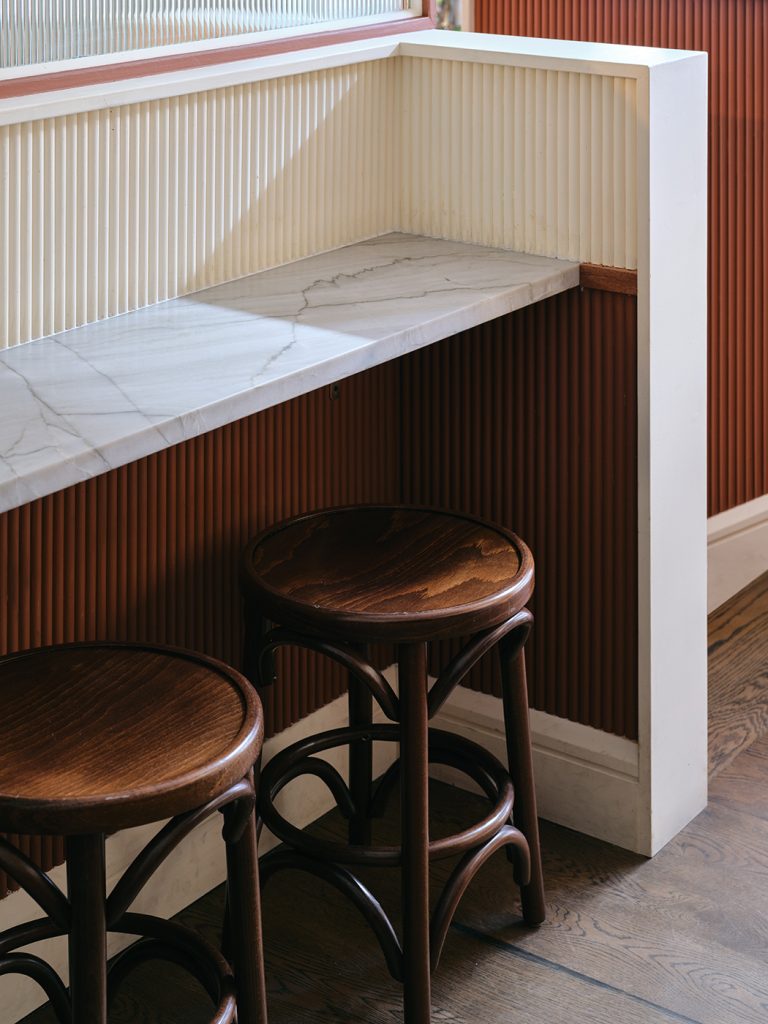 The New York bar's layout is simple, with wooden stools arranged around a marble and wood counter and seating nooks, complete with upholstered benches tucked out of the way at the back of the space. Weathered elements such as plaster walls and patinated brass light fittings all contribute to Bar Americano's well-worn appearance.
Though simple, there's much to be discovered, as Greenberg points out.
'I love two elements of the back bar above any other details,' he says. 'First, the vintage illuminated wall clock mounted to the fascia above the bottle display, and secondly, the concave sconce reflectors that flank the clock, each of which have been gilded and adorned with hand-painted flowers and vines by Blaser Finishing.'
As you might expect, the cocktail menu is also classic, serving negronis, martinis, margaritas and house vermouth with orange foam.
180 Franklin St, Brooklyn, NY 11222, United States