In the last quarter of the 19th century, the US entered the 'Gilded Age' – an era of great wealth inequality and booming industry.
Across the States, railroad, shipping and banking businesses saw huge expansion, with the profits funnelled to a few wealthy families who came to represent the top 1% of the country's earners.
This powerful elite built opulent houses and threw lavish balls and parties from their estates, such as the Vanderbilts, who were considered American 'royalty'. Their lavish portfolio included 10 (now demolished) mansions on Manhattan's Fifth Avenue and the Châteauesque-style Biltmore Estate in North Carolina, which their descendants still own today.
Gilded Age mansions symbolise the extravagance of the era, with designs that emulate and even outdo the French chateaux and Italian mansions they were modelled on. We've curated a collection of 9 historic homes for sale that channels the history and glamour of the age – at various scales.
Beaux-Arts Manhattan townhouse with a terracotta façade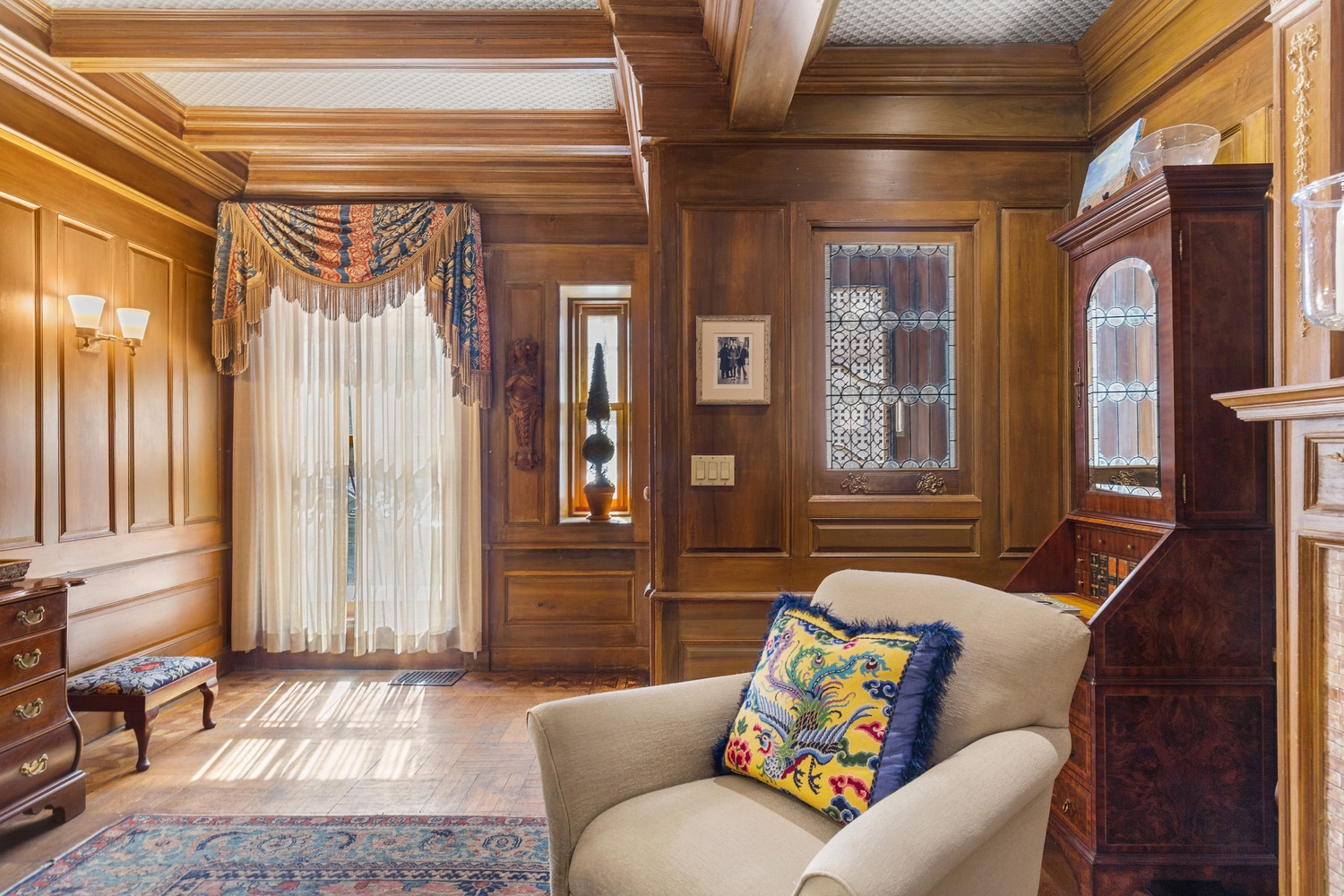 7 bedrooms; $6.25m via Compass
No expense has been spared to create this richly decorated Upper West Side Beaux-Arts house, built in 1901 by Horgan and Slattery. The six-storey manse has oak wainscoting anchoring its high ceilings, pocket doors between reception rooms that offers flexible entertaining spaces, and dramatic windows drawing in the southern light. Meanwhile, its front has a Venetian Renaissance-influenced terracotta facade over a light brick elevation.
An architect's Italianate villa in Rhode Island
8 bedrooms; $8m via Vanderbilt International Properties
In the 1850s, architect Samuel Powel designed and built this Newport Italianate villa for himself, and planted specimen trees in its 2.2-acre grounds, to give it long vistas and a constant change of aspect. The renovated redbrick beauty is fronted by a collonaded veranda, has lunettes above its windows and doors, and nestles in parkland grounds. Named Merrillton, it has had many distinguished owners, too, including singer and Broadway star Jane Pickens.
Emily Thorn Vanderbilt's summer residence in Massachusetts
18 bedrooms; $12.5m via John C Barbato
This 1886 red-roofed and shingle-style country estate, in 89 acres in the Berkshires, was built for New York society types, Emily Thorn Vanderbilt and her husband William D Sloane. (Emily's paternal grandfather was Cornelius, the patriarch of the Vanderbilt family). Expanded over time, renovated Elm Court has over 65 rooms, including a wealth of entertaining spaces, including a stately ballroom. Its grounds, by Frederick Law Olmsted, have woods, follies, framed vistas ending in a lily pond and an array of outbuildings.
Park Avenue duplex with a grand salon
2 bedrooms; $3.95m via John C Barbato
Step into a Gilded Age New York fantasy at this Manhattan property, which was built by Beaux-Arts architect Stanford White and polished with a renovation by designer Matthew White. Its highlight? The grand salon, with its diamond-patterned oak-beamed ceiling and mouldings and vast open fireplace. Soft light filters in from the towering lead and stained-glass windows while a wooden staircase swirls up to a library mezzanine. Emerald velvet upholstery and flock wallpaper play up to its whiskey-sipping members' club vibe.
Clapboard Italianate house in Brooklyn
5 bedrooms; $3.75m via Douglas Elliman
A grand portico lends a stately feel to this pastel blue clapboard Clinton Hill Historic District Italianate house, which stands out amongst its red brick neighbours. The 1860s renovated townhouse by Ebenezer L Roberts has a sunlit parlour under high ceilings, restored mouldings and ceiling arches above recesses and between rooms. Its raised terrace offers shade and views of a 'secret garden' of hydrangeas, roses, lilacs and magnolia trees.
An 1885 Kansas red brick with opulent rooms
5 bedrooms; $745,000 via Rocket Homes
This 1885 Kansas property has a lawn and tree-lined avenue setting and a decadent wood-lined interior that looks straight out of Gilded Age film, all for a bargain price tag of $745,000. The redbrick home has an impressive, deep veranda with columns, tall single and bay windows, and attic balconies with projecting roof pitches. Its panelled entrance hall, meanwhile, has a grand staircase and a coffered ceiling with pinnacles, all in dark wood. Stained-glass entrance doors and a blingy gold flock wallpaper ramp up the opulence.
White stucco Denver mansion with a retrofitted elevator
6 bedrooms, $4.995m via Captivating Houses
Fisher & Fisher designed this lavish Colorado five-bedroom house at the twilight of the Gilded Age, completing it in 1904 with wrought-iron gates, a double-arched central window and crafted woodwork. A vast painted ceiling sits above a double wooden staircase in the hallway while a coffered ceiling lit up by a chandelier lies in a reception room. Its retrofitted elevator to all four floors creates an easy-to-access layout. Meanwhile, a chef's kitchen, wine cellar, home cinema and home gym provide the home with modern appeal.
Colourful, wood-lined mansion in Saint Paul, Minnesota
7 bedrooms; $2m via Edina Realty Inc
The exterior of this 1886-built St Paul property in Crocus Hill has an assemble of geometric shapes, forming windows, chimney stacks and gables, in vibrant green and orange hues. The elegant, storybook home has a porte cochère among its stately entrances, which flow through to a series of serene rooms, with natural and varnished woodwork and a sunburst stained-glass feature. Most striking of all is the working pipe organ housed in a sunroom-style space. Its upper-floor family room looks out onto the skyline and Mississippi River valley.
Detroit apartment in converted 1882 mansion
3 bedrooms; $989,000 via @ Properties Detroit
This Brush Park apartment lies in the landmark Frederick Butler House, which draws on French Renaissance Second Empire style, with its elaborate mansard roof and crisp lines. The gut-renovated and modernised condo retains its historic ambience and curved features. Arched double doors open onto roomy proportions, tall windows pour in light and a rounded-edge marble and iron fireplace form the living room centrepiece.