Curious about the tiny-living lifestyle? There are plenty of cabins, huts and converted railway carriages across the UK that offer a sample of the compact lifestyle. Here are some of our favourites, from the Cornish coast to the Norfolk dales.
Rick Stein's shepherd huts, Cornwall
Located ten minutes from the Cornish harbour town of Padstow, these St Merryn cabins are every inch the traditional shepherd's hut. They're also a stone's throw from Stein's pub, The Cornish Arms. Interiors are fresh and clean, with white walls and blue bed throws creating a nautical feel that nods to the nearby coast. Guests arrive at cabins well stocked with milk, coffee, tea, and even a few Stein-recipe biscuits.
Huts start from £160 a night.
Settle converted railway carriages, Norfolk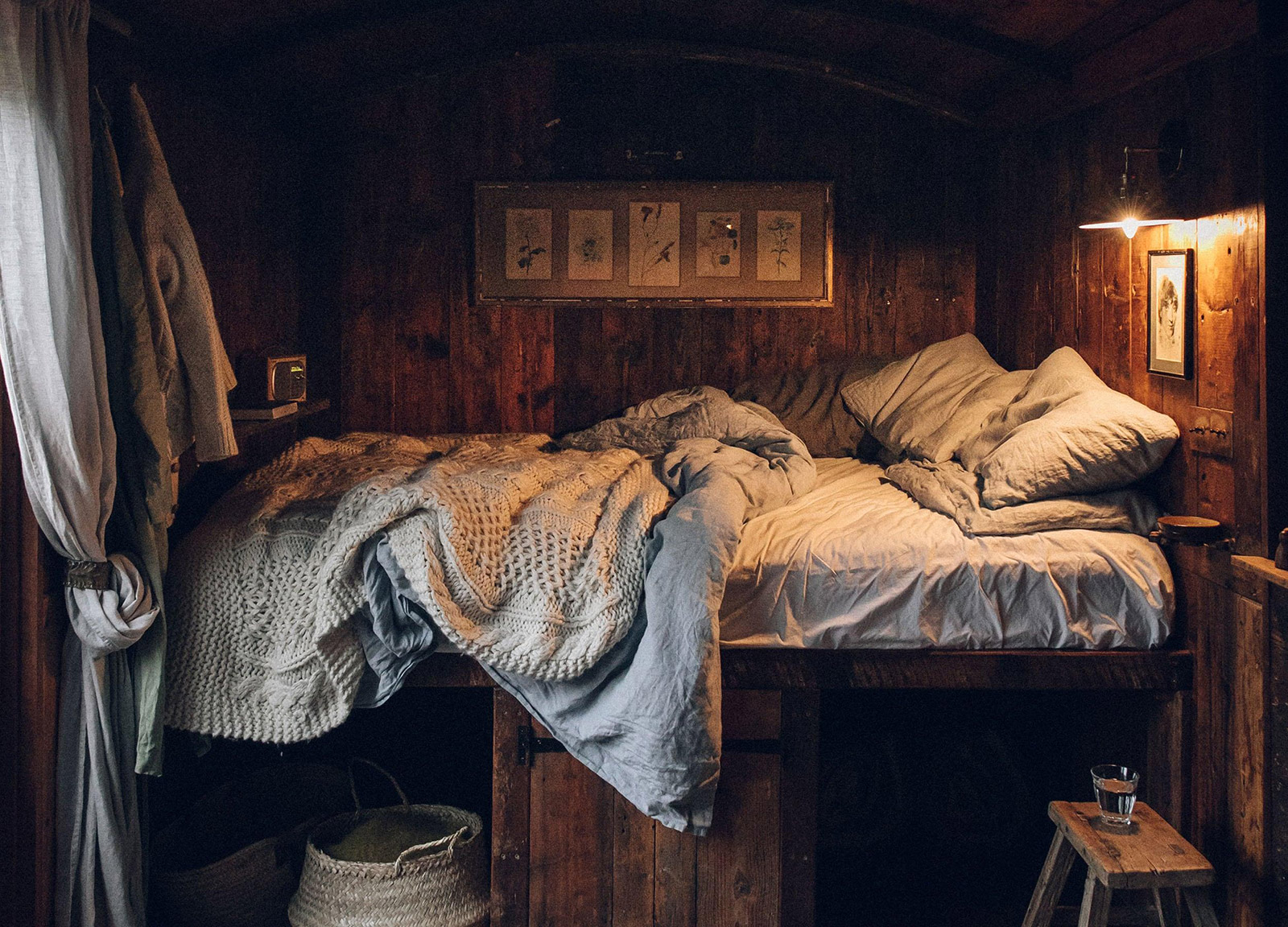 These three rustic huts in Norfolk's Breckland were rescued from their former lives as railway goods carriages and restored as tiny holiday homes – now located in a quiet area of parkland. Guests can hunker down in their timber-lined interiors and watch the local wildlife go by, with the site frequented by muntjac, roe deer and hairs, as well as Canadian geese and kingfishers.
Carriages start at £430 for two nights
Trees at Tughall cabins, Northumbria
Scandi minimalism is transplanted to Northumberland's ancient shore with these woodland cabins, located an hour north of Newcastle. The tiny homes are designed to immerse visitors in a slower pace of life, and are reminiscent of the fishermen's sheds that dot the North Sea coastline. There's a padded window perch to curl up in and a wood-burning stove for cooler evenings, and the site is located within range of Northumberland's rugged beaches, historic sites, fortifications and ruined castles.
Cabins start at £300 for two nights.
Kudhva cabins, Cornwall
These pyramid-shaped huts, created by New British Design, offer a more futuristic take on the holiday cabin. They overlook a disused slate quarry in Cornwall's Tintagel, enjoying an elevated view thanks to their supporting struts. Space is at a minimum inside, with just enough room to sleep two – although the morning view, seen through the huts' triangular windows, should more than make up for the tight squeeze.
Cabins start at £46 per night
Black House cabin, Isle of Skye
Pared-back design is the order of the day at this minimal Isle of Skye cabin, set in a remote location overlooking Loch Bracadale. Huge windows frame the sweeping landscape, with furniture located so guests can sink into the bed or sofa and soak it all up. Concrete floors, whitewashed walls and simple furniture all work together to put the focus on the surroundings and the resident population of sheep, eagles and otters.
The cabin starts at £2100 per week.
Botelet Yurt, Cornwall
Guests can glamp it up while watching the day-to-day life of a Cornish farm at Botelet Yurt, which is located in a wildflower orchard in Liskeard. The farm has been in the same family since the 1800s and follows an eco-friendly approach to both tourism and agriculture. The yurt's wood burner is supplied with timber harvested from the farm, while wind turbines and solar panels generate electricity. Even the water is sourced from Botelet's own borehole. Cornish holiday hotspots Polperro and Looe are a short distance away.
The yurt starts at £76 per night.
Shepherd's Hut at Artist Residence, Oxfordshire
Cotswolds boutique hotel Artist Residence is cute as a button with its thatched roof and beamed rooms, contemporary furniture and splashes of colour. Down the garden is an even more cosy shepherd's hut, with a built-in double bed, log burner, rainfall shower and outdoor seating area to enjoy the garden.
Rates on application.