David Lynch has been making art for more than 50 years. In that time he's cultivated a singular visual aesthetic that's instantly recognisable whatever medium he's working in. On screen, his uncanny ability to conjure images which seem as though they've been ripped from a fever dream has earned him cult status. Yet while his off-kilter worlds are characterised by strange people and surreal circumstances, the settings themselves can be remarkably mundane.
To coincide with David Lynch's 75th birthday, here are 10 real-world locations that feature in his filmography, many of which display his fondness for architecture and midcentury design.
Greystone Mansion, Los Angeles
Although he was raised in various cities throughout the American Midwest and later studied in Philadelphia, Lynch is synonymous with Los Angeles. The sprawling California metropolis is where he shot his first feature film, the primary location of which is a mock Tudor estate named Greystone Mansion.
Built by oil baron Edward L Doheny in 1928, this Beverly Hills landmark was leased to the American Film Institute in the mid-1960s, and a young Lynch spent four years there in the early-to-mid '70s transforming the stables and surrounding outbuildings into the stark, minimalist Eraserhead set.
Carolina Apartments, Wilmington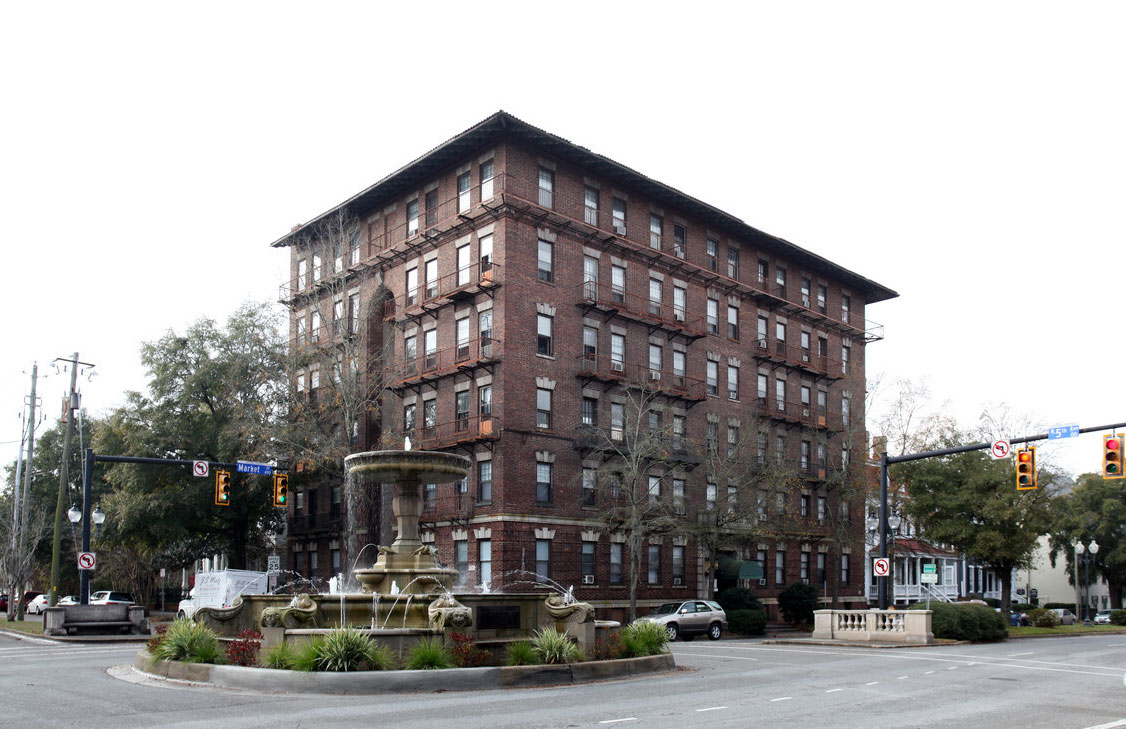 Lynch's nightmarish 1986 neo-noir Blue Velvet was filmed in Wilmington, North Carolina, which has served as the backdrop to numerous films and TV shows over the years. This unassuming red brick building, situated on Market Street at the corner of Fifth Avenue, doubles as the 'Deep River' apartment block where Isabella Rossellini's tragic nightclub singer Dorothy Vallens resides. It's here that Kyle MacLachlan's puppyish protagonist first encounters Dorothy and her maniacal associate Frank Booth, played with trademark gusto by Dennis Hopper.
7035 Senalda Road, Los Angeles
Often regarded as a spiritual sequel to Blue Velvet, 1997's Lost Highway is another unmistakably Lynchian odyssey in which the filmmaker's interest in architecture comes to the fore. Indeed, the house occupied by Fred and René Madison (Bill Pullman and Patricia Arquette) is actually Lynch's; it's one of three he owns on the same street in the Hollywood Hills, just around the corner from Mulholland Drive. The house is designed by Lloyd Wright, son of Frank Lloyd Wright, and its angular, fortified exterior perfectly encapsulates Fred Madison's paranoid mental state (see a short clip of the film above.)
Liverpool Street Station, London
Few films evoke the austere, industrial atmosphere of Victorian London quite like 1980's The Elephant Man. For the pivotal scene where Joseph Merrick arrives back in the city after escaping the clutches of the villainous freak show proprietor Mr Bytes, Lynch turned to Liverpool Street Station which, at the time of filming, still retained much of its original character.
Designed by noted railway engineer Edward Wilson and built by Lucas Brothers to a traditional Gothic spec, the station was opened in 1874 and underwent a major refurbishment in the 1980s.
Twede's Cafe, North Bend
Probably the most famous of all Lynch locations is the retro-styled 'Double R' diner from Twin Peaks. This real-life roadside café still serves cherry pie and damn fine coffee to locals and Lynch aficionados alike.
Initially known as the Mar-T Café, it was remodelled after a fire and reopened in 1998 as Twede's Cafe, although the exterior has remained largely unchanged since the show was filmed in the late 1980s. The original diner was built in 1941 by Roy Thompson and is still owned by his family members.
The MacArthur, Los Angeles
While an opening title card announces the setting as 'Cape Fear – Somewhere near the border between North and South Carolina', Lynch's 1990 road movie Wild at Heart was actually shot in Los Angeles. The ornately decorated MacArthur Hotel, also known as the Park Plaza, was designed by Art Deco architect Claud Beelman in a Gothic Revival style.
Its spectacular Renaissance-inspired lobby is where Nicolas Cage's Sailor fends off the assassin who's been sent to kill him. At the time of writing, the hotel is undergoing renovations.
Snow White Cottages, Los Angeles
Dating from 1931, the eight 'thatched' houses comprising Snow White Cottages are so-named for their supposed influence on Walt Disney's classic animated feature Snow White and the Seven Dwarfs. In fact, they sit very close to the site of Disney's old studio in the hillside neighbourhood of Los Feliz. For his own macabre fairytale, 2001's Mulholland Drive, Lynch utilised this cluster of quaint bungalows as the exterior of the 'Sierra Bonita' apartment complex where Naomi Watts' intrepid heroine Betty ventures further down the rabbit hole.
The Tower Theatre, Los Angeles
One of the jewels of Downtown LA's Broadway Theater District, this historic picture palace was first opened to the public in 1927 having been conceived by architect S Charles Lee in a Baroque Revival style. Its lavish interior, modelled on the Palais Garnier in Paris, doubles as the fictitious Club Silencio in Lynch's 2001 masterpiece Mulholland Drive, where Naomi Watts and Laura Harring take in a rather unusual performance. In a case of life imitating art, Lynch later designed a nightclub in the French capital called… Silencio.
Chester Place, Los Angeles
Not to be confused with the other Doheny residence on this list, this imposing Romantic Revival mansion features prominently in 2006's Inland Empire, starring Laura Dern as an actress on a disorienting psychological journey following a visit from a Polish soothsayer posing as her neighbour. The estate was completed in 1899 and purchased by Edward L Doheny a few years later, remaining in the Doheny family for several generations before becoming part of the extended campus of Mount Saint Mary's University.
Ennis House, Los Angeles
Despite being set in the Pacific Northwest, much of Twin Peaks was filmed at various locations around Los Angeles. Case in point: the interiors of Ennis House were used for Twin Peaks' soap-within-the-show, Invitation to Love.
Designed by Frank Lloyd Wright in the early 1920s for Charles and Mabel Ennis, this temple-like architectural wonder was constructed using pre-cast concrete "textile" blocks (approximately 30-40,000 of them) and has also featured in Blade Runner and Buffy the Vampire Slayer. It was sold in 2019 for $18 million.