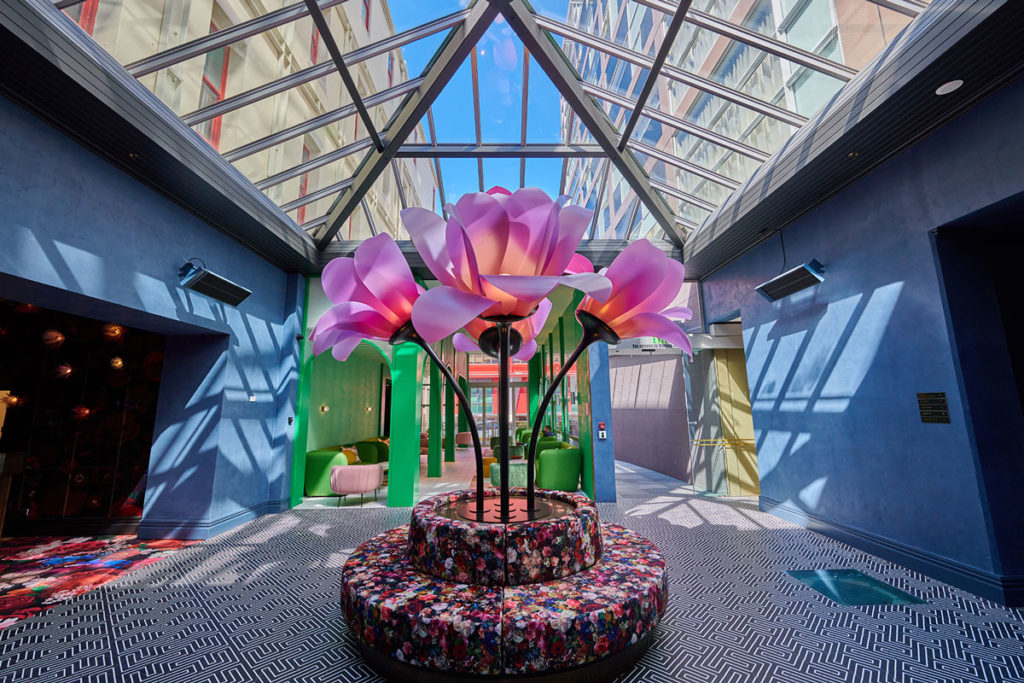 An Edwardian building in Wellington, New Zealand has reopened as a maximalist hotel that celebrates colour and pattern with gay abandon.
From the moment guests enter Naumi Studio Hotel, on Wellington's Cuba Street, they're immersed in riotous floral and geometric prints, and bold plaids that cover the floors and walls of its reception area.
Oversized 3D blooms also form spotlights and wall lamps – designed by Auckland's Angus Muir Lighting Design. Visitors waiting to check-in at the gold counter can sit inside arch-shaped nooks, upholstered in chintzy fabric, or beneath the glow of an enormous pink daisy floor lamp.
The maximalist interiors continue in the hotel's bar area, where mosaic tiles, fringed light fittings and Faye Toogood's Roly Poly Armchairs contribute to the eclectic atmosphere. Those looking for a more serene setting can retire to the parlour, which is outfitted in emerald, mint and moss greens – although the designers couldn't resist adding patterned rugs and striped planters.
Things are toned down a touch in the hotel's 116 rooms, incorporating botanical patterns only in the headboards. Pattern overload is reserved for the suites, which go all out with clashing floral wall-coverings. Rooms start at £155 per night.
213-223 Cuba Street, Te Aro, Wellington 6011, New Zealand