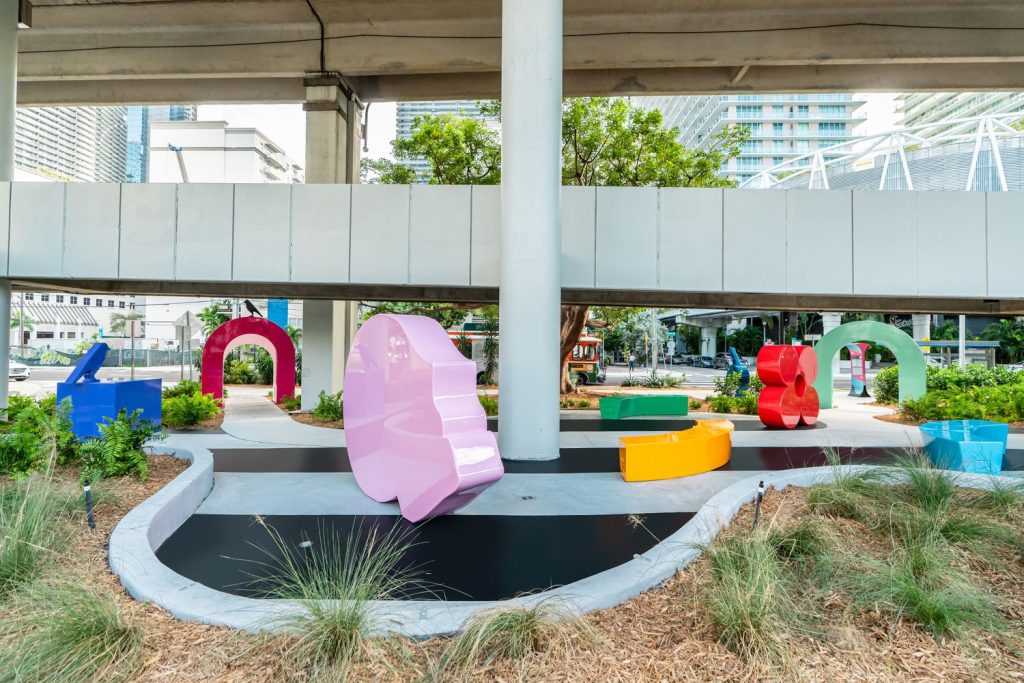 Miami artist Typoe has installed a new public art installation under the city's Metrorail – and it has shades of the much-loved Memphis Group.
The piece is located in Brickell and is part of The Underline, a ten-mile-long new park and art destination that sits beneath Miami's raised railway track.
Typoe collaborated with EstudioLAAVA on the sculpture garden, laying out glossy, brightly coloured shapes to form archways, curved benches, and oversized cartoon flowers, which sit on a black-and-white striped floor. It's all watched over by a bright yellow, smiling orb.
'These large-scale sculptural icons are inspired by children's building blocks. The works point reference to the history of blocks as groundbreaking educational tools that foster and challenge the creativity in all of us,' explains Typoe. 'These shapes resonate with both children and adults, encouraging joy, play, and creativity. I've created many of my own shapes referencing, art history, fashion, nature, connectivity, and the afterlife. The two themes I used throughout the blocks are balance and building the world around us.'
The artist has used similar symbols and motifs in previous works and describes the installation as a 'love letter to Miami'. And while it might feel very much in the vein of postmodernism – which espoused big colours and bold shapes – Typoe says the forms are influenced by the Art Deco movement, which flourished in the city.
The Underline is already home to several other artworks, with more to follow as the project moves into phase 3 of construction next year.