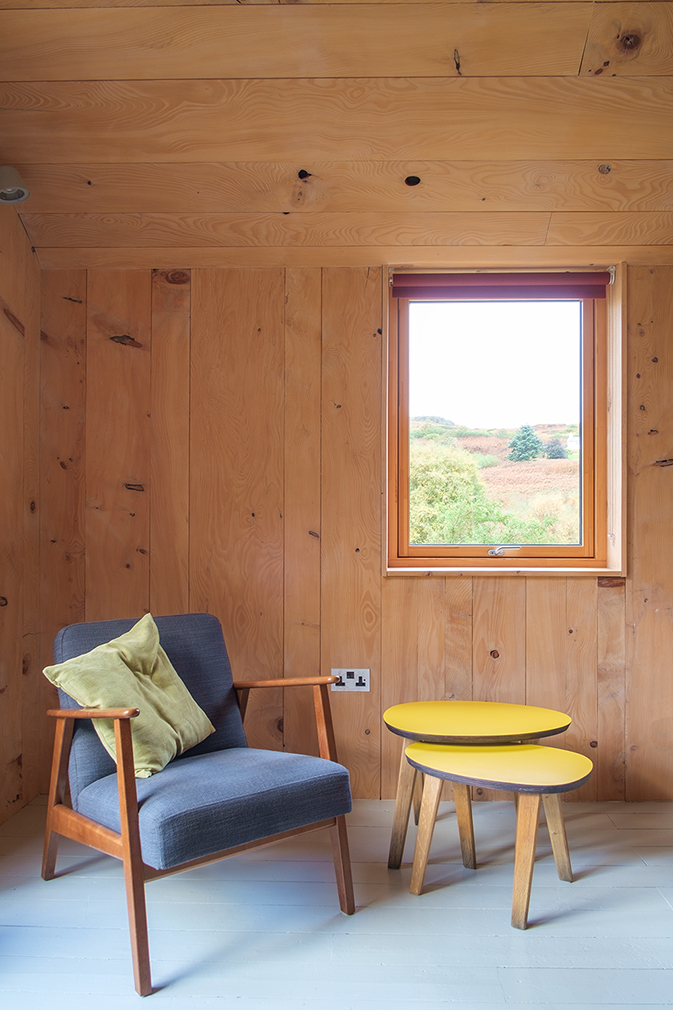 Architects Nick Thomson and Caroline Dear transformed a humble tin chapel into an unusual and intimate holiday home on Scotland's Isle of Skye that connects with its serene natural setting.
The Tin Church dates from the 1950s when it was built as a mission chapel for the island. The tiny building spans just 34 sq m, and in 2020, its architect-owners acquired the rustic property and began converting it into a cosy one-bedroom retreat.
Thomson and Dear preserved the chapel's original corrugated iron exterior, painted a cheerful mint green that somehow beds the chapel in the landscape while simultaneously making it distinct. Glass door leads into the timber-wrapped interior, where the pair has installed a modern kitchen and living room furnished with a couple of armchairs and a sofa. The focal point is the wood-burning stove, whose flickering flame provides evening entertainment – as well as a pair of bookcases, brimming with reading materials.
Plywood sliding doors separate the back of the cabin, where there's a double bedroom and a bathroom with a walk-in shower.
The Tin Church is for rent via Modernist Estates from £120 per night and sleeps two. The Scottish hideaway is around an hour's drive from the Skye Bridge. It is pitched as a quiet creative retreat, with hillside trails, sandy beaches and even the ruins of an Iron-Age broch (a stone roundhouse) all within walking distance. The village of Carbost is also around four miles away, with stores, restaurants and an Inn.
Like this holiday home? Read our interview with Modernist Estates founder Stefi Orazi and see more unusual modernist properties for rent across the UK.