Located on an ocean island in Maine, this restored mid-century seaside house is filled with artwork and warm woods, and enjoys picturesque bay views.
Starboard Rock house is part of the island community of Vinalhaven, overlooking Penobscot Bay and Acadia National Park. The three-bedroom cabin , on the market for $1,795,000 via Christie's International Real Estate, was built in 1969 by a friend of the first owners: the late Norman M Klein, who or most of his career worked for Skidmore, Owings and Merrill, the urban designers and architects. He is primarily known for his work on public transport systems.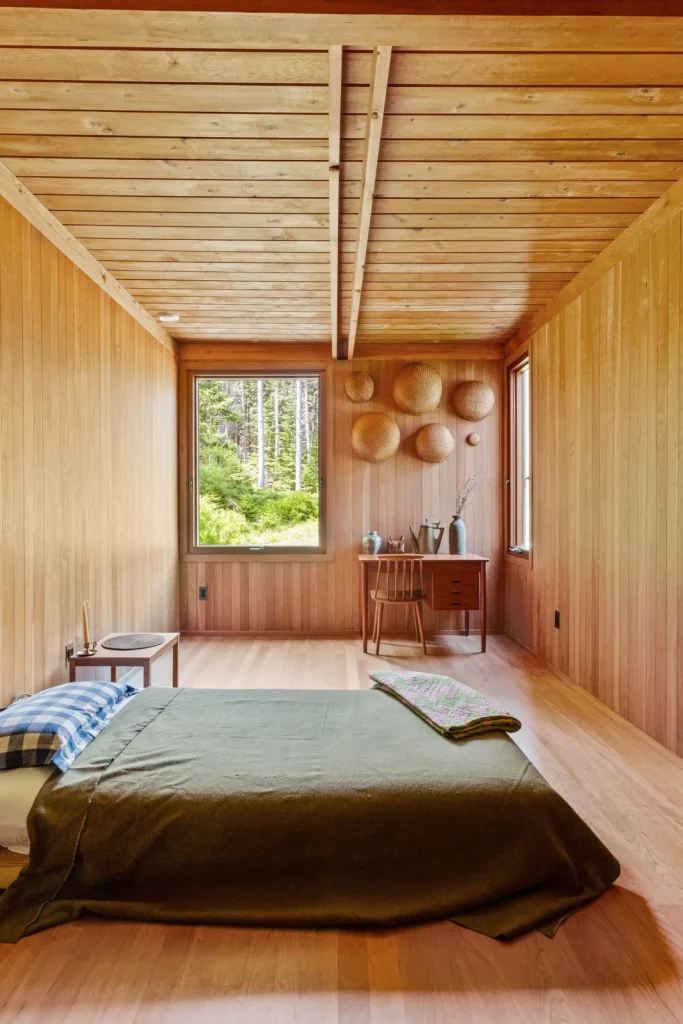 Current owners Carisa Salerno and Aaron Levin have spent seven years renovating the property to give it year-round use. They have preserved and honoured Klein's original Douglas fir design while adding a sleek all-wood interior and radiant heating system. The house has new cherry panelling, mahogany windows and glazed apertures that peer out onto coastal woodland and calm ocean waters.
Unspoilt natural views and sunlit wooden spaces create a sublime effect throughout the home, culminating in a main living space. Here, wide walls are hung with abstract paintings and swoop up to church ceilings. Other highlights include vintage-style furniture, two adjoining wood decks and low-level beds in the bedrooms, designed to lift the eye to the outside scenery.
The Knox County retreat, named for the dramatic granite promontory it stands on, is partly raised up on stilts. The 3.7-acre coastal grounds include grassy gardens, 297ft of shorefront, a pocket beach and its very own 0.75-acre island nearby, known as Little Western Island. It sits off Vinalhaven's northeast coast, which is home to warm cove waters and a sanctuary with walking trails.