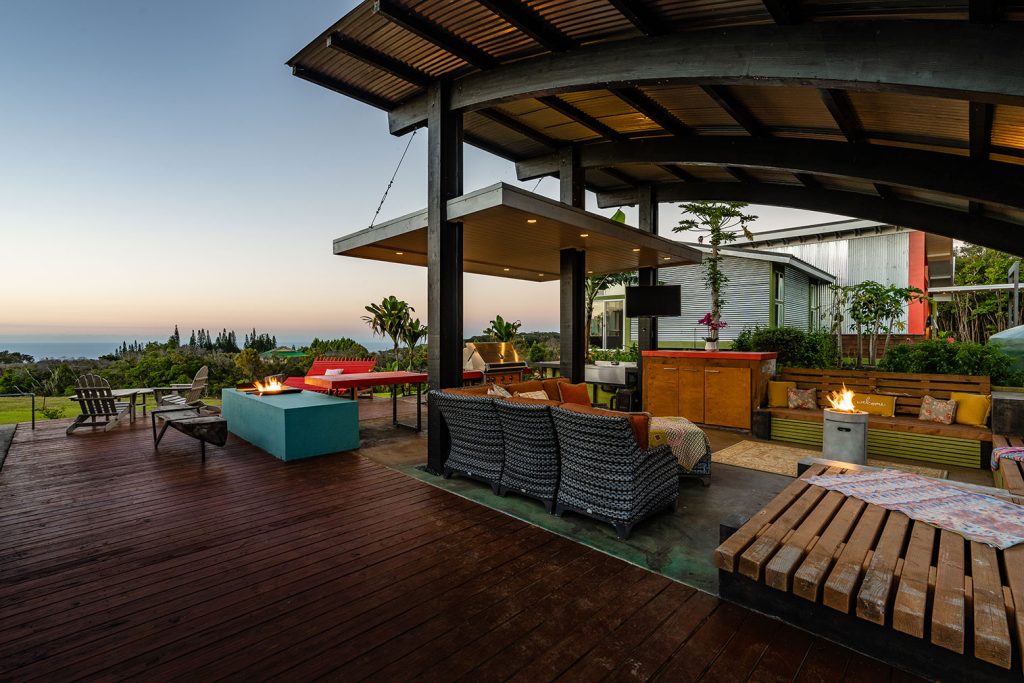 Off-grid living is redefined at this coastal Hawaiian 'art farm', whose corrugated iron structure features bold colours, sharp angles, and volcano views.
The contemporary Maui island property – on sale for $3.995m with Island Sotheby's International Realty – was built in 2018  on an elevated site in the community of Haiku, overlooking the Pacific Ocean and the Haleakala volcano. It packs in many playful amenities and offers an eco-conscious, self-sustainable lifestyle, powered by solar panels.
The Haiku farmhouse treads slightly on its 16-acre grounds, with buildings set on stilts and roofs optimised for rainwater harvesting. Inside the main house, there's a colourful industrial aesthetic, offset by neutral wooden walls and a high, inverted pitched ceiling. Yellow steel beams frame the dining room, vertical roller doors connect rooms, and a multipaned glazed wall captures ocean views.
A plethora of glass captures Maui's natural beauty across the compound's volumes, including a steel Quonset hut building, houses a workshop and artist studio,  and an outdoor kitchen and seating area, complete with a turquoise firepit. Front opening hatches in the detached wellness studio (complete with an infra-red sauna) provide natural ventilation.
Mirroring the island property's corrugated iron cladding is a 40-ft-long shipping container swimming pool with a plexiglass panel, providing views into the water from the living room below.