Neon lighting design might have fallen out of fashion in the West in recent years, but over in China, they're embracing glowing, futuristic lights in their restaurant interiors. Local studios are taking a multi-sensory approach to creating surreal spaces that look more like video games than dining spots.
Here are 5 neon restaurants in China where people can dip into an alternative reality with their desserts and enhance their dining experience.
Nyx Rooftop Bar in Shanghai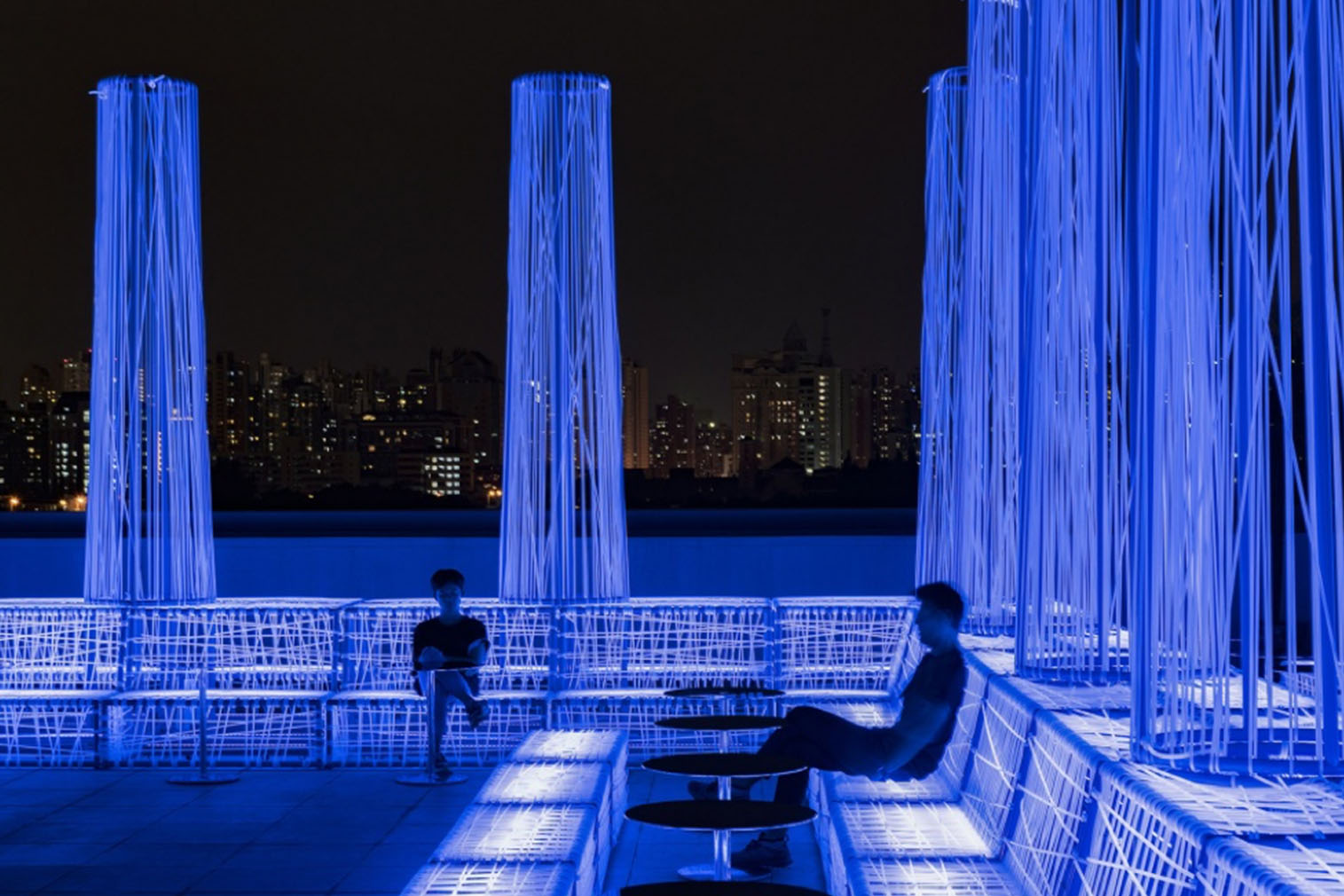 Ancient ruins are given a futuristic spin at Shanghai restaurant Nyx Rooftop Bar designed Alberto Caiola. Named after the Greek goddess of the night and inspired by Italian ruins, the glowing design takes on a phygital (ie physical plus digital) aesthetic and aims to create a sense of surrealism. Structures and fittings are covered in black lights with more than 21,000 metres of UV reactive cord in them, while the bar has spectacular views of the city below.
627 Huaihai Zhong Lu, Seventh Floor, Jing'an Si, Shanghai, China
Omakase in Shanghai
Hyperreality restaurant Omakase in Shanghai's Xujiahui neighbourhood immerses diners in a dreamscape of neon cherry blossom. The labyrinth of lights and lines was designed by architect Sun Tianwen of local practice Shanghai Hip-pop Architectural Decoration Design Co, who took inspiration from 'Sakura rain' to create a vision of floral serenity. Dew-covered floating cherry blossoms appear to be frozen in glass walls and partitions which are backlit with neon coloured lights at the 140 sqm restaurant.
Omakase, 22 Nong 320, Tianping Lu, Xujiahui, Shanghai, China
Diamond Lili in Chongqing
Retro neon noodle bar Diamond Lili by YUDesigns is a sensory overload of fluorescent colour and glowing lights. The 140 sqm space is decked out in vintage neon signs, disco balls and jukeboxes reminiscent of the 1980s. The local practice designed the Chinese eatery with pink glass brick walls, pink and blue terrazzo floors, reflective metal surfaces, and transparent coloured furniture which transform the space into an 80s disco.
IF Plaza, 437 Xin Nan Lu, Shop L1-15 (Macaowan), Chongqing, China
Momenti in Shanghai
This neon-drenched Italian restaurant in Shanghai changes colour with time, from blue to white to orange. It was 'conceived as an evolving environment to match the rhythms of morning to night,' says designer Alberta Caiola. He's incorporated Italian design features – including a polished bronze bar, high stools, a solid red marble communal table – alongside exposed brick walls and a luminescent ceiling.
Lane 181, Taicang Road, Xintiandi North Block Building 1, Unit 3, Shanghai, China
Waka Haiku Setsugekka in Changchun
Waka Haiku Setsugekka by architect Sun Tianwen of Shanghai Hip-pop Architectural Decoration Design Co is an ode to setsugekka or the Japanese seasons. Tianwen has combined traditional Japanese concepts with modern design psychology to create a sense of zen at the minimalist Chinese eatery. The LED-illuminated space glows in hues of blue, yellow and gold, and is surrounded by glass walls and partitions engraved with cherry blossoms.
Tian Fu Lu, Nan Guan Qu, Changchun Shi, Jilin Sheng, China
This new breed of safari lodges is looking further afield for aesthetic inspiration