Diners nestle into dark wood and leather at Melbourne's Poodle Bar & Bistro, watched over by a host of ceramic poodles and quirky hand-drawn characters.
Designers Bergman & Co describe the space as a 'modern interpretation of chiaroscuro,' and have blended dark and light together in the restaurant's palette. Blacks, browns and deep blues and greens are offset by Poodle Bar's jaunty checkerboard floor, and brickwork doused in a fresh coat of white paint.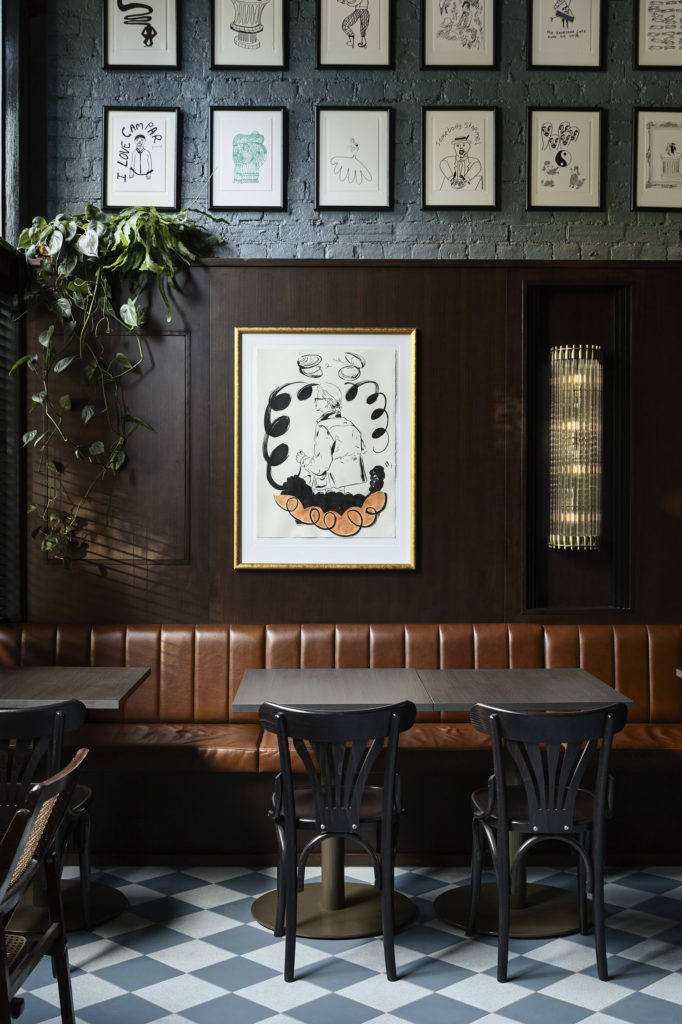 Other flashes of colour come via the Melbourne restaurant's collection of curios – which include a pink china dog that welcomes guests at the door, as well as a bright blue plaster horse head. Diners that sit on Poodle Bar's row of caramel leather banquettes can look up to admire a wall of hand-drawn artworks.
'The brief asked for the classic European diner to be interwoven with hints at the 20th-century suburban experience,' studio principal Wendy Bergman told Australia's Hospitality Magazine. 'Our references ranged from the Italian masters and modernists to Nonna's Franko Cozzo sideboard. We wove this inspiration into a pastiche of Italianesque details and materials with the aim to imbue sophisticated spaces with hints of irony to create a beautiful venue that does not always take itself too seriously.'
Poodle Bar & Bistro is on Fitzroy's Gertrude Street and serves up 70s dinner-party classics such as prawn cocktails and vol-au-vents, as well as a signature dish of honeycomb tripe with parmesan rind and butter beans.
81-83 Gertrude St, Fitzroy VIC 3065, Australia