Interior designer Jenny Bukovec drew on all the best bits of Kentucky history and culture for Lexington's The Manchester – which hosts guests in rich wood- and brick-lined interiors.
Reminders of the city's links with bluegrass, bourbon and equestrianism can be found in every part of the hotel, located in Lexington's historic distillery district. This 25-acre stretch of the city dates back to the late 1800s.
In the lobby, Bukovec has installed corbelled brick portals and barrel-vaulted ceilings as a gesture towards the bourbon rick houses that once inhabited the area and deep loungers and wood panelling that add to the welcoming atmosphere.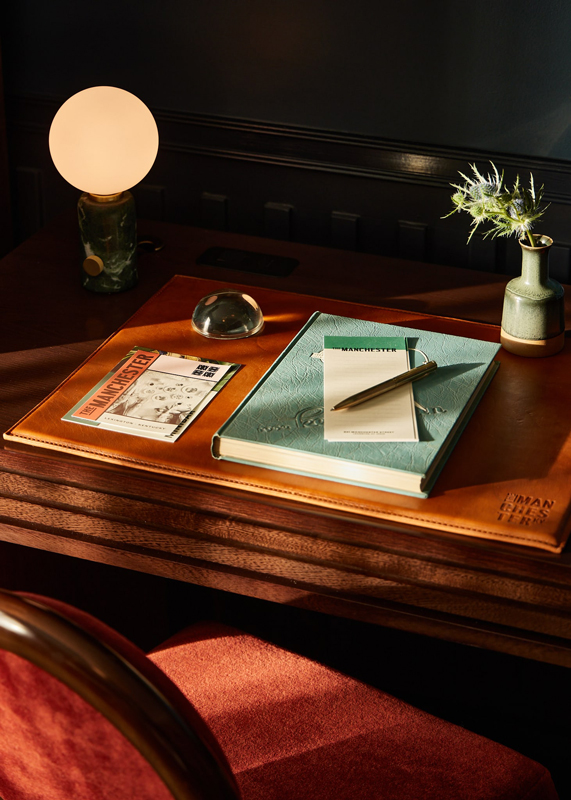 An original photo series created by Ryan Jay is another reminder of the area's history, capturing Lexington's horse tracks, tobacco barns, distilleries and hay bales.
Guest rooms, which start around $200 per night, are similarly homely, painted in deep blues and with leather-upholstered headboards and long drapes. Mini fridges are stocked with local bourbon and rye, and guests who book larger suites can enjoy an entire liquor cabinet.
Downstairs, hotel restaurant Granddam serves table-side juleps and Appalachian and bluegrass cuisine. It's a change of pace at The Manchester's rooftop bar Lost Palm, which looks further afield to Florida and embraces more of a tiki aesthetic with its bamboo bar, rattan lighting and plastic flamingoes.
941 Manchester St, Lexington, KY 40508, United States