Escape the rat race with these secluded islands for sale, which run the gauntlet from remote but turn-key holiday homes to totally uninhabited isles where you can leave your mark.
Hog Island, Florida
$7.9m direct; 224 acres
Touted as the largest private island for sale in Florida, Hog Island has 224 private acres on Lake George, together with three cabins, a helicopter pad and an 'Island Keepers' home on the mainland – plus a restored 1899 schoolhouse. The island (formally known as Belle Island) is connected to the grid via submarine cables and is accessed via boat, helicopter or seaplane from the mainland, with Orlando, Ocala, Daytona, St. Augustine and Jacksonville all in proximity.
In addition to the main house, three log cabins offer eight bedrooms and are presently rented out with hiking, fishing, hunting and boating all on offer. Outside is a dock with moorings for up to nine boats, and there are docks outside the mainland house from which to operate a shuttle.
Pladda Rock, Scotland
£350,000 via Knight Frank; 28 acres
Remote living is on offer at Pladda Rock off the western coast of Scotland, which counts the Isle of Arran as its closest neighbour. The uninhabited 28-acre island now has a fully automated lighthouse, though the cluster of ancillary buildings surrounding the structure date from the times when it was operated by a lighthouse keeper.
These dilapidated buildings need a top-to-toe renovation by their new owner but offer a guide for future interventions on the island, including how to power the off-grid dwelling (solar panels power the lighthouse). The renovation project is asking for £350,000.
Table Rock Island – Georgian Bay, Canada
CAD $2.65m via George Webster of Royal LePage Meadowtowne Realty; 3 acres
Canadian architect William Grierson designed this striking circular home on Table Rock Island in Ontario's Georgian Bay as his family retreat. Grierson was a partner at Brook Carruthers Grierson Shaw Architects and lecturer at the University of Toronto, and over the span of a 50-year career, designed some of the most innovative site-specific residencies in the country. 'Grierson's architecture was particularly interesting because its qualities were the result of both looking forward and looking back,' says David Sisam, FRAIC.
Table Rock exemplifies his timeless approach,  built from a grey granite and timber palette that translates from the three-acre island itself.  The Georgian Bay is the northern arm of Lake Huron –  a harsh but unique climate, and the house meets these demands head-on with its innovative design.  An open-air central courtyard radiates outward like spokes on a wheel to all eight bedrooms and four baths, as well as the 1,600 sq ft great room, housing the kitchen, living room and dining area. Floor-to-ceiling glass offers 360-degree panoramic views across the off-grid island home, which is fully solar-powered.
Trinity Island, Greece
POA via Vladi Private Islands; 12 acres
Since 1958 Trinity, in the South Euboean Gulf, has been owned by the former Keeper of the Royal Privy Purse of the three Kings of Greece – his family famously entertained Winston Churchill and the Beatles. The mostly flat terrain is covered with bushy pistachio trees, cypress forests, pomegranate, apricot, peach and 350 olive trees. Athens is 1.5 hours away by car or 10 minutes by helicopter.
Isola delle Femmine, Italy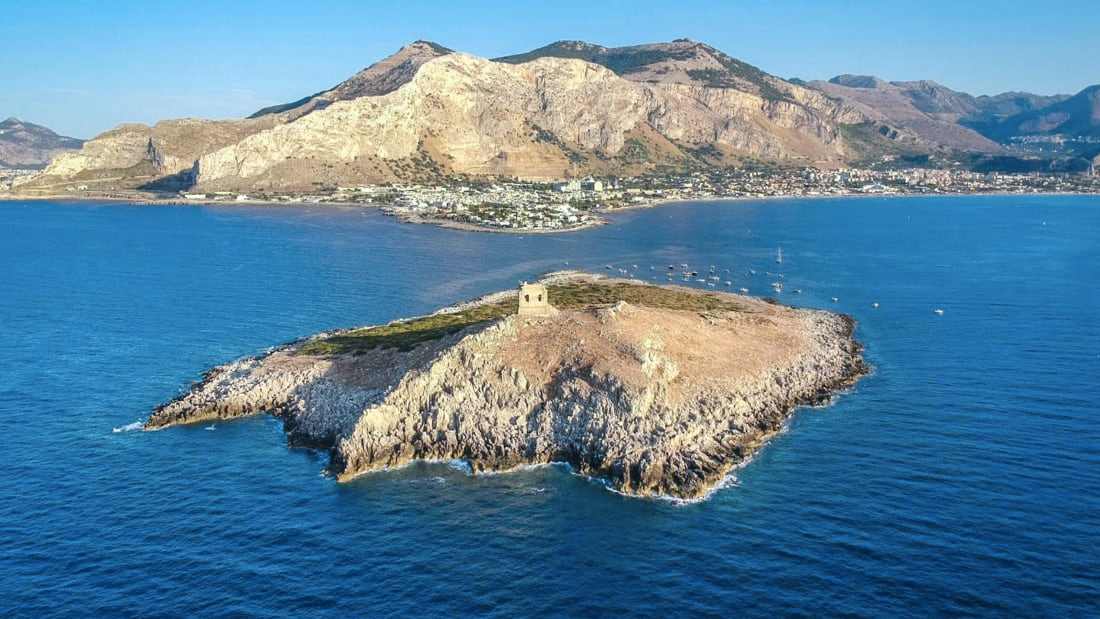 €1.65m via Christie's International Real Estate; 34 acres
Just off the Sicily coast at Palermo, this bird sanctuary is 34 acres, with Greek and Roman ruins and an ancient watchtower, badly damaged by an Allied landing in World War II, at 35m height. Restoring the multi-room tower would make a perfect private residence with historical value – financing for construction could be made available from the European Union or the Ministry of Cultural Heritage and Activities and Tourism. The water here is ideal for snorkelling and diving.
Male Orjule, Croatia
€7.5m via Vladi Private Islands; 97.6 acres
Located in the northern part of the Adriatic Sea, Male Orjule is 2km off the island off Croatian island of Lošinj in the Kvarner Gulf. It's an interesting prospect for potential buyers, with half of the island for sale; the other half is owned by the State of Croatia and cannot be purchased by anyone.
And while Male Orjule is uninhabited, it does come with everything you need to create your own private idyll, including two natural sweet water springs, a mature pine forest, olive groves and a native marina. A rudimentary farmhouse and outbuildings exist on the pretty island, and according to the agent, 'it comes with already developed' architectural designs for a residence – details of which are available upon inquiry. At just under 100 acres, it also offers plenty of privacy and the opportunity to develop permaculture.
And a bonus island home with a bargain price tag?
£35,000 via Lows, Orkney
The Orkney isle of Sanday is hundreds of acres in all, though it's sparsely populated by just 550 people. Buyers of this 1835 stone villa get one acre with the listed price and can purchase an additional 20 acres separately. The old house is B Listed and needs a complete overhaul, but there is plenty of room to expand and maximise views of the beachfront on either side.