In retrospect, there was no need to ask whether brothers Byron and Dexter Peart like living at Habitat 67, Montreal's 1960s experimental housing complex. Between them, it's been home for 25 years.
In fact, Canada's celebrated design entrepreneurs would no longer live anywhere else. The building functions for them both as a refuge from their frenetic working lives and a muse. Its moody concrete forms, open common spaces and far-reaching views, and above all its design longevity – all are a constant source of inspiration and a crucible for developing their ideas.
'To watch the seasons, to watch the light coming in, to have that indoor outdoor space – it's magical and we're never leaving!' says Dexter Peart.
Following stellar success with global luxury fashion brands WANT Les Essentiels and WANT Apothecary, the latest venture the Pearts have hatched from Habitat 67 is GOODEE, an online platform curating beautifully designed products for the home that are genuinely sustainable and responsibly sourced.
"Living in Habitat feeds the work. Architecture, when done well, motivates" – Dexter Peart
GOODEE's ethical model springs from the Pearts' long-held convictions about designing beautiful things that last.
'We were feeling intuitively, all our friends and our community, that we just didn't want to be part of this kind of transient wasteful system. Sustainability is about securing a future. How could we build something that had strength and positivity in how things were made, why things were made, the permanence of things being made?' Byron reflects.
The GOODEE mantra is simple: Good design, good people, good impact.
A dip into the site's best sellers reveals hand-made bicycle baskets woven in Ghana, a stylish coffee table in a new form of recycled plastic and a set of pendant lamps by Colombian artisans using wicker and plastic strips from discarded bottles.
Whether made from recycled materials or championing artisans in far-flung communities, the brothers insist every product must meet these thresholds – to be beautiful, to be crafted by responsible makers and companies who in turn must be committed to protecting the planet.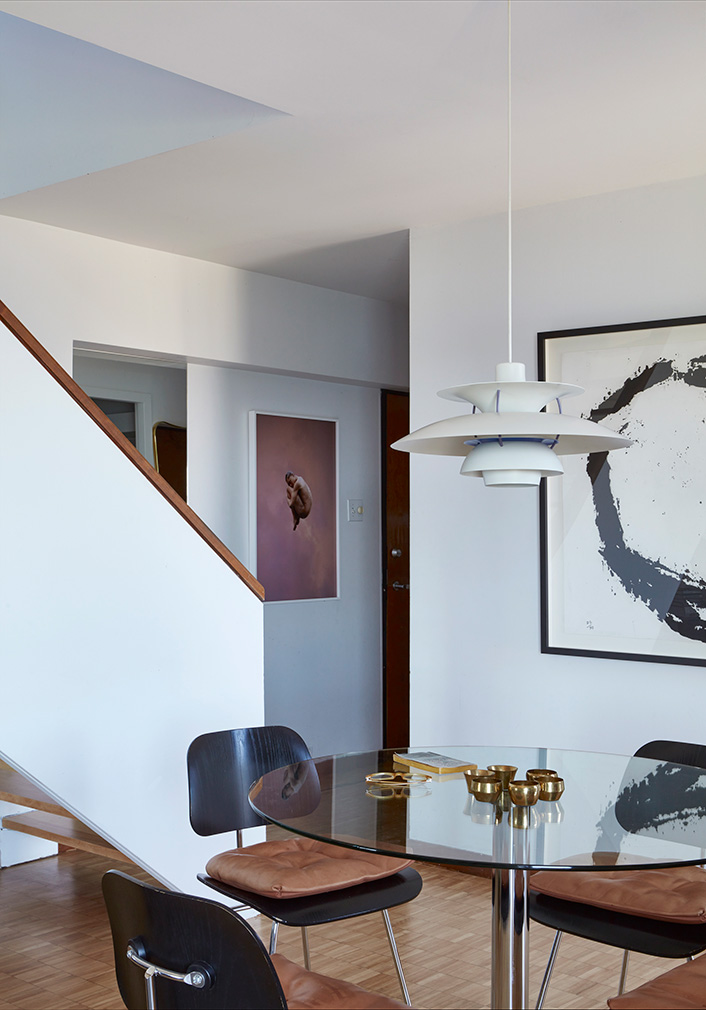 Dexter Peart was the first to put down roots in Habitat 67 back in 2006, moving into a three-cube unit where he still lives with his wife Maria and two daughters. Byron's initial home was a shell left unfinished by a previous owner. His new two-cube apartment, which he shares with his husband Stefan, is one of Habitat's last few residences still close to its original state. The 1960s kitchen is intact with orange and light brown Formica cabinets and parquet floors. In tune with their thinking about living according to needs, they've altered as little as possible.
'When we came in here, just by the sheer nature of it being in its original form, the kitchen being the original kitchen, I think we approached the interior in a very, very different way', Byron explains.
The story of Habitat 67 itself is an architecture fairytale. Canadian architect Moshe Safdie designed the building for the 1967 World Exposition in Montreal. The complex was based on Safdie's final undergraduate thesis at the University of McGill, and after a brief spell in America at the studio of architect Louis Kahn, he was invited to present his design to the then Canadian Prime Minister, Lester B Pearson. Pearson's cabinet commissioned him in person to deliver it – Safdie was just 25 at the time.
Safdie's idea was a modern blueprint for urban living – one that had the density of a tower block but avoided its pitfalls. The program: to lie a tower down on its side and twist from both ends – opening up the core to create light-filled common spaces and connection to other inhabitants and the surrounding environment. Everyone would have a garden.
Byron Peart's apartment garden has breathtaking views. Across the St Lawrence River to the east sits the geodesic dome by architect Richard Buckminster Fuller. To the north lies the port and city skyline, and to the south, open water with surfers riding the river's waves.
Byron and Dexter Peart are at heart passionate about the human value of great and purposeful design. It's not just about beauty; it's about living and consuming mindfully and responsibly.
And although they don't explicitly say so, this is perhaps the deeper reason why the Pearts enjoy living at Habitat 67 so much. Despite some arguable flaws, the building's dramatic brutalist architecture proposes a simple model of how to live in close community with others in a more human way.
What is home to you?
Dexter Peart: Family.
Byron Peart: Home for me is a representation or a reflection of one's truest, most peaceful self.
How did you come to live at Habitat 67?
Dexter: We loved the architecture from far. And I think that's most people's story about Habitat. It's almost like you drive by it, you know it's there, and there's a mystery to the space. And I remember Maria and I… One day we came up here, and there was this space that was available. As we got up to the top of the stairs on the landing, Maria said at that point, "You know, if you don't move here, I'm moving in here without you!"
That was the kind of emotional feeling you got from the building.
Habitat 67 is highly programmatic, but the way people live in it is entirely unique. Has this aspect of life here been a source of inspiration for you?
Dexter: Every single one of the apartments…they're all products of the exact same 650 sq ft concrete cubes. But they all feel quite different. All of the spaces here feel quite different. I think we've been attracted from the very beginning to the uniformity of the architecture, and yet the personality that each one of these spaces exudes for each of us.
Living in Habitat feeds the work. Architecture, when done well, motivates. And for us, this space, which was defined more than 50 years ago, continues to evolve over time. It becomes actually more relevant to us over time.
What are your favourite spaces in your respective Habitat 67 apartments?
Byron: Without question, it's our terrace. So often, when we're living in cities, we're in this tunnel vision because of the buildings or landscape or orientation. But having this terrace with a close to a 300-degree view of the city… It's almost like being on the end of a ship. It puts things in perspective, and it's quite humbling in some ways.
Dexter: Mine's very easy. It's similar – it's the solarium – what is now a covered terrace, I suppose. Being able to live through the four seasons with a tremendous amount of natural light. And watching the seasons change and everyone with a garden as part of the concrete structure. It's very powerful. It's where we spend the most amount of quality time.