If there's one thing that creative duo Carlos Naude and Whitney Brown excel at, it's spotting untapped potential.
The Los Angeles-based couple founded their interior design practice, Working Holiday Studio, in 2015 and have spent the last few years reviving neglected Californian ranches and transforming them into new minimalist desert retreats stocked with design gems.
These formerly unloved structures found fresh legs as instagramable Airbnbs – and sparked a string of private commissions that cemented the studio's reputation for serene but finely crafted contemporary spaces. Think Japandi interiors with Barragán inspired colour blocking.
Whether it's adobe white or coral pink, the couple never shies away from embracing colour in their designs, wielding it confidently and playfully in equal bounds.
But stepping across the monochrome threshold of their latest project, Zen Den in Los Angeles' Woodland Hills, feels a little different to everything that's come before for the couple.
Colour is still used confidently inside the 1960s ranch-style home, but it's taken a more mature turn. The bright colour pops of their early designs have evolved into an organic, earthy scheme that dips into natural greens, sage and mossy hues, that recall the grassy lawns and trees around the property's site. It's tranquil but also crisp and contemporary.
What sparked this maturation? Zen Den has been designed for Brown and Naude's own family, and its design takes cues from the recent global crisis.
'If the pandemic did anything to us, it really emphasized the importance of our relationship with the spaces we inhabit, says Brown. 'And how that affects our moods and the way we live our lives on a day-by-day basis.'
How did you come to own your current home? What attracted you to it?
Carlos: We've been looking for the perfect home for us here in Los Angeles for almost three years, but we really didn't like anything we saw – or couldn't really afford what we liked. So instead, we decided to do something out in the desert. That's when we did Casa Mami.
Whitney: Last year, during the pandemic, we realized we would be stuck at home for a while and needed more space, so we sold Casa Mami and started house hunting again.
Carlos: The most important things we wanted was outdoor space, proximity to the beach and a dedicated room for a home office. The real estate market in California was super hot at the time; we saw many houses we liked, but they were being snatched left and right.
Finally, we saw this property, tucked away at the end of a long driveway in a cul de sac – it really caught our eye. It sits on 0.5 acres of land (part of it is a hillside), has amazing views and great structural bones. However, it needed a complete renovation — way more than what we thought!
What state was it in when you moved in?
Whitney: The house hadn't been updated since it was built in the 1960s and was vacant for the past few years. So it pretty much needed a top to bottom renovation.
Carlos: At first, we thought we would get away with cosmetic upgrades. But the more we got into it, the more things we found needed fixing. So we ended up doing all new electrics, plumbing, HVAC; a new roof, insulation, replacing the majority of the drywall; and installing all-new windows and doors.
Whitney: [That was] on top of all the 'cosmetic' updates – i.e. floors, updating the kitchen, bathrooms, paint, landscaping, etc.
How do you use your home as a testbed for your creative ideas?
Carlos: You know, it's funny because neither of us trained as an interior designer. We don't really do photo-realistic renderings of what the project will look like, so it becomes an experiment where we select finishes and furnishings based on instinct and mood boards and hope for the best!
Whitney: The majority of the time, it ends up working beautifully. Like in our living room with the white Nordic Knots rug, the brown velvet Normann Copenhagen Sofa, Noom chair, Hedghouse coffee table, Ethnicraft TV console and Kuzco lamp. We laid all these elements on a mood board, and it looked good, but we couldn't really know if it was going to work until we saw it in the space.
Carlos: It doesn't always work the first time. For example, we wanted to have a big weeping fig tree inside the house. So we bought it, brought it inside – and immediately realized it was not going to work. But we try to use those mistakes and understand what doesn't work to apply those lessons for our next project.
Describe your interior design style in three words.
Whitney: If I had to pick only three, I would say: simple, warm, and modern.
Perhaps I might add 'fun' since we like to include specific elements that make our projects less serious.
How has your home evolved since you've owned it?
Whitney: As we get more comfortable in our home, we keep making little adjustments here and there – like getting a coffee machine from AnZa to make espresso at home and incorporating new pieces, like the Caralarga tapestries from Mexico, which are the latest addition to the house.
We definitely like to keep it simple and not over decorate the space.
Tell us about your working dynamic: do you complete all projects collaboratively, or do you each take on a different role within your studio?
Carlos: We have a great working dynamic where we work collaboratively throughout the entire project, but most importantly, we complement each other really well. For example, I am not that great with layouts, but Whitney is amazing at visualizing the potential of a space and how it can be reconfigured to maximize it.
Whereas I enjoy working with colour and developing a palette for each project to ensure everything we choose, from the finishes to the furnishings, works cohesively.
What's your favourite space in your home?
Whitney: I'd say we love to spend time on the back patio, sitting on our Neighbor outdoor sofa, taking in the views.
How does the ethos of your home chime with your other projects?
Whitney: This home was slightly different from our other projects mainly because we designed this for us. The main goal was to create a space that felt serene and calming, functional, and aesthetically pleasing.
Carlos: While some of those principles are also noticeable in some of our other projects, with Zen Den, we tried to maximize the space for spending as much time at home as possible, be child friendly (we have a 3-year-old) and be super functional.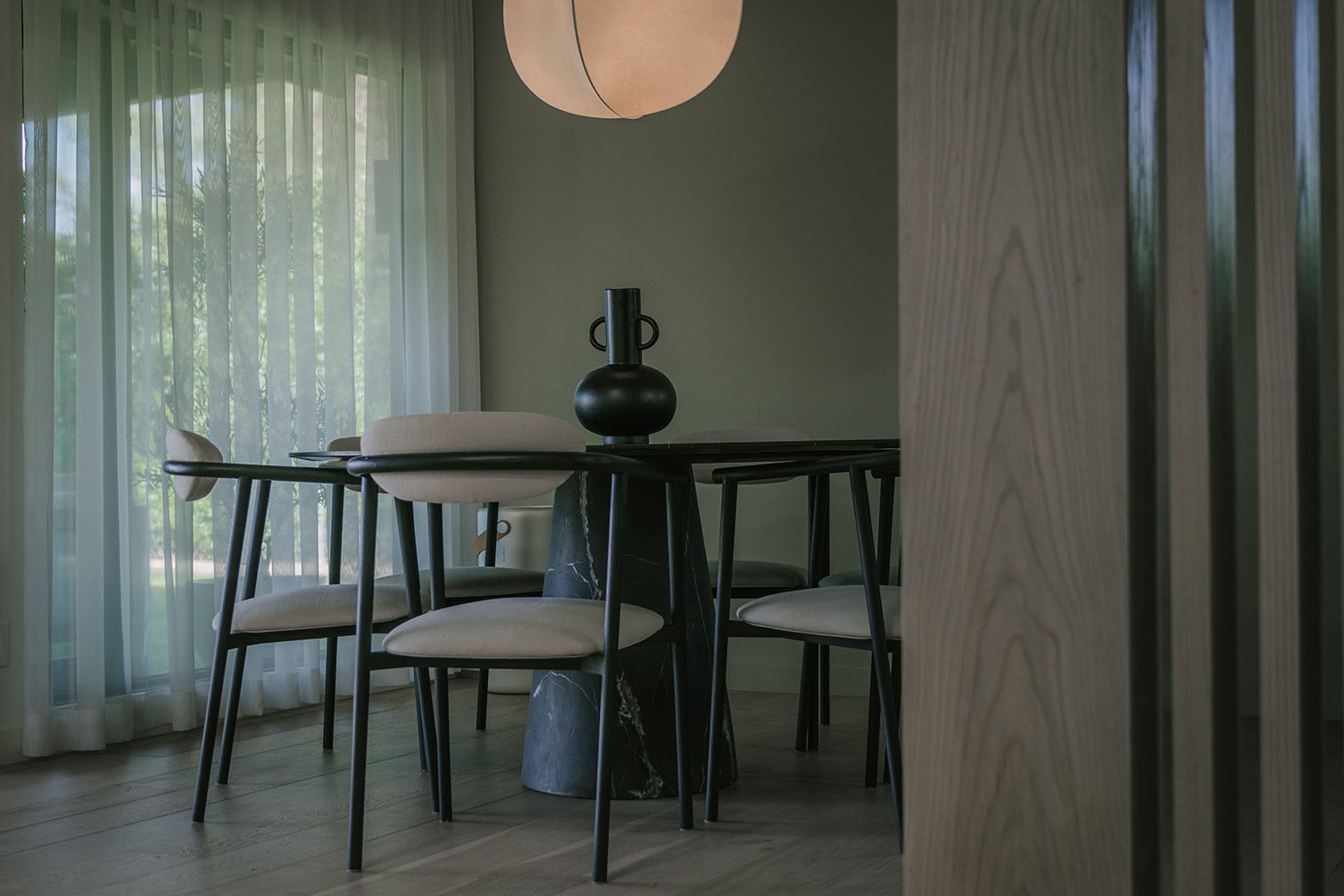 What's the biggest design luxury in your home?
Carlos: I would say the Casa Quieta dining set – it is a small design studio from Mexico City that handcrafts beautiful pieces.
If you could live in any building around the world besides your own, which would it be?
Carlos: The Chichu Museum by architect Tadao Ando in Naoshima, although we probably will need to add a few warming touches to make it homier! [Laughs]